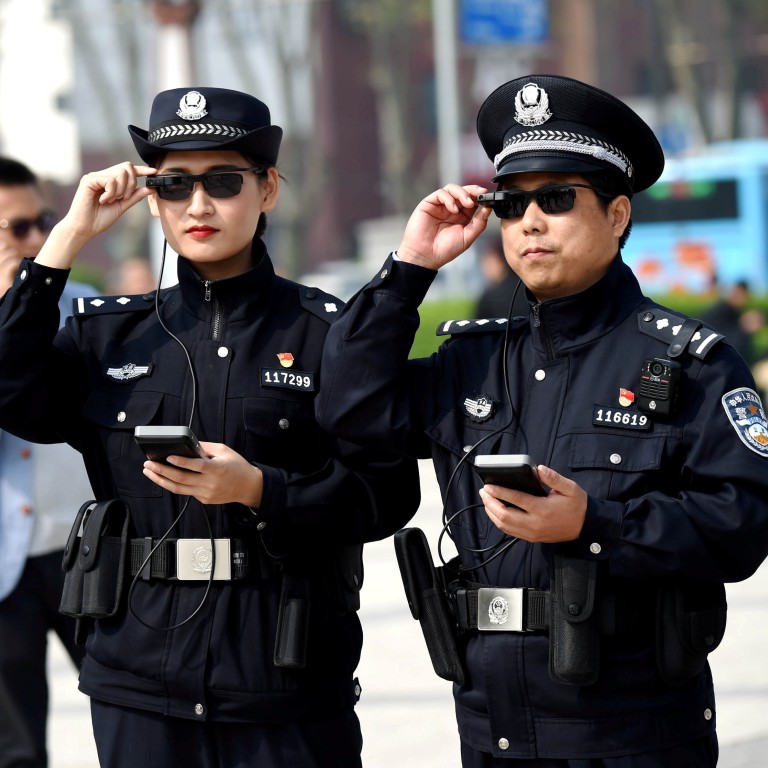 Chinese AR start-up develops smart glasses to help police catch suspects
China spent US$184 billion on domestic security in 2017, less than the US$150 billion it spent on external defence
Xloong was founded by former Huawei hardware engineer Shi Xiaogang
Using a pair of glasses to detect and locate criminals might sound like a futuristic scene from a Hollywood film, but it has already become a reality in China.
Beijing-based augmented reality (AR) company Xloong created such a set of smart glasses for Chinese police in 2017, according to a company brochure. When wearing the AR glasses, police can access real-time facial, identification card and vehicle plate information that are linked with a national database. The company said the AR glasses "free the hands" of police and "improve efficiency in discovering criminal suspects".
The glasses are already being used by law-enforcement authorities at airports and highway inspection stations, the company said in the handout. Six local public security bureaus are also using the Xloong headsets, including those in Beijing, Tianjin and the
Xinjiang Uygur autonomous region
.
Xloong, meaning "fierce dragon" in Chinese, was founded in Beijing by former Huawei Technologies hardware engineer Shi Xiaogang. The start-up currently employs more than 100 people and counts internet of things firm Hefei BOE Technology, Gobi Ventures, Beijing Institute of Technology, and some provincial governments as financial backers, having raised hundreds of millions of yuan from them.
An Xloong spokesman declined to provide the exact amount of venture capital the company has raised and would not identify which local governments have supported the start-up financially.
The four-year-old company has also developed a smart helmet for use by the Chinese military. Besides offering head protection, the helmet's hi-tech functions include AR monitoring, telecommunications, night vision and geolocation. Xloong said it has signed a contract worth "tens of millions of yuan" to supply helmets to state-owned defence company China North Industries Group.
Xloong said it has other state-level clients including China Aerospace Science and Industry Corporation and the Ministry of Public Security.
China spent US$184 billion on domestic security in 2017, less than the US$150 billion it spent on external defence, according to China's Ministry of Finance.
The country had 176 million surveillance cameras operating in public and private areas in 2017, according to market research firm IHS Markit. That compares to 50 million cameras in the US in the same time frame.
In an interview with Nikkei Asian Review last year, Xloong founder and chief executive Shi shrugged off concerns that surveillance technology would inevitably lead to privacy intrusion. He said national support for hi-tech companies, as well as the central government's emphasis on anti-terrorism and social stability, were "important drivers for the company to thrive".
"There is no shortage of budget from the [authorities]," Shi added.
Besides crime-fighting and defence applications, the company makes headsets for civilian uses in industries including tourism, real estate and health care, as well as selling directly to consumers.
In 2016, Xloong released a sports version of the AR glasses that supports videography and Bluetooth, and can project digital maps for runners and cyclists. The headsets are sold on e-commerce platforms such as Alibaba Group Holding's Tmall and JD.com, as well as in offline retail chains like Suning. New York-listed Alibaba is the parent company of the South China Morning Post.
The sports headsets are priced around 1,500 yuan (US$223), while AR glasses for industrial use cost around 15,000 yuan.
A spokesman for Xloong said the company has already signed contracts with some partners in Southeast Asia. He declined to reveal the names of these partners or identify ongoing projects.
The spokesman added that Xloong has plans for US expansion, but declined to elaborate.