DJI
Get more with myNEWS
A personalised news feed of stories that matter to you
Learn more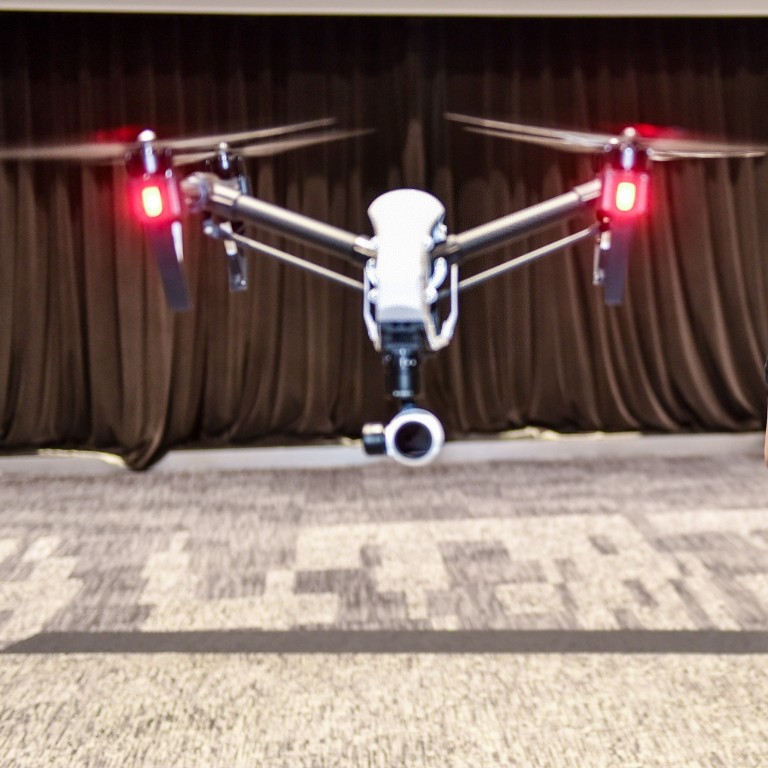 DJI moves some production to US and says in open letter its drones do not send data to China
The letter comes after Senator Ed Markey said during the hearing that Americans who own Chinese-made drones are concerned about privacy and security
Chinese drone maker DJI Technologies has published an open letter in which the world's largest maker of recreational drones denies its devices send flight data to China, following a US Senate committee discussion last week on drone security and supply chain risk.
In an open letter to the Senate Committee on Commerce, Science, and Transportation published on Monday, the Shenzhen-based company said its drones "do not automatically send flight data to China or anywhere else," pointing out that the data stays "solely on the drone and on the pilot's mobile device. DJI cannot share customer data it never receives."
The letter, signed by DJI's regional manager for North America, Mario Rebello, comes after Senator Ed Markey said during the hearing that Americans who own Chinese-made drones are concerned about privacy and security, according to a Reuters report. DJI said it is essential that decisions affecting key components of the industry are based on fact.
The drone maker said the discussions at the hearing "included inaccurate information and speculation about drone use and technology, potentially leading to restrictions on the access of DJI's drones, purely based on where we are headquartered."
DJI also said on Monday it planned to move some of its manufacturing lines to the US.
"As part of our long-term commitment to America that began in 2015 with our research and development facility located in Palo Alto, we are opening a new production facility in California and filing for compliance under the US Trade Agreements Act," DJI said in a statement.
"This new investment will expand DJI's footprint in the US so we can better serve our customers, create US jobs, and strengthen the US drone economy."
DJI's letter comes amid rising tech and trade tensions between the US and China, after the Trump administration recently added several
Chinese supercomputing companies to its trade blacklist
, joining Huawei Technologies, which prevents them from buying American-made technology.
DJI said in its open letter that it has developed security measures, such as embedding password and data encryption in its products, and if American users choose to share their data, it will only upload to US cloud servers.
To further meet "the US government's rigorous security expectations", this week the company will also launch a DJI Government Edition drone, which cannot access the internet and only stores information locally. "This means that if a government employee were to make a mistake in data management protocol, or even intentionally try to send drone data to DJI or elsewhere, no data will be transmitted," DJI said in the letter.
In May, the US Department of Homeland Security advised American companies about the inherent security risks associated with Chinese-made drones. Although the alert did not name a specific manufacturer, nearly 80 per cent of the drones used in the US and Canada are estimated to come from DJI.
The alert followed news that
Huawei had been banned by the US government
from buying hi-tech products and services from US companies, on national security concerns. Huawei has denied US accusations that it shares information with China's intelligence agencies.
DJI has more than 14,000 employees, with 25 per cent of that headcount focused on research and development. It has 17 offices globally, four of which are located in the US, according to the company.
In Palo Alto, California, DJI has teams involved in marketing as well as research and development. In Los Angeles and New York, DJI's offices are focused on marketing and customer service. DJI's office in Washington oversees policy research and government relations.
Additional reporting by Celia Chen
This article appeared in the South China Morning Post print edition as: Drone maker denies its U.S. devices can spy for China