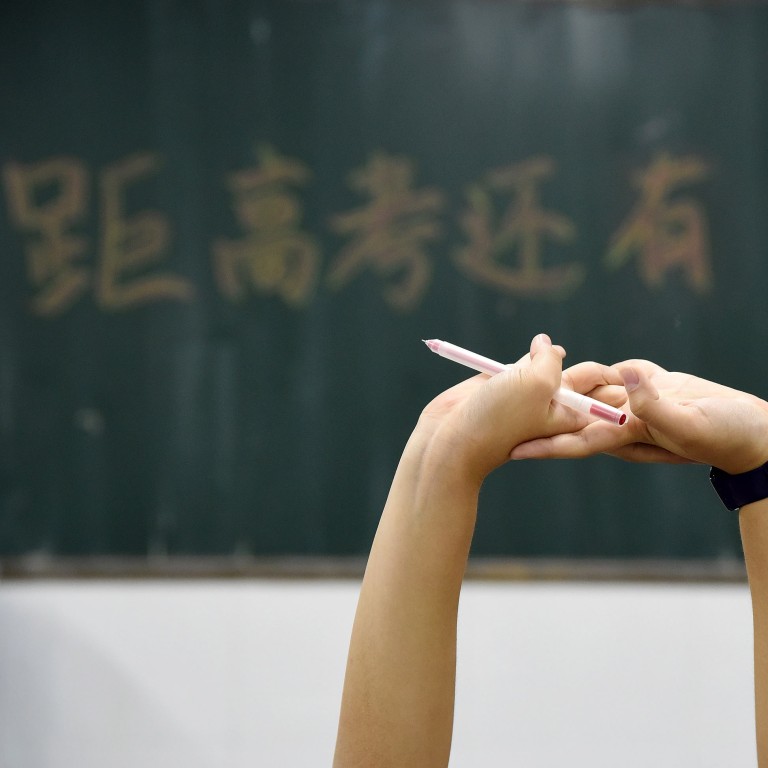 AI education unicorn Squirrel targets foreign markets with plans for mathematics, Mandarin lessons
Squirrel AI provides personalised after-school tutoring for students from elementary to high school
Demand for online tutoring is high in smaller cities in China as parents seek to boost children's chances with education
Squirrel AI Learning, a Shanghai-based online after-school tutoring company, plans to expand into foreign markets in two years by developing an English-language curriculum for mathematics as well as Mandarin lessons for non-native speakers.
"Why mathematics and Chinese-language lessons? Because there are so many foreigners who want to learn Chinese and they do not have good solutions," Joleen Liang, partner at Squirrel AI Learning, said in an interview last week in Hong Kong. "So we're going to expand our market in two years."
Squirrel, whose formal name is Shanghai Yixue Education Technology Co, provides personalised lessons for students from elementary to high school through both online courses and at bricks-and-mortar learning centres.
Prospective students are first put through a diagnostic test to assess which areas in the subject they are weak at. The artificial intelligence algorithms will then cater the tutoring to focus on the areas of weakness, reducing the amount of time spent on unneeded tutoring by 80 per cent, according to Liang.
The company now has about 2,000 physical locations across China, with the majority franchised to private owners. The curriculum is developed by its in-house team of 400 teachers, many of whom were public school teachers and tutors in after-school centres, Liang said.
So far, Squirrel has taught 2 million students in the five years since its founding, according to Liang. There are about 50,000 students currently taking Squirrel courses, with the majority from middle school.
Squirrel was founded in 2014 by Derek Li Haoyang, Jason Zhou Wei and Cui Wei. Li, who is chairman of the company, was a first-prize winner in the Chinese Mathematical Olympiad.
The company gained prominence after its artificial intelligence-powered teaching robot defeated senior human teachers in a series of debates.
Squirrel is among the crop of tech start-ups that are attempting to level the playing field in China's education and health care sectors, two areas that suffer from an uneven distribution of resources and talent. Like many other large countries, the nation's top teachers and doctors are concentrated in big cities like Beijing and Shanghai, in schools and hospitals that also have the best equipment. Meanwhile, education and medical facilities in the more rural parts of China often suffer from a lack of qualified teachers and doctors.
Yet pressure is immense for students to do well in the national university entrance examinations known as gaokao. About a third of those taking part in the exams will earn a place in a mainland Chinese university.
The firm's adaptive learning systems claim to be able to recognise knowledge gaps in real time during the learning process, then immediately fills them with instructional content to close those gaps. The algorithms give each student a personalised learning plan and clearly identify which areas the student is weak at, allowing human teachers to hone in on the weaknesses.
To be sure, it is a crowded field. Liang estimates there are at least 60 companies in China that market AI technology for education and the industry as a whole is booming.
Even though it bills itself as an online teaching company, there is still a need for physical learning centres because many parents, especially those in the smaller and lesser-developed cities, place value in having the children learn in a structured environment like a classroom, rather than on their own at home, where they might easily be distracted, Liang said.
In big cities like Beijing and Shanghai, ironically, parents are too busy to send their children to tutoring classes and prefer to have them study on their own at home.
Demand is highest in remote areas in China where the local system may not have the best teachers, Liang said. In many places, the teachers have to teach three to four subjects.
Squirrel charges lower fees for its services in less well-off parts of China. It has also donated one million learning accounts worth 10 million yuan (US$1.5 million) to underprivileged families in poor mountainous areas through the Qingxiyuanshan Educational Charity Foundation.
The company has so far raised US$150 million in three rounds of fundraising, giving it a valuation exceeding US$1.1 billion and making it a so-called unicorn, according to an April statement.