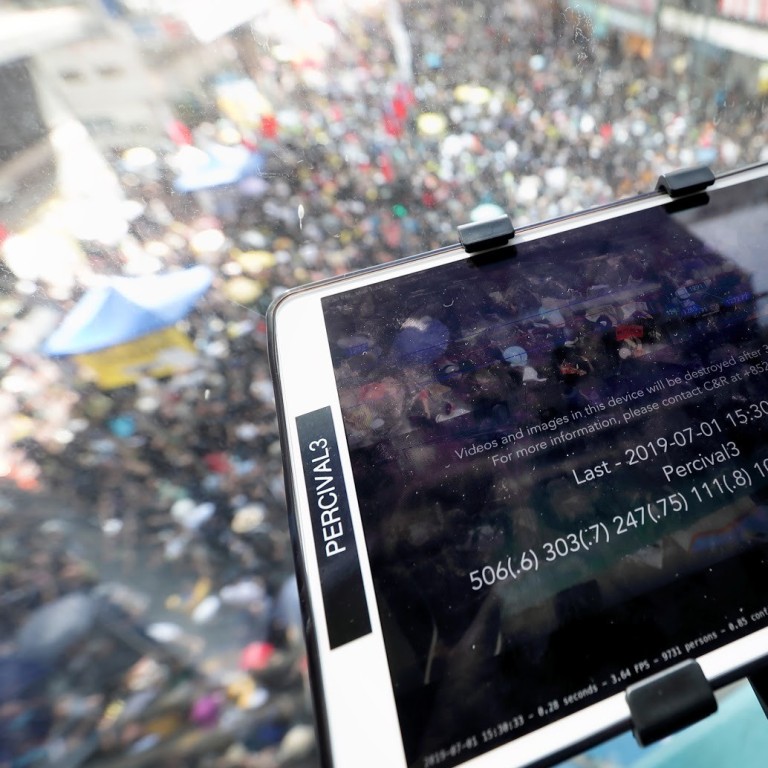 Hong Kong start-up behind protest crowd-counting using AI to estimate subway wait times, detect gas leaks
Wong's project concluded that 265,000 people joined the protest on July 1, while organisers said 550,000 people marched and the police estimated it was 190,000
C&R Wise AI, the Hong Kong start-up that provided artificial intelligence technology to accurately count the number of street protesters in the city, is also helping universities and railway operators better manage their crowds as private businesses and the government in the former British colony step up their use of AI.
City University of Hong Kong is deploying the company's EdgeAI system, which runs algorithms on an industrial computer to process images of people and objects, to count the number of students and teachers on campus to provide insights into crowd flow at major entrances and exits, according to Raymond Wong, founder and managing director of C&R Wise AI.
The technology is used in the city's subway stations to provide an estimate of passenger waiting times during peak hours, while local gas companies deploy the AI system to detect entries to remote sites as well as leaks or rust on gas pipes that need repair.
Wong, a graduate of the University of Hong Kong with a bachelor and master's degree in computer engineering and computer science, started C&R in 2009 as a software development firm for public organisations and international brands, but soon saw the increasing potential in the application of AI. He started the AI branch two years ago to focus on using perception-based AI technology to help businesses detect people and various objects.
The focus on C&R Wise comes amid the city's increasing adoption of AI in businesses and public organisations as the government continues to encourage innovation and build a world-class smart city in mobility, living, environment, public service and other fields.
C&R's crowd counting technology came into the public spotlight after the annual July 1 protest march in Hong Kong. Teaming up with Paul Yip, social sciences professor at Hong Kong University, and Edwin Chow, a geography researcher from Texas State University, Wong and his team set up three iPad cameras on Percival Street in Causeway Bay and four more on Arsenal Street in Wan Chai.
Using the technique of object identification, the system tracks protesters when they appear within the camera frame and counts them as they cross a counting line. One camera covered three lanes and Wong adjusted the locations of the other cameras to avoid overlaps. The algorithm programme ran directly on the iPads rather on the company's industrial computer.
Wong's project concluded that 265,000 people joined the protest on July 1, while organisers said 550,000 people marched and the police estimated it was 190,000.
"AI is more objective and accurate than manual counting," Wong said. "The numbers merely serve as a reference to the public. We hope to train our AI to run better on smartphones and enable accurate counting through this project."
Wong is planning another AI counting project on Sunday, when the Civil Human Rights Front plans another protest march from Causeway Bay to Admiralty.
Since June, Hong Kong has seen a series of record-breaking protests as locals marched against an extradition bill proposed by the Hong Kong government that would have allowed the transfer of suspects to jurisdictions with which Hong Kong has no extradition agreement, including mainland China.
Hong Kong leader Carrie Lam Cheng Yuet-ngor declared the highly unpopular bill to be "dead" earlier this month, but protesters continue to demand a total withdrawal of the bill and for Lam to step down.
The city's tech-savvy protesters have taken extra precautions to hide their identities during marches by ditching personalised metro cards, switching to instant messaging app Telegram, wearing masks and goggles, and refraining from posting selfies on social media in case they can be identified by law enforcement.
Wong stressed that his project carefully handles privacy issues as it blurs any faces that are capture and deletes all data afterwards.
"We have been very careful with the technology we deploy. We don't use facial recognition, and in fact we deliberately shoot from the back and did not share any of the videos with the third party volunteers. We were merely counting for a number," he explained.