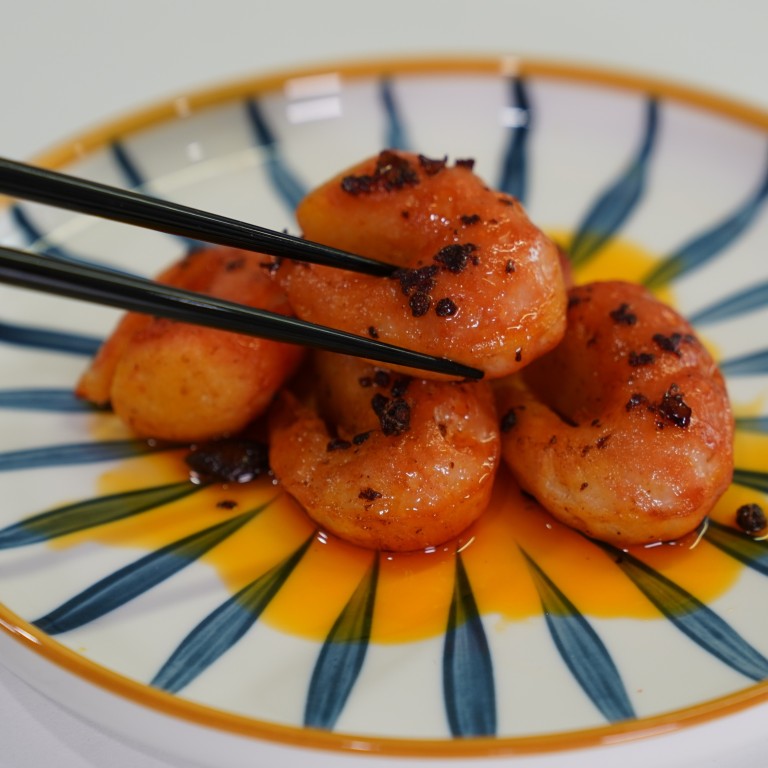 China embraces plant-based protein as consumers look for alternatives to meat amid Covid-19
Beyond Meat, the US plant-based meat company that launched a successful IPO on Nasdaq in May last year, made its retail debut in China last month
China's vegan food market is forecast to be worth nearly US$12 billion by 2023, up from just under US$10 billion in 2018
With wet markets in China under the spotlight as potential hotspots for fresh coronavirus outbreaks, consumers are looking for alternative sources of protein in their diets. That shift is providing start-ups and their investors with an opportunity to profit from China's fledgling food tech sector.
Beyond Meat, the US plant-based meat company that launched a successful initial public offering on Nasdaq in May last year, made its retail debut in China last month with its Beyond Burger available in Alibaba Group Holding's 50 Freshippo stores in Shanghai. The company also pledged to bring its products to 48 more Freshippo stores across China by the end of the year.
The partnership with Alibaba, which owns the South China Morning Post, is the latest move in China's increasingly crowded food tech sector. In June, Yum China – owner of China's KFC, Pizza Hut and Taco Bell outlets – also joined with Beyond Meat to offer several plant-based beef dishes.
Hong Kong plant-based meat brand Omnipork announced a partnership with Starbucks in April to offer plant-based pork dishes that cater to an Asian palate. Nestle, the Swiss-based multinational food and drink giant, also announced plans to build a plant-based food plant in China.
"It's a great opportunity to start educating and introducing this new option to the masses for the first time," said Matilda Ho, founder and managing director of Shanghai-based food tech venture capital firm Bits x Bites. "There's been growing interest among Chinese consumers about plant-based meat since last summer."
Demand has already been growing in the world's second largest economy. China's vegan food market is forecast to be worth nearly US$12 billion by 2023, up from just under US$10 billion in 2018, according to a report issued last year by Euromonitor International. Sales of plant-based meat in China increased from US$7.2 billion in 2014 to US$9.7 billion in 2018, according to the same report.
"We believe that plant-based meat, as a new food technology, will transform the traditional food industry like the internet transformed traditional industries," said Zhou Qiyu, marketing manager of Whole Perfect Food, a Shenzhen-based vegan food company founded in 1993.
A number of factors are driving China's shift to plant-based food tech. Before Covid-19, an outbreak of African swine fever led to massive culling of pigs, causing a surge in pork prices and rising concerns about food safety in the meat supply chain.
Separately, the government wants to halve the country's meat consumption by 2030 to cut carbon emissions and control obesity. Surveys have also found that Chinese consumers are becoming more open to a "flexitarian", or mainly vegetarian, diet.
Separate outbreaks of the coronavirus pandemic in two separate wholesale food markets – the original one in Wuhan in January and a second wave in Beijing in June – have also sparked consumer concern when it comes to meat consumption.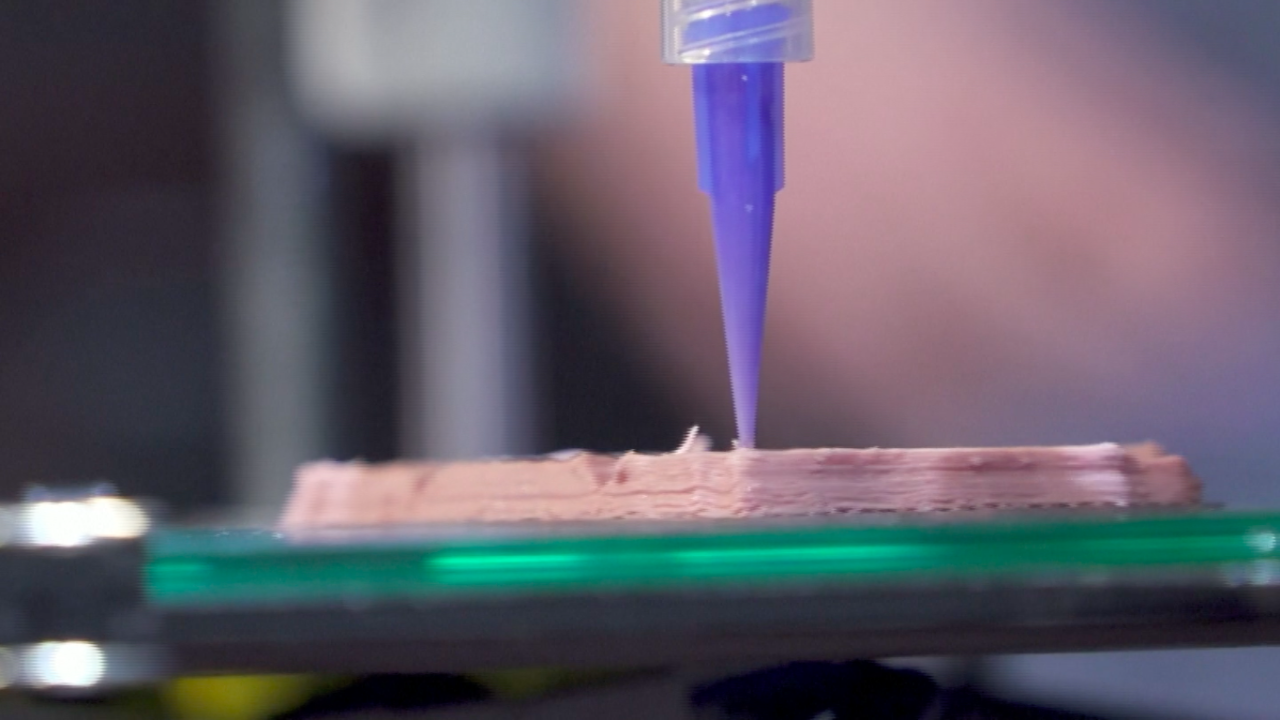 01:36
3D printouts of plant-based meat could become alternative food for world's population
3D printouts of plant-based meat could become alternative food for world's population
"Although people are now returning back to the normal routine after Covid-19, consumers are concerned about the potential link between meat products and the virus," Bits x Bites' Ho said. "Some are reducing their meat intake as a result. Many are preparing for the worst to come again."
While the pace of food tech deals in the capital market has slowed due to the pandemic, Ho said fundamental demand for meat alternatives and consumer preference for plant-based protein technologies are on the increase. Bits x Bites has invested in four alternative protein start-ups, and one company in its portfolio – Israeli chickpea protein specialist InnovoPro – raised US$15 million in its series B funding in April.
Domestic food-tech players are also raising funds off the back of their innovative plant-based protein products. Shenzhen-based Starfield, founded last year, closed its latest funding round in March, attracting investment from Dao Foods and New Corp Capital, an early backer of Beyond Meat.
Whole Perfect Food collaborated with Alibaba's Tmall marketplace in June to launch low-fat, plant-based chicken sausages targeting fitness freaks. Zhenmeat, another Chinese start-up, is experimenting with 3D printed bones to insert into its plant-based meat products to make them seem more like real meat.
Owing to its Buddhist culture, China has a long history of developing vegetarian dishes that mimic the taste of meat. Whole Perfect Food, one of the country's biggest vegetarian food producers, generates almost 300 million yuan (US$43.2 million) annually from sales of products such as vegan shrimp and plant-based abalone sauce.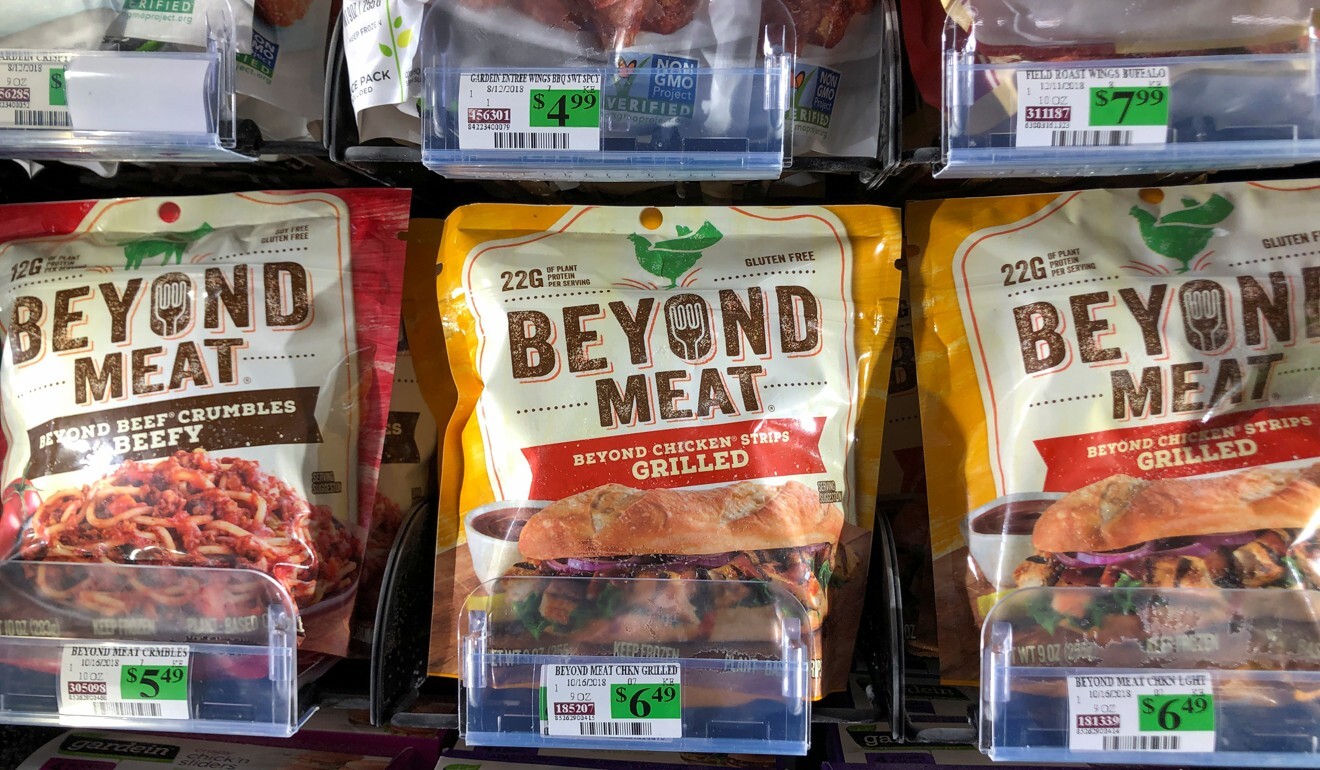 However, compared to Western competitors, Chinese players still have a long way to go. California-based Impossible Foods uses genetic engineering to harvest soy leghemoglobin, or heme, in large volumes from yeast to make its products taste more like meat. Most of the Chinese-developed plant-based meat still has a strong bean taste, according to Zhou.
Meanwhile, US companies have yet to develop technologies to mimic muscle fibre, which means current plant-based meat is limited to the forms of ground or minced meat, rather than beef steak or chicken breast. Western food tech companies also have not developed a convincing plant-based alternative to higher fat meat like pork, which accounts for more than 60 per cent of China's total meat consumption.
Chinese consumers also tend to care more about the texture of the meat, said Xue Yan, secretary general of the China Plant-Based Foods Alliance, one of the first organisations to represent the alternative protein sector in China. He expects to see more local start-ups developing technologies to improve the meat's texture and coming out with products that cater to Chinese consumers.
A bigger question for suppliers is whether Chinese consumer interest and curiosity will translate into repeat buying or brand loyalty, rather than one-off purchases.
"There aren't enough qualitative breakthroughs in global plant-based meat technology. Domestic consumers' pursuit of taste and flavour is endless. That's the greatest challenge for us," said Zhou.