Alibaba
Get more with myNEWS
A personalised news feed of stories that matter to you
Learn more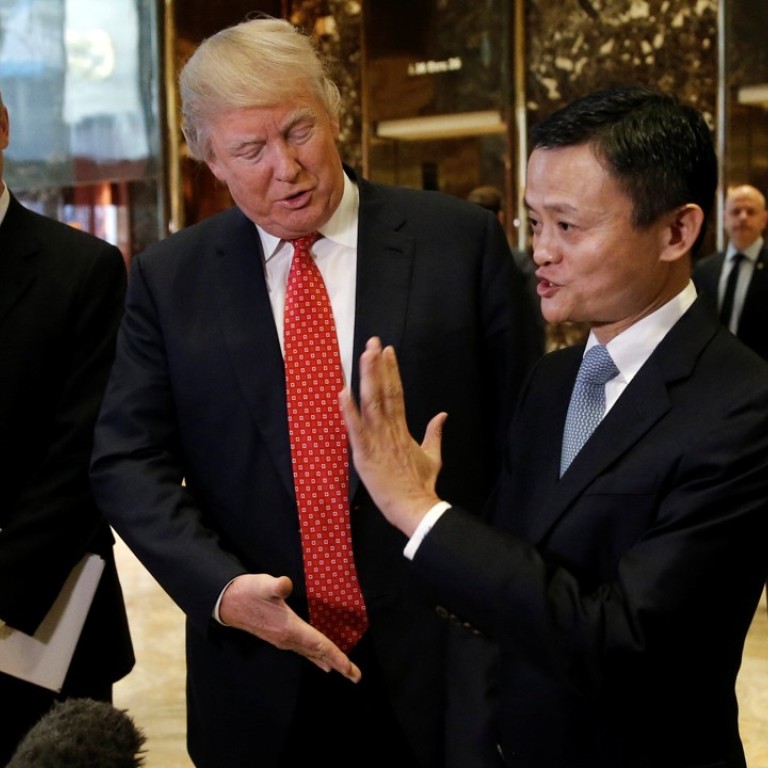 Trade war forces Alibaba's Jack Ma to back down on pledge to bring 1 million jobs to the US
Premise of friendly US-China trade relations no longer exists, Chinese billionaire says
Chinese e-commerce giant Alibaba Group Holding no longer plans to create 1 million jobs in the United States amid the intensified trade war between China and the US, according to company co-founder and executive chairman Jack Ma Yun.
Ma had offered the company's e-commerce platform to help US businesses sell products to Asia, with the potential of creating up to 1 million American jobs, during a meeting with US President Donald Trump in New York City in January last year.
"The promise was made based on the premise of friendly US-China partnership and rational trade relations," Ma told state news agency Xinhua on Wednesday on the sidelines of an Alibaba conference in the eastern coastal city of Hangzhou. "That premise no longer exists today, so our promise cannot be fulfilled."
Ma, however, said Alibaba "will not stop working hard to contribute to the healthy development of China-US trade".
Alibaba's move to back down from its promise has come after a further escalation of the trade war between the world's two largest economies.
On Monday, Trump announced that the US would impose 10 per cent tariffs on an additional US$200 billion worth of Chinese products from September 24, with the tariff rate increasing to 25 per cent on January 1 next year unless China makes concessions. China responded by imposing tariffs on US$60 billion worth of US goods.
"Trade is not a weapon for war, but a propeller of peace," Ma said. "We have visited a lot of countries and regions and find opportunities are everywhere. The more frequently I visit places in Europe, South America and Africa, the more confidence I have for these markets."
He said Alibaba has always worked towards the goal of "making it easy and fun to do business".
Against the backdrop of rising trade protectionism, he said that goal has become even more relevant.
Ma's comments also followed his surprise announcement – on his 54th birthday last Monday – about retiring next year. He will hand over the keys of Asia's most valuable company to Alibaba chief executive Daniel Zhang Yong.
Under that succession plan, Zhang will be promoted to executive chairman on September 10 next year, while Ma will remain a director on Alibaba's board and a permanent member of the Alibaba Partnership, according to a letter to all staff including the South China Morning Post, which is wholly owned by the New York-traded company.
Speaking separately at the World Economic Forum in northern China's Tianjin city on Thursday, Ma said that he had been twisting Dianel Zhang's arm for the past two years to talk him into taking over the top job at the company.
"To persuade Zhang to take the job [of executive chairman], I have had to drill into him over the past two years whenever I had a chance," said Ma. "I was deeply touched when he finally said yes, because I know it's an extremely difficult job."
At Alibaba's annual investor event on Tuesday in Hangzhou, Ma warned that the trade friction between the US and China will be a protracted affair because it is about two countries competing with each other. Even if Trump retires and the next president comes in, the conflict will continue, he said.
"It's going to be long-lasting, it's going to be a mess, maybe 20 years," Ma said. "Today China has become the second-largest economy in the world. This kind of thing happens, it's very natural."
Despite this, Alibaba will continue to strive to be "a company of globalisation", Ma said. "Otherwise we will never choose the name Alibaba, we'd choose another crazy Chinese name that people don't understand. We are called Alibaba because this company must be globalised."
This article appeared in the South China Morning Post print edition as: Alibaba drops plan to create jobs for a million Americans