Baidu
Get more with myNEWS
A personalised news feed of stories that matter to you
Learn more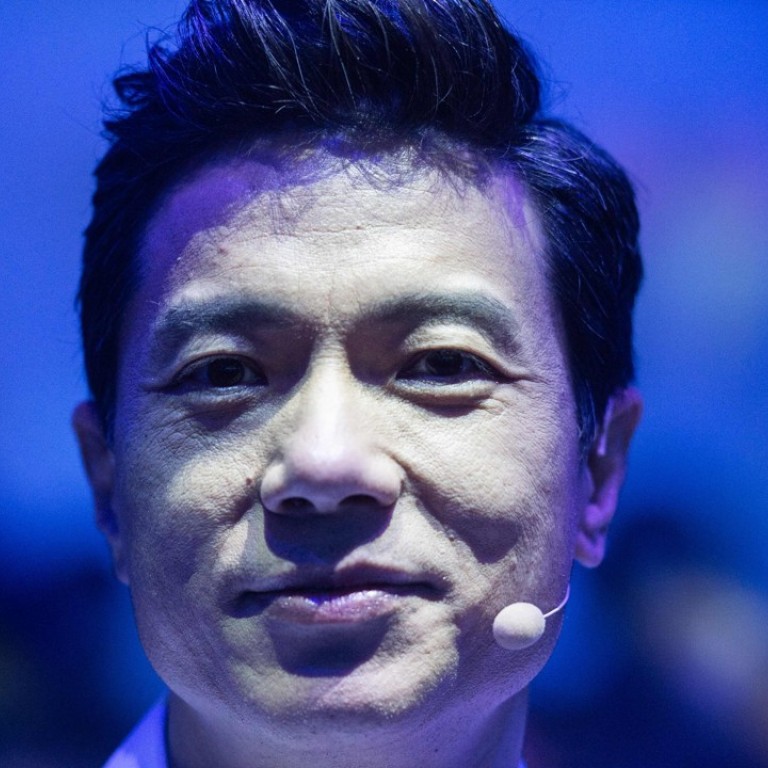 Baidu chief attributes rise of company, China's AI progress to state policies
Robin Li joins a queue of Chinese tech entrepreneurs in praising government's contribution to their success
Baidu chief executive Robin Li Yanhong has hailed the Chinese government's supportive state and industry polices as major factors contributing to the rise and success of his internet company and the development of artificial intelligence (AI) in the country.
His remarks, published in an interview with state newspaper Beijing Times on Wednesday, come hot on the heels of similar comments by a bevy of technology entrepreneurs and top business leaders in recent weeks, all of whom have taken to media to openly praise the government.
"Reforms over the past few years have been effective and bear notable results," Li was quoted as saying. "The dividend of government policies is a key factor behind China's AI development."
"Whether it is me as an individual or Baidu, we are all beneficiaries of the opening up and reform," he said. "If there hadn't been 40 years of rapid growth, or the surge of an online population from 8 million to 800 million, Baidu would not have been possible."
Beijing-based Baidu operates China's dominant search engine and has pushed into artificial intelligence, notably in autonomous cars where it is striving to build an open-platform for self-driving car technology.
Baidu is also part of a group of five companies including Tencent Holdings, Alibaba Group Holding, iFlyTek and SenseTime, tasked with building "open innovation platforms" in their respective fields.
The interview was part of a series of conversations with China's top business leaders to cap the year and to help boost confidence in the private sector.
Some private sector entrepreneurs have become uneasy about their future amid an escalating Sino-US trade war, a domestic stock market slump and growing state influence in the economy. In fact, morale has become so fragile that President Xi Jinping earlier this month convened an unprecedented "symposium" to hear the views of dozens of representatives from the private sector – including Li and Pony Ma Huateng of Tencent – following an open letter, where Xi told entrepreneurs he would continue to value and protect them.
"In recent days, some people have made remarks negating and doubting the private economy … some wrongly argued that setting up party cells and labour unions in private businesses is intended to control private enterprises … all these statements are completely wrong and do not conform to the party's policies," Xi was quoted as saying in the meeting by state media Xinhua.
Technology leaders have responded positively. Ma, co-founder and chief executive of Tencent, said the company "has been favoured by fate up to now and [our success] should be attributed to the era", according to an interview the low profile billionaire gave to People's Daily, the ruling Communist Party's mouthpiece, this week.
At a briefing organised by the press office of the State Council on Wednesday, Lei Jun, chairman and chief executive of Xiaomi, said that while trade friction between China and the US has brought new challenges to the smartphone industry, they can be "overcome".
However, extensive government support has also ignited accusations, mainly from the West, of unfair state intervention. China's aim to achieve AI dominance worldwide by 2030 is mapped out in a three-step national plan and there are more than 100 top-down, state-led policies designed to propel industrial and technological development.
In a 53-page report released on Tuesday by the Office of the US Trade Representative (USTR), the US once again pointed a finger at China for its "unfair" trade practices. The report was released ahead of a scheduled meeting next week between President Xi Jinping and Donald Trump on the sidelines of the Group of 20 Summit in Buenos Aires.
"China fundamentally has not altered its acts, policies, and practices related to technology transfer, intellectual property, and innovation, and indeed appears to have taken further unreasonable actions," the USTR said in a statement, concluding a year-long investigation.
Li said he expected the development of AI to wind up as a "race" between China and the US at a state level. "China is growing really fast in general, in terms of AI, and there's a coexisting possibility to trail, retain equal pace or [even] lead in the game."