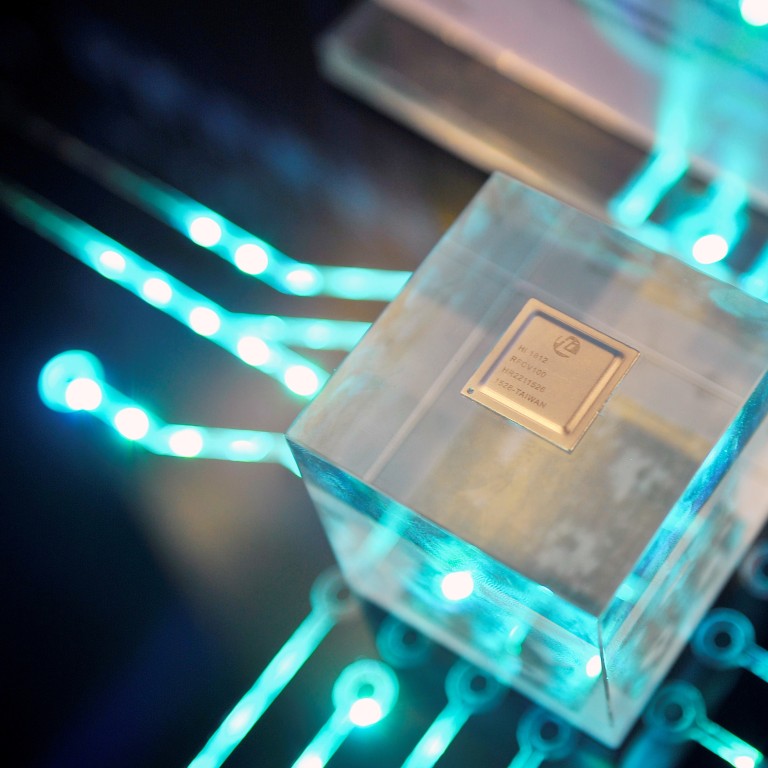 Are China's investments in semiconductors all for naught? US expert says China is at a crossroads
The desire to cut reliance on foreign chips and become a global leader in the semiconductor industry has never been stronger in Beijing than it is now
China's heavy dependence on foreign chips has worried Beijing for decades.
Just like Washington thinks including Chinese vendors in its telecoms network could pose a national security threat, Beijing also believes that a reliance on Western chips is a sword hanging over the head of its booming digital economy.
The desire to cut reliance on foreign chips and become a global leader in the semiconductor industry has never been stronger in Beijing than it is now. The urgency around the issue has increased amid an escalating trade war and after Chinese telecoms giant Huawei Technologies was banned in May from buying American-made technology – meaning chips mostly – which it relies on to expand its global empire.
After several failed attempts, China now has a more solid foundation in tech, a better talent pool and huge market size. It is in a better position to take on the US, which still leads the global semiconductor industry, taking half of the US$400 billion in global annual sales of chips.
With massive government funding, focused industrial policies and government targets, can China pull it off this time?
Jimmy Goodrich, vice-president of global policy at the Semiconductor Industry Association, a US trade group representing some of the biggest names in the industry from Intel to Broadcom, spoke about some of these issues with the Post recently.
Q: Only 16 per cent of the semiconductors used in China are produced in-country, and only half of these are made by Chinese firms. Is China really that bad in semiconductors?
A: It is really important to look at where China is in the overall value chain. China is an integral part of a global semiconductor value chain in that it is the single, largest end-market for chip sales.
Many of the world's largest consumers of chips and leading electronic companies have their supply chains in China. A big proportion of the electronics – smartphone, laptops, personal computers, televisions – are assembled in China. Because of that, China does indeed import more chips than oil.
A lot of Chinese policymakers look at that number and say "we have a huge deficit".
In reality, what is happening is that more than half of the semiconductors that come to China are re-exported for external trade. A tremendous amount of wealth and manufacturing jobs have been created because of this.
That contribution should neither be ignored or misinterpreted to tell an inaccurate story that China consumes too many semiconductors – in turn justifying huge government spending to solve a problem that may not exist.
Q: Will China's state-led approach work in the semiconductor industry?
A: China has been reforming its economy after it joined the WTO in 2001. China's role in the global value chain has increased. The challenge now is that China appears to be at a crossroads.
They are facing a decision in terms of how to continue moving up the value chain. Namely, does China continue to embrace an open economy and the international trade system or it is going to go in a different direction?
I think there have been conflicting signals, on the one hand, we see positive developments such as the improvement of intellectual property rights. On the other hand, policies like Made in China 2025 advocate for supply chain localisation.
Q: China has a goal of producing 40 per cent of the semiconductors it uses by 2020 and 70 per cent by 2025. It that possible?
A: Moving up the value chain is certainly something that is not only possible, it is already happening in China. Moreover, it can happen without government support.
The government's move to localise production is not helpful and runs counter to the DNA that makes up the global value chain. Leading American chip companies have R&D facilities not just in the US, but in Israel, Europe, China and Japan. designing and making a chip today is a 24-hour non-stop operation.
No-one has been able to completely localise that value chain inside their own country because that would require hundreds of billions of dollars of investment to produce something that is less agile, inefficient and more expensive.
Q: China has a population of 1.4 billion. Can it succeed in semiconductors in a way others haven't been able to?
A: Even though the China market is certainly the largest, on its own it is only a fifth of the global market, and sometimes the market in China is less competitive than the market outside China.
I think it is a mistake to assume that you can only rely on your domestic market instead of creating domestic companies that can compete globally.
Just like parenting children, the strongest and most agile children aren't those who have been sheltered at home, not allowed to play outside with friends. They need to be exposed from day one to the outside world and learn to live within it. That is what makes successful chip companies as well.
Q: Any advice to Beijing about building a strong semiconductor industry?
A: The most important thing a government can do is to facilitate trade and grow the market - something the Chinese government has been supportive of.
Another task is to spur innovation and invest in basic research. The third thing is to invest in the workforce and talent. The protection of intellectual property rights is also important because the chip industry is R&D intensive. In the US, more than 18 per cent of revenue is reinvested in R&D - that is US$40 billion annually in the chip industry. If that US$40 billion is not going to be protected, companies are not going to be confident to invest the money in the first place.