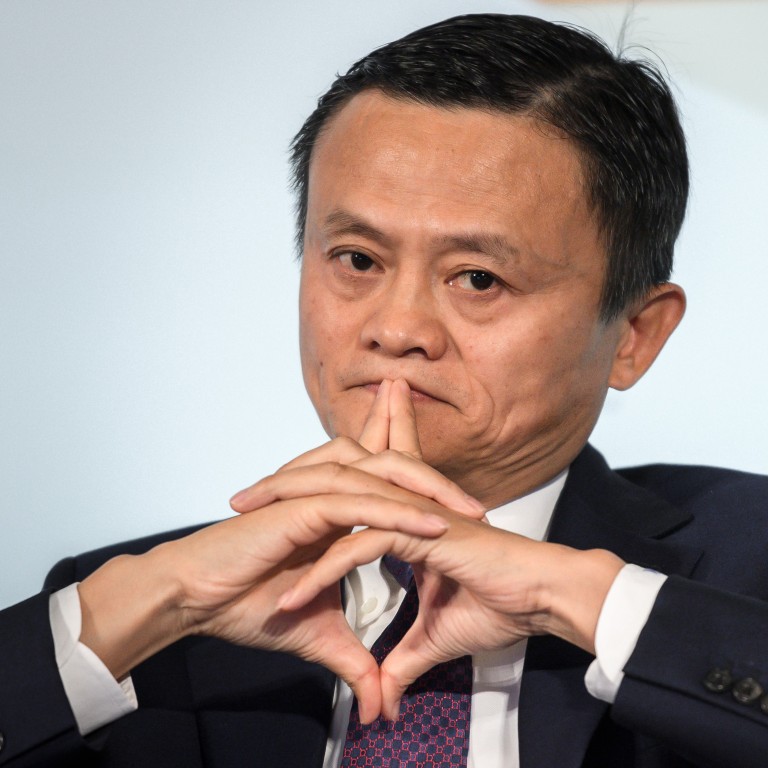 US and China need to work together for the world to benefit from the digital era, says Alibaba's Jack Ma
Alibaba founder Jack Ma says "almost impossible" for anyone to go it alone in smart era
Ma says coming technological revolution is inevitable
Amid an escalating trade and technology war between the US and China, both countries need to make a concerted effort to work together on technology for the world to benefit from the digital era, said Alibaba Group Holding founder Jack Ma.
"In the smart era, it is almost impossible for anyone to strike out on their own," Ma said in a speech at the Smart China Expo in Chongqing on Monday. "Only if China and the US work together on technology, can we enter the digital era together."
Ma's calls for the US and China to cooperate comes as the two countries are locked in an escalating trade war that has been ongoing since July 2018, when the first US tariffs came into effect. US tariffs on some US$300 billion worth of Chinese imports – mostly consumer goods – are expected to increase from 10 to 15 per cent later this year, in retaliation to China's decision last week to impose tariffs of between 5 to 10 per cent on US$75 billion worth of American products including soybeans, pork and crude oil.
The two countries have also been caught in what some have called a technology war. The US has placed Chinese telecommunications gear company Huawei on a trade blacklist that bans it from doing business with US firms, cutting off its access to critical US technology including software and electronic components like chips.
The move on Huawei as well as a similar move imposed on Huawei rival ZTE last year has led China to double down on calls to strengthen core technologies to reduce reliance on US technology. The US has also banned federal agencies from buying equipment from Chinese companies like surveillance camera maker Hangzhou Hikvision Digital Technology.
Ma, who is currently Alibaba's executive chairman but will step down in September, said that in today's "complex" world, relationships between countries, companies and the academic world have become extremely important.
"It is difficult to imagine that companies like Intel and Microsoft could have developed so rapidly without the Chinese market over the last two to three decades," Ma said.
"The coming technological revolution is an inevitable trend, and at this important point in history, what we need to do is face the challenges head-on and join hands."
Separately, Ma also said that in the smart era, policies should also be implemented accordingly to help businesses to develop. In particular, he pointed out the need for a better finance ecosystem in China, and referred to internet finance as the "greatest innovation of this era".
The difference between internet and traditional finance is that internet finance is based on data and is of low risk and high efficiency, Ma said. Internet finance can also better serve small- and medium-sized companies in China, he said.
"This is not to say that the development [of the finance industry] is without risk, nor that once it is regulated it becomes free of risk," Ma said. "Sometimes, inappropriate or obsolete regulation can be a huge risk in itself."
Alibaba, whose affiliate Ant Financial engages in internet finance, is the parent company of the Post.