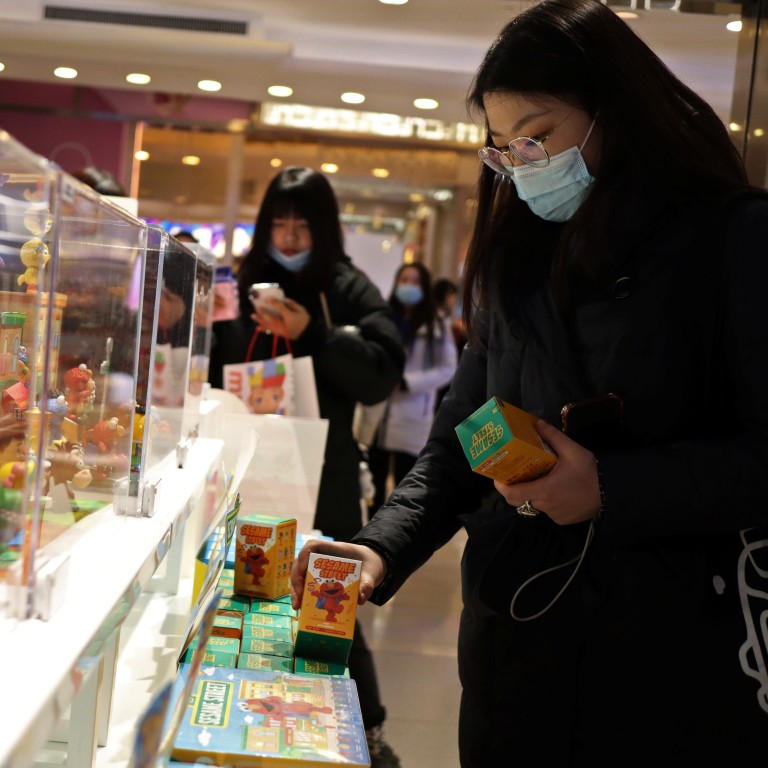 After Pop Mart IPO, blind boxes are helping China's tech giants and luxury brands gamify e-commerce
Pop Mart helped make the blind box concept a mainstream sensation in China, and now online retailers and social media are replicating the experience
Beauty retailer Sephora and fashion brand Lanvin are among the brands that have used surprise products on platforms like WeChat and Douyin, China's TikTok
When her friend showed up with three new blind boxes from Pop Mart International Group in late 2020, 25-year-old Zhou Yilei had an exhilarating choice ahead of her: pick one to open herself and find out which collectable figurine was inside. Would she discover a rare and highly coveted character or another run-of-the-mill one?
"I found myself holding all kinds of expectations: 'Which one is it? Would it be the one I liked?' The expectation and the gambling-like feeling hit their peak as you open," Zhou said.
By December, the toymaker that had converted her into a blind box collector went public in Hong Kong, raising US$676 million. Pop Mart shares debuted at around HK$70 (US$9), but have since fallen closer to HK$50 amid a declining market, closing at HK$53.60 on Friday.
Many remain baffled by the company's core product – a small box containing a mysterious figurine that costs 59 yuan (US$9) – but the marketing tactic has been largely embraced by brands and online retailers in the pursuit of young Generation Z consumers.
Over the last year, the strategy has proven widely popular in China, where companies have increasingly applied it to virtual goods and e-commerce in WeChat mini-programs and during shopping festivals. Even as China has sought to limit the use of loot boxes in video games because of their gambling-like properties, the "blind box" concept is exploding in the country. China's market for designer toys was worth 29.4 billion yuan in 2020, and the blind box market accounted for about 31 per cent of it, market consultancy iiMedia Research reported.
The mystery toy concept has a long history, being popularised in Japan with the New Year's tradition of "lucky bags" called "fukubukuro" and later showing up with " gashapon" capsule toys. But the recent rise of blind boxes across Asia has been aided by e-commerce, according to Zhang Yi, CEO of iiMedia Research.
"E-commerce channels have grown greatly over the recent year due to Covid-19, which has become a platform that blind box sellers rely on," he said.
Along with sales moving online, a burgeoning virtual community has cropped up with the help of influencers who share their purchases with their many followers.
A millennial blind box influencer under the name 'Bonbontoybox' regularly posts unboxing videos for her 75,000 fans on short video app Douyin, the domestic version of TikTok owned by ByteDance, and social e-commerce platform Xiaohongshu. The Chongqing-based creative studio founder has bought over 600 blind box toys since 2018.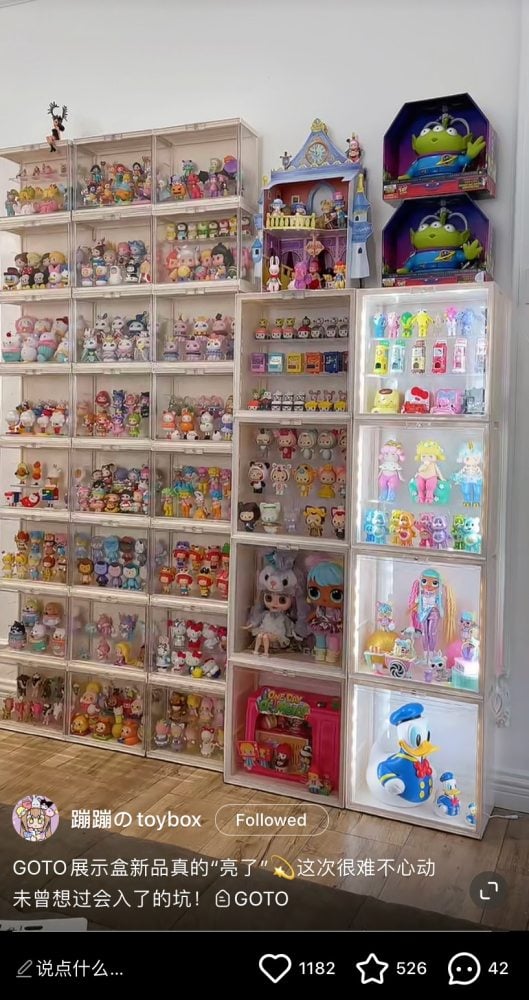 There are many reasons why she and so many like her appreciate the concept. "It plays into the gambling psychology; it's collectable; it represents a trendy youth culture," she said. "Senior-level players also gain self-recognition and self-belonging from the hobby."
The gambling-like thrill of blind-box retail has proven to be an effective way of exploiting consumer psychology. A number of brands now target millennial and Gen-Z consumers with their own versions of the concept. Beauty retailer Sephora, French fashion house Lanvin, local anti-hair loss shampoo Bawang and liqueur brand Baileys are among the diverse brands trying to cash in.
Some of them are also able to combine the concept with gamified online shopping experiences.
Having already launched blind box sets with products from self-owned brands last May, Sephora upped its game over the Lunar New Year holiday in China. It collaborated with Pop Mart on a uniquely branded product and created two mobile lotteries for its Chinese website, mobile app and WeChat mini-program.
During the holiday season, from January 28 to February 17, registered Sephora members were given one draw each day with the chance to win one of the 11,600 limited-edition Dimoo dolls, designed specifically for the cosmetics brand. The company also created 300 sets of 699-yuan blind boxes containing dolls and make-up that dropped on the night of January 29, encouraging members to slam the "buy" button as soon as the clock struck 9pm.
The enthusiasm for these types of products spans many different social platforms as influencers search for more followers. Jenny Zhang, the strategic director of UK-based marketing agency Tong Digital, said she has already seen such content in private WeChat groups, in addition to review and forum site Douban and Xiaohongshu.
"From a sales and marketing standpoint, the appeal of blind boxes comes around the ability to scale up and reach new engaged audiences," she said.
Lanvin is one brand that has used blind boxes to direct traffic to its WeChat account. During Qixi Festival, known as China's Valentine's Day, last August, Lanvin created a WeChat game that mimicked the blind box experience.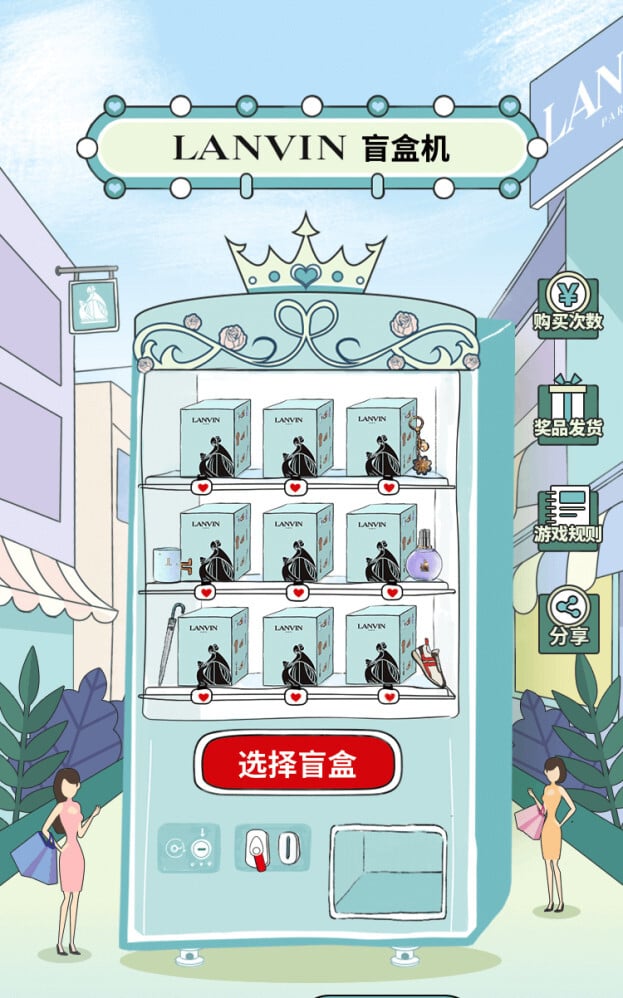 By connecting to its store through a WeChat mini program, the game presented nine branded boxes in a virtual vending machine. WeChat users were invited to buy one draw for 200 yuan or three draws for 500 yuan, which could get them a pair of Lanvin sneakers worth 6,800 yuan or much less valuable items like mugs, umbrellas and masks.
A month after the game went live, Levin recorded 50,000 players, five times more than the average page views of its WeChat articles. The company also experimented with physical vending machines for Qixi, with one in Beijing and another in Shanghai.
For small online sellers, however, copying the blind box business model does not guarantee success, and it increasingly runs the risk of regulatory scrutiny.
In one recent controversy, pet sellers on Pinduoduo and Taobao tried using the model with live animals, a trade that has long been under public scrutiny in China over concerns of animal treatment. Critics said cheap delivery methods can harm the animals and buyers may not be happy with the ones they get.
At the end of January, state-run news agency Xinhua reprimanded the unethical pet sellers and called for regulation of the industry. The Chinese Consumers Association (CCA) also noted the issue on its website, saying that businesses using the blind-box model should focus on the quality of their products and services rather than using hype to drive sales.
This question of hyping up products, referred to as over-marketing, also hit the anti-hair loss shampoo brand Bawang. The company included cartoon characters in ancient Chinese costumes in its own blind box sets of hair-growth extracts based on traditional Chinese medicine ingredients. Some questioned whether this marketing made sense for the target demographic of middle-aged men.
But the campaign was a success, according to iiMedia's Zhang.
"In our research, we found that although young people don't lose as much hair as older generations, they certainly care more," he said. "So it's the right move for the brand."
However, Zhang added that all brands, big and small, should carefully navigate the blind box phenomenon. Unlike younger consumers born after China's reform and opening up in the 1970s, many of whom might better appreciate Western culture, millennial and Gen-Z consumers are eager to create a consumer culture unique to China.
"In this context, it doesn't matter if the blind box has legs, what matters is the changes behind the psychology of new-generation consumers," he said.