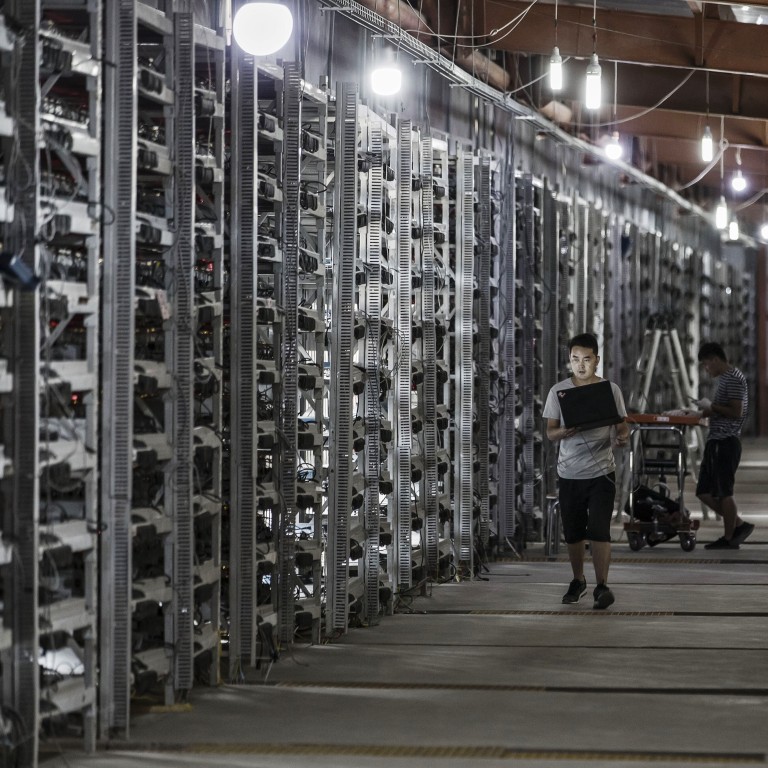 China's bitcoin crackdown: mining equipment, and carbon emissions, moving from the mainland to US
Beijing has started to crack down on mining due to its heavy reliance on cheap power and related impact on the environment
Social media video posted by Chinese logistics company showed it shipping bitcoin mining equipment to the US on behalf of a client
Fenghua International Transportation, a Guangzhou-based logistics company which ships tons of goods round the world for clients including chilli sauce, is getting ready to airlift 3 metric tonnes of bitcoin mining equipment as China continues to push operators out of the country.
The company recently posted a video on its WeChat channel showing it loading hundreds of boxes of bitcoin mining machines onto a truck headed to an airport in China. In the video, it says the shipment will arrive in the US in four to six days.
A saleswoman at the company said the video had drawn substantial interest from many parties but was removed from the internet by Fenghua voluntarily on Tuesday.
Beijing has always taken a hard stance against cryptocurrencies, regarding them as volatile and potentially destabilising, but had tolerated bitcoin mining until recently. It has started to crack down on mining due to its heavy reliance on cheap power and related impact on the environment – which clashes with China's vow to reduce carbon dioxide emissions by at least 65 per cent by 2030, relative to 2005 levels, and then achieve carbon neutrality by 2060.
Cryptocurrency mining requires massive amounts of electricity to run the large computer server arrays needed to do the complex calculations required for cryptocurrency transactions, as well as for the air conditioning needed to cool these facilities.
"Whilst China has always been very clear on its negative views on bitcoin buying, selling and trading, bitcoin mining was always tolerated. But that has now changed," said Henri Arslanian, global crypto leader at PwC. "Now [crypto mining] is moving overseas."
China is the world's largest bitcoin miner by hash rate, a measure of total computational power used to support the bitcoin network, accounting for about 65 per cent of total power in April, according to the latest estimates from the Cambridge Bitcoin Electricity Consumption Index. But China's crackdown has seen the network's global computational power drop by 50 per cent since April.
Some analysts say the steep drop off is worrying. "From too much concentration of mining in China to zero mining in China is drastic," said David Lee Kuo Chuen, a professor of finance at the Singapore University of Social Sciences.
In another knock for bitcoin, China's central bank said on Monday it had ordered banks, including four state-owned commercial banks, and leading mobile payments provider Alipay, to cut off all transactions linked to bitcoin.
"The contribution bitcoin has to the national macroeconomy is still relatively weak … especially now that it has become a financial product which people speculate on," Guan said. "The government would much rather use the electricity consumed by mining farms on other national priorities."
While advocates of cryptocurrencies claim that mining can be done with renewable energy, such as solar and wind power, Pete Howson, senior lecturer at Northumbria University in Britain, said that miners will always go for the cheapest energy source to stay competitive against other miners.
"For every new 'bitcoiner' adding a few [mining] units to a farmer's biodigester or wind turbine, there's entire gas and coal power plants reopening somewhere else," Howson said. "Bitcoin advocates often use ridiculous excuses as for why a cryptocurrency that emits around 65 million tons of carbon every year is no bad thing. They say it's getting more efficient. It isn't."
Some in the US, however, see this as an opportunity.
Francis X Suarez, mayor of Miami, has been pitching to cryptocurrency companies, saying that his city can be a hub for crypto mining farms with its abundance of nuclear energy. The 43-year-old mayor said the previous concentration of crypto mining farms in China was a threat to the US, and their current exodus presents an opportunity to catch up.
Silicon Valley investor Balaji S Srinivasan
wrote on Twitter
that a crackdown on farms in China simply allows them to relocate to other countries, which is preferable to a potential sweeping blockade by China's Great Firewall.
"The worst case scenario would have been: Great Firewall goes up but mining continues," Srinivasan said. "I do think a Great Firewall attack is still likely to come at some point. But it's far better for most [or all] mining to exit China before that happens."