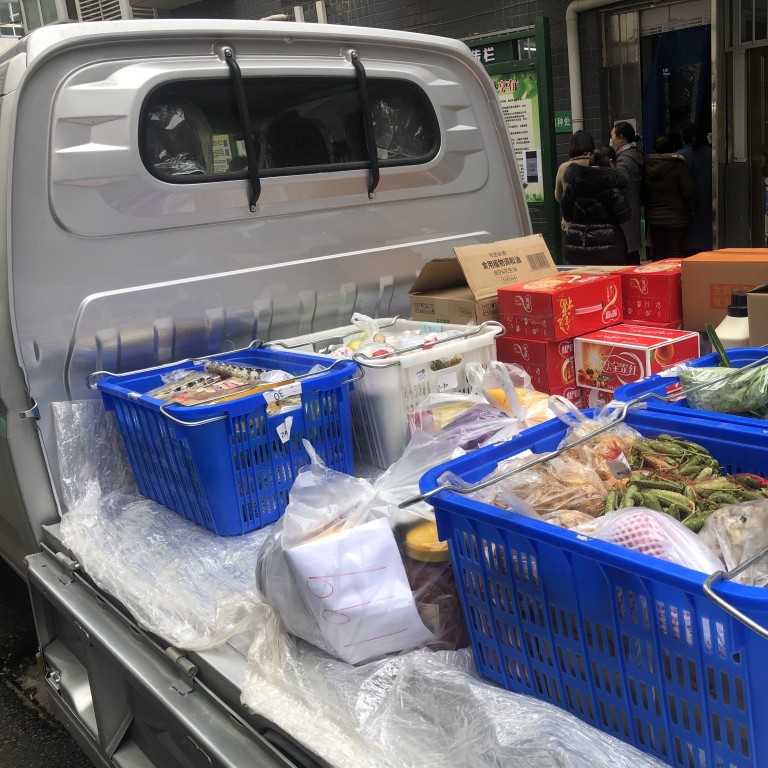 China e-commerce: once-rising community group buying star becomes sector's first big casualty as sector becomes a battleground
Group buying operator said it has filed for bankruptcy due to poor management and a difficult business environment
Community group buying model has been criticised by some state media for using economies of scale to put local food merchants out of business
A once-rising star in China's booming community group buying industry has become the sector's first big casualty after it was forced to close in yet another sign that the country's latest Big Tech-backed battleground is cooling off.
Tongcheng Life, a start-up founded in 2018 with over US$300 million in total venture capital funding, has filed for bankruptcy due to poor management and a difficult business environment, according to a statement issued by the company on Wednesday.
"A few days ago, we still hoped that the company would be able to solve its problems by changing our business model," He Pengyu, Tongcheng Life's founder and chief executive wrote in a letter to employees, suppliers and investors on Thursday, just two days after pivoting to live-streaming e-commerce. "However, because our creditors have all demanded payment at the same time … we have no more room to manoeuvre."
With backing from investors including Zhen Fund, Legend Capital and Bertelsmann Asia Investments, the three-year-old company was able to expand to 80,000 pick-up points around the country. However, their hundreds of stores throughout the Yangtze River and Pearl River deltas were dwarfed by Big Tech players such as Meituan, which is able to cover 2,600 cities and counties across the country.
In a separate letter on Tuesday, He said the company had actually entered a sustainable phase of development last year, but "since September, community group buying has suddenly changed from an era of innovation and operational excellence into a race to the bottom, fuelled by discounts and capital."
Community group buying has become a hot business model in China since the pandemic. The market is expected to be worth about 104 billion yuan (US$16 billion) this year, up 38 per cent from 2020, according to e-commerce consultancy China E-commerce Research Centre (CERC). Start-ups like Tongcheng Life and tech giants including Meituan, Pinduoduo and Didi Chuxing are all doubling down on efforts to grab more market share.
Hailed by tech companies as a way to cut out the middleman by connecting food suppliers directly with end customers, community group buying has all the hallmarks of "blitzscaling" – an aggressive growth model whereby profits are sacrificed in the short term in favour of acquiring new users.
"The reason [behind Tongcheng Life's bankruptcy] is that the community group buying industry is a cash-burning capital game now," said Cao Lei, director at the CERC, adding that he was not surprised by Tongcheng's bankruptcy given the need to absorb large losses, fund big subsidies, the increasingly competitive industry as well as tightened regulation of internet companies.
Beijing has increased its scrutiny of Big Tech over a range of issues, from data security, consumer privacy to anticompetitive practices. In the case of community group buying, the model has been criticised by some state media for using the economies of scale of Big Tech to put local food merchants and traditional wet markets out of business.
At the end of last year, China's State Administration for Market Regulation (SAMR) and the Ministry of Commerce summoned Alibaba Group Holding, Tencent Holdings, JD.com. Meituan, Pinduoduo and Didi to issue a warning. "It is strictly prohibited to sell products below cost with the purpose of squeezing out competitors or seeking monopoly positions," SAMR said in a statement at the time.
In March, SAMR fined the group buying platforms of Didi, Meituan, and Pinduoduo as well as Alibaba-backed Nice Tuan, for price dumping and fraud. In late May, Nice Tuan was fined 1.5 million yuan by SAMR again for failing to take action over such behaviour.
Alibaba owns the South China Morning Post.
This article appeared in the South China Morning Post print edition as: Group buying star becomes sector's first big casualty