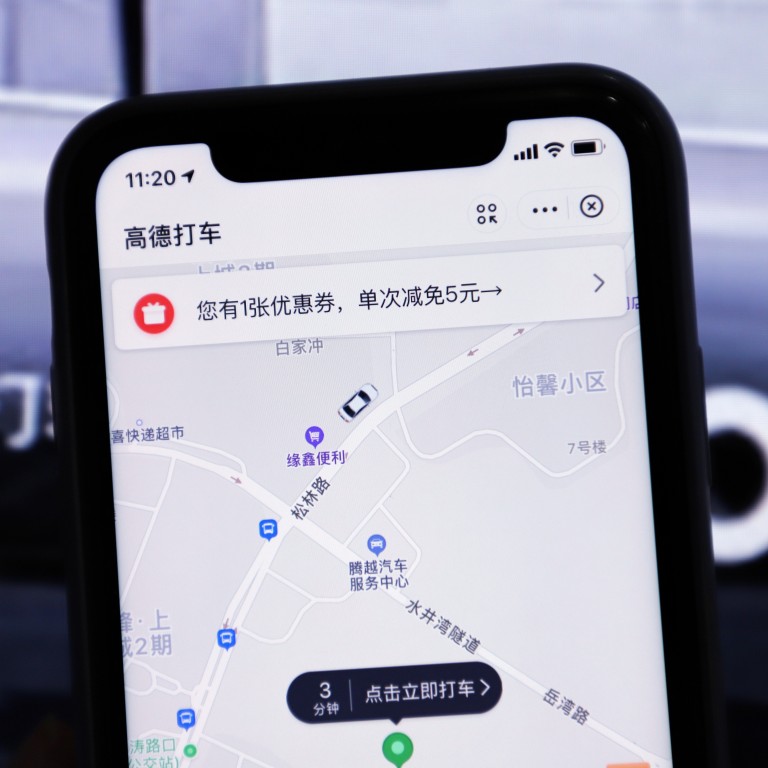 Beijing Taxi takes on Didi with Alibaba's AutoNavi mapping service in a challenge to unlicensed ride-hailing
Beijing Taxi Cum Automotive Leasing Association teamed up with Alibaba's digital mapping service AutoNavi on a ride-hailing service called Beijing Taxi
Ride-hailing services have come under scrutiny since the launch of a cybersecurity probe into Didi Chuxing, which raised questions about sensitive mapping data
Beijing taxi operators have launched a new ride-hailing service with the help of
Alibaba Group Holding
that will not challenge the municipal authority's monopoly on taxi service licensing, setting an example that could be applied in other cities and possibly undermine private ride-hailing operations like
Didi Chuxing
.
The service called Beijing Taxi is being offered through AutoNavi, the digital maps service provider owned by e-commerce giant Alibaba, which also owns the South China Morning Post. It is jointly operated by the Beijing Taxi Cum Automotive Leasing Association and AutoNavi, which offers access to the service in its app alongside other ride-hailing services.
The service is being launched after four months of development, making more than 100 of the city's small and medium-sized taxi companies available through a single online interface.
In addition to being accessible through AutoNavi's main app, Beijing Taxi can be found on the mapping service's mini programs on WeChat, the ubiquitous social media app operated by Tencent Holdings, and Alipay, the mobile payments app from Ant Group, an affiliate of Alibaba.
Before the new collaboration, AutoNavi already offered ride-hailing services from some taxi companies in Beijing, including Beiqi Taxi Group and Beijing Yuyang United Taxi Group. The team-up with the taxi association adds many more fleets to the AutoNavi app.
Ji Ying, the secretary general of the China Taxicab and Livery Association, called the model a "new benchmark for the taxi industry in China".
This is a challenge for apps like Didi, which offer services from both official taxi companies and independent drivers, who often do not meet regulatory requirements. Beijing requires both the driver and the vehicle to be licensed for ride-hailing services.
Only 40 per cent of Didi vehicles in service in China were licensed in August, according to data from China's Ministry of Transport. For Meituan's ride-hailing service, the number was 41.8 per cent.
This means most drivers on ride-hailing services are operating illegally and face hefty fines if caught. Licensing requirements have not been strictly enforced in the past, however, and the country had 245 ride-hailing companies as of last month, according to the Ministry of Transport's data.
Beijing Taxi is also taking advantage of AutoNavi's Haodi Chuzu service, which was launched last November with the goal of upgrading the systems of 300 taxi companies, operating a combined 1 million taxis. The service also aims to increase driver income by 30 per cent within a year of its launch.
"AutoNavi promises not to operate cars directly for ride-hailing services," AutoNavi president Liu Zhenfei said when the service launched. He added that the company is a "servant dedicated to helping" traditional taxi companies with their "digital upgrade".
If the model catches on, additional partnerships between AutoNavi and other local taxi companies would be another blow to the ride-hailing giant that currently controls 90 per cent of the industry in China.
Hangzhou-based Cao Cao Mobility, backed by carmaker Geely, raised 3.8 billion yuan (US$586.2 million) in early September in its latest round of financing, the largest amount raised by a ride-hailing business since last year. T3 Chuxing, another Didi rival, activated services in 12 new cities in one month.
This article appeared in the South China Morning Post print edition as: New taxi fleet to follow licensing norms