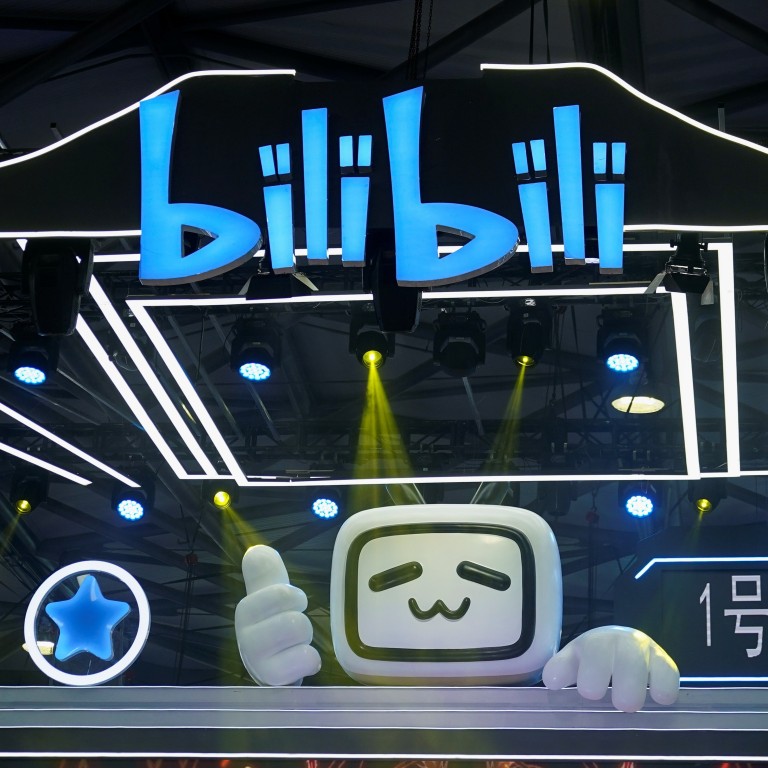 Bilibili loses some shine as 'growth-at-all-costs' model comes under scrutiny from investors
Bilibili has repeatedly stated it aims to hit a 400 million MAU target by 2023
Analysts say tighter regulations are forcing larger, better-resourced tech companies to seek new avenues for growth
Chinese video-streaming and mobile gaming company Bilibili, once an investor darling for its popularity among the country's youth, is losing some of its shine as more people question business models focused heavily on user growth, analysts say.
The company's shares dropped more than 10 per cent on Monday in Hong Kong, after a 10 per cent drop last Thursday before being suspended on Friday as the company announced a plan to raise up to US$1.6 billion by issuing convertible debt.
Although shares typically fall after a convertible debt announcement due to a dilution effect, the sell-off is in sharp contrast to the heady early days of Bilibili's share price performance, when the stock was perceived by investors as a shining tech star.
In the space of just four months, the company's shares on Nasdaq rose from around US$45 at the beginning of November 2020, to a peak of US$156.4 in February. A month later, Bilibili completed its secondary-listing in Hong Kong, raising US$2.6 billion, about 7 per cent less than its initial target.
"The recent collapse of Bilibili's share price from its peak shows investors have lost confidence in its grow-at-all-costs approach," said Michael Norris, research & strategy manager at research firm AgencyChina, "For investors to regain confidence, Bilibili needs a coherent strategy that goes beyond accruing new users in pursuit of its 2023 monthly active users (MAU) target."
Bilibili has repeatedly stated it aims to hit a 400 million MAU target by 2023. Norris also notes that Bilibili's losses are mounting and user stickiness has deteriorated since last year as "it shifts from a niche entertainment platform to something more mainstream."
Bilibili, along with other Big Tech companies such as Tencent Holdings and NetEase, have been caught up in a broad regulatory crackdown on the technology sector.
Although Chinese tech stocks have rebounded a little in Hong Kong in recent months, share prices remain volatile. Alibaba Group Holding, owners of the South China Morning Post, dropped more than 10 per cent the day after it announced disappointing quarterly results.
Bilibili released a better-than-expected third-quarter
earnings report
last week. Although the company's net loss more than doubled to 2.7 billion yuan, revenue grew 61 per cent to 5.2 billion yuan (US$814 million) – a faster pace than analysts expected.
It reported a 37 per cent year-on-year increase in sales and marketing expenses, and a 97 per cent increase in research and development expenses in the third quarter.
"The [tougher] regulations are forcing larger, better-resourced tech companies to seek new avenues for growth, with video being a popular strategy. This has meant that Bilibili has had to spend more to acquire users, [resulting in] greater losses and higher leverage," said Mark Tanner, managing director at Shanghai-based consultancy China Skinny.
Bilibili has already diversified its revenue streams. A few years ago over 80 per cent of its revenue came from mobile games, but that share fell to only 26.7 per cent in the third quarter this year.
The company has been doing better in other areas, such as value-added services, which include the premium membership program and live broadcasting services, which became the company's largest revenue stream last quarter. Advertising revenue also grew at a fast speed with a 110 per cent year-on-year uptick last quarter.
"Its young user base is a key strength as this group is one of the most sought-after demographics by marketers, which they should be able to better monetise [going forward]," said Tanner.