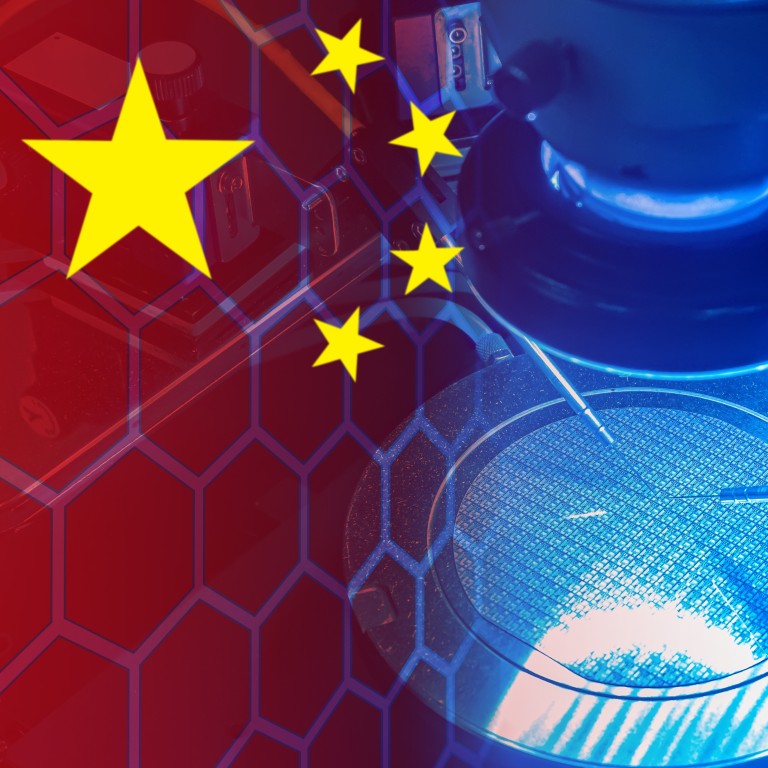 CEO of China's top mobile phone chip designer expresses relief firm has survived parent's debt crisis
Unisoc CEO Chu Qing said in a speech that the debt crisis of its parent company had created 'many troubles' for the chip designer
Chu's comments came after Unigroup said a consortium formed by Wise Road Capital and JAC Capital had emerged as strategic investors
The chief executive of China's largest designer of chips for mobile phones has expressed relief that Unisoc did not go under due to the heavy debts of its parent, two days after Tsinghua Unigroup secured fresh investment from two buyout funds.
Unisoc CEO Chu Qing said in a speech on Sunday that the debt crisis of its parent company had created "many troubles" as many of the chip designer's bank loans were extended with credit guarantees from Tsinghua Unigroup. Unisoc competes with the likes of Taiwan's MediaTek and US giant Qualcomm.
After Unigroup defaulted on its debts, Unisoc's major creditors – including Shanghai Pudong Development Bank and China Merchants Bank – promptly swapped loans guaranteed by the parent company into billions of yuan of credit lines direct to Unisoc, the chip designer said in a statement.
Chu's comments came after Unigroup declared via its two Shenzhen-listed subsidiaries that a consortium formed by Wise Road Capital and its sister fund JAC Capital had emerged as strategic investors, marking a further step towards the end of a months-long debt restructuring process to keep one of China's largest semiconductor conglomerates afloat.
"It's very important for a hi-tech company to receive [ongoing] support from capital and financial markets," the company said in the statement summarising Chu's speech.
Wise Road and JAC will provide 60 billion yuan (US$9.42 billion) to pay off debts to creditors, according to a report in the official media Shanghai Security News on Monday. Creditors were given various options including cash, equity and deferred payment up to eight years for Unigroup's existing debt, which would allow a redemption of 95 per cent of what they were owed , the report said.
Unigroup has been saddled with more than 200 billion yuan (US$30.8 billion) in total liabilities after years of aggressive expansion into areas beyond chips, including finance, energy and education. The group started looking for deep-pocketed investors to continue its semiconductor and cloud computing operations after a restructuring process formally began in July.
Unisoc was formed by Tsinghua Unigroup after it merged two subsidiaries: Spreadtrum Communications, which Tsinghua Unigroup bought in 2013 for 10.3 billion yuan (US$1.58 billion), and RDA Microelectronics, which Tsinghua Unigroup acquired in 2014. It became fully incorporated in 2018.
The Shanghai-based fabless chip firm saw its shipments of smartphone processors reach a record of 4.1 million units in the third quarter, buoyed by orders from clients including Huawei Technologies Co's budget brand spin-off Honor.
Chu also said that China's relentless drive to seek self-sufficiency in strategic technology areas, such as semiconductors, should not go to the extreme of closing itself off altogether from imported technologies.
"Excessive emphasis on autonomy will result in exclusivity," said Chu. "With industry developed to today's levels, almost any technological product is unlikely to be completed by a single company or country, even in the US."
Unisoc is a key asset for Unigroup, along with Shenzhen-listed Guoxin Microelectronics, Yangtze Memory Technologies, China's top memory chip maker, and H3C Group. Analysts say these semiconductor companies are investor favourites when it comes to buying into China's semiconductor drive.
"It is interesting that [some] investors buy into Unigroup, not just Unisoc, a better performing asset which stands a better chance of being spun off as an IPO," said Sravan Kundojjala, a senior analyst at Strategy Analytics. "Ideally, the investment group should just buy Unisoc as this asset is relatively less capex-intensive compared to other assets such as memory."
Another Chinese semiconductor analyst, who declined to be identified as he is not authorised to talk with media, said the arrangement with Wise Road Capital and JAC Capital was probably the best outcome in terms of minimising the impact on the operations of other Unigroup companies such as Yangtze Memory Technologies.