Robotics
Get more with myNEWS
A personalised news feed of stories that matter to you
Learn more
China robot unicorn Hai Robotics eyes international expansion as market for warehouse automation cranks up
Hai Robotics makes robots for moving and sorting boxes in warehouses, a market estimated to reach US$41 billion globally by 2027
Hai Robotics says its system can replace 60 to 70 per cent of warehouse workers
Shenzhen-based warehouse robot start-up Hai Robotics, which counts Chinese e-commerce giants Alibaba Group Holding and JD.com among its clients, is speeding up international expansion with the goal of having half its business coming from outside China this year, the company's co-founder told the Post in an interview.
Hai Robotics, founded in 2015, makes robots for moving and sorting boxes in warehouses, a market estimated to reach US$41 billion globally by 2027 amid widespread automation, according to research firm LogisticsIQ. While 70 per cent of Hai Robotics' current customers are from China, it sees a future outside the domestic market, said Fang Bing, co-founder and chief operating officer.
"We're in the business of replacing workers with machines, and machines are [correspondingly] more expensive where manual labour is expensive," Fang said. "So the overall market size for us is bigger overseas, especially when supply chain disruption and labour shortages present big problems for companies around the world."
As part of this expansion, the company last month reached strategic cooperation deals with Tompkins Robotics and Storage Solutions, two American peers, to jointly develop robots for the US market, according to information on its website.
Hai Robotics, which currently employs 1,600 people, designed its first warehouse robots to be able to pick up and move individual cases used to store goods with its own technology, known as autonomous case-handling robotic (ACR) system. Traditional warehouse automation solutions had mostly used forklifts to transport entire shelves of goods, such as Kiva, a warehouse robotics system acquired by Amazon.com in 2012.
Hai Robotics says its system can replace 60 to 70 per cent of warehouse workers, where their typical function is to walk around a warehouse looking for items. Fang said that it benefits young workers, as they can be freed up from repetitive and labour intensive work.
"It's hot inside warehouses and the work is strenuous. Workers need to walk up to 60,000 steps every day," Fang said. "It's getting harder for warehouses to hire this type of worker as people are less willing to do such work nowadays."
But there are still about 30 per cent of warehouse workers which robots cannot replace, said Fang.
"In the case of an order for a bottle of water, our robotic system will pick up the case where the water is stored in the warehouse and transport it to the packaging area," Fang said. "In this area there still needs to be humans who take the bottled water out from the case, package it, and label it with an order receipt. This process is less automated."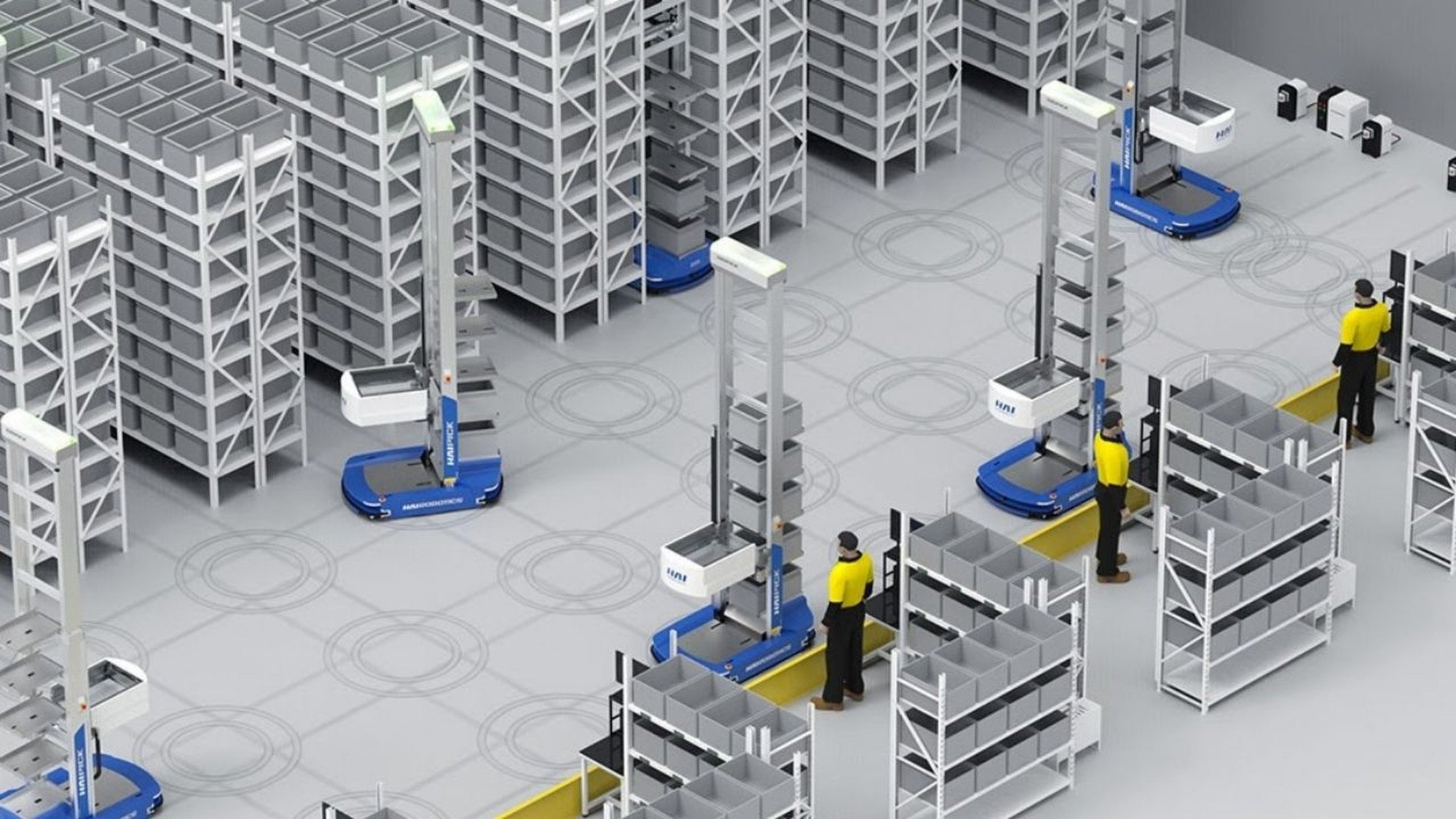 The company has been expanding rapidly as investors continue to pour money into China's artificial intelligence and robotics industry. In the last year alone, Hai Robotics raised more than US$200 million in three rounds of fundraising, from major venture capital firms including Sequoia Capital China, Source Code Capital and 5Y Capital.
In February, The Information reported that the start-up raised another US$$170 million at a valuation of US$2 billion. A Hai Robotics spokesperson declined to comment on the reported new round of funding, but said that the company is valued at around 10 billion yuan (US$1.48 billion).
Hai Robotics has its roots in Hong Kong, where two of the co-founders Fang and Richie Chen were undergraduates in electrical engineering at the Hong Kong Polytechnic University. Their first start-up making a type of equipment used in scientific research was a success, according to Fang, and they wanted to move on to creating a business with a bigger market.
With a third co-founder, Xu Shengdong, they met Li Zexiang, a professor of engineering at the Hong Kong University of Science and Technology, who famously incubated Chinese drone giant DJI. Li suggested that they look into robotics and automation, Fang said.
Now, Hai Robotics boasts more than 500 projects launched around the world, with clients including Alibaba, JD.com and companies from a range of industries including retail, logistics and energy.
The competition for warehouse automation is heating up though, with companies such as Geek+, XYZ Robotics and Seer all contenders in China. Beijing-based Geek+, which is backed by Warburg Pincus and GGV Capital, is weighing a US$500 million IPO, Bloomberg reported in August last year. Hai Robotics declined to comment on its listing plans or when it expects to turn a profit.