NFTs
Get more with myNEWS
A personalised news feed of stories that matter to you
Learn more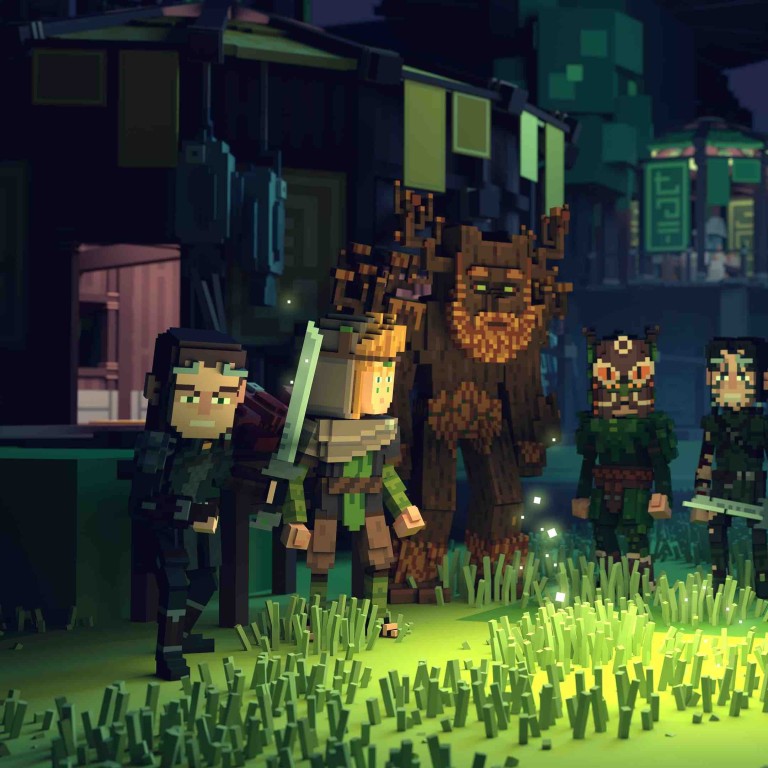 Big blockchain advocates in Hong Kong, like Animoca Brands, continue to see a crypto future despite market downturn
Animoca Brands is one of the most active investors in the NFT space globally, boasting a portfolio of more than 200 companies and projects
Founder Yat Siu expects the current mindset to change when more goods and services are transacted 'natively' with cryptocurrencies
Big Hong Kong backers of cryptocurrencies and non-fungible tokens (NFTs) are continuing to push for a technological future founded on blockchain-based digital assets, despite a market meltdown earlier this month that wiped billions of dollars of market value from popular tokens and inflicted heavy losses on investors.
"I see volatility as maybe one of many excuses, if you want to call it that, to not join [crypto]," Yat Siu, co-founder and executive chairman of blockchain gaming company Animoca Brands, said in an interview with the Post last week.
Hong Kong's Animoca Brands is one of the most active investors in the NFT space globally, boasting a portfolio of more than 200 companies and projects, including marketplace OpenSea and play-to-earn game Axie Infinity. It is also the operator of blockchain game platform The Sandbox, and a partner of Bored Ape Yacht Club creator Yuga Labs in developing their upcoming game Otherside.
It also operates cryptocurrencies including the Sand token, which can be used for transactions in The Sandbox, and Revv token, used in its motorsport games. The price of Sand tokens shrank from its peak of around US$8 in November to around US$1.3 this week, whereas Revv lingers below US$0.1 after briefly reaching US$0.4 in November.
Animoca Brands' tokens are among many that have slipped in market value amid what has been dubbed another "crypto winter", following a global cryptocurrency market meltdown earlier this month, mostly driven by the collapse of stablecoin TerraUSD, or UST, and its sister token Luna.
In a Terra Luna community page on social platform Reddit, some users wrote that they had lost all their life savings, and group moderators posted helpline numbers. More than US$200 billion of cryptocurrency market value evaporated in a day in May as shock waves spread across the industry, with some of the biggest cryptocurrencies continuing to tumble in value throughout the month.
This week, Bitcoin is sitting at around US$23,000 after cruising above US$30,000 for most of this year. Ether remains below US$2,000 after hitting a peak in November above US$4,800.
European Central Bank President Christine Lagarde this week warned that cryptocurrencies are "based on nothing" and should be regulated to steer people away from speculating on them with their life savings.
But Siu argues that investing in crypto is just like many other things people do in life that are "inherently unstable", with people taking risks every time they enter new friendships, new business deals and new relationships.
"Because we're accustomed to doing this. It's normal. It's acceptable to take that kind of risk," Siu said. "But with the crypto side, because it's kind of alien, it feels uncomfortable."
Siu also argued that concerns about the volatility of cryptocurrencies come from what he calls "fiat denomination", where people judge cryptocurrencies' value through the lens of fiat money. He said he expects it to change when more goods and services are transacted "natively" with cryptocurrencies.
"For myself, when it comes to NFTs anyway, I'm ether denominated or Sand denominated," he said. "Most of the world isn't like that for many obvious reasons, but this is the transition."
Animoca Brands is among several companies dotted around the world building what is now commonly referred to as Web3, a term loosely used to describe a next generation of the internet based on blockchain technology that will be able to wrestle power away from Big Tech platforms and let users "truly own" their online assets.
Siu argues that cryptocurrencies are an indispensable component of Web3, as they are a "transaction layer for all of the decentralised ownership that we need to have", without which "you don't have a construct in which you can own things in a decentralised way."
To push for the transition, Animoca Brands has now fixed its eyes on the education industry.
Siu says that the company is about to announce business moves that will involve teachers bringing their teaching content into NFTs. Doing so will benefit teachers financially, says Siu, as teachers are "perhaps among the most important but least economically valued members of society". Siu added that current tutoring models, especially in Hong Kong and mainland China, are exploitative of both students and teachers.
He is also hoping that teachers will be able to bring more people into cryptocurrencies.
"One of our other big missions is to bring more people into Web3," he said. "If teachers start making money in the world of crypto and reward people in the form of crypto, then that's probably a good way to bring people on board and educate them."
But there is no doubt about the severity of the current downturn.
The daily number of global NFT sales in November sat at between 160,000 to 200,000, while in May, it lingered at around 25,000, according to data from Nonfungible.com. Active market wallets have also fallen from more than 90,000 in November to fewer than 20,000 in May.
Morgan Stanley analysts reportedly warned in a client note this month that NFTs could be the next sector of crypto to crash as they are the next most speculative asset and leveraged area after TerraUSD, or UST, the stablecoin that crashed this month.
However, while a frenzy of launching cartoon avatar NFT collections has faded in Hong Kong, investors continue to explore new ways of increasing the adoption of these tokens.
Jehan Chu, founder of blockchain-focused venture capital firm Kenetic Capital, recently co-founded a project named Gourmeta, which auctions exclusive reservations at fine-dining restaurants as NFTs.
Winning bids give buyers access to a "bespoke" menu, and professionally taken photos of the dishes they eat as NFTs. The NFT auctions, which enable people to pay as much as they are willing to for the experience, will help struggling restaurants through the pandemic, according to Chu.
"If you allow people to compete for scarce resources, they will," Chu told the Post.
Animoca Brands is also working towards opening up its flagship game The Sandbox to more players, Siu said. The game, which lets people buy and trade NFTs of virtual land plots and other in-game assets, has so far only offered a limited amount of mini games during designated time periods.
Restricted access is aimed at "making sure the server can scale and do certain things", Siu said, as "fortunes are tied to it, some wealth might be tied to it, and more importantly, people's incomes are tied to it."
The company is, however, aiming for a "full launch" this year, meaning that it will move from "alpha" to "something more like a public beta", said Siu, without providing further details.