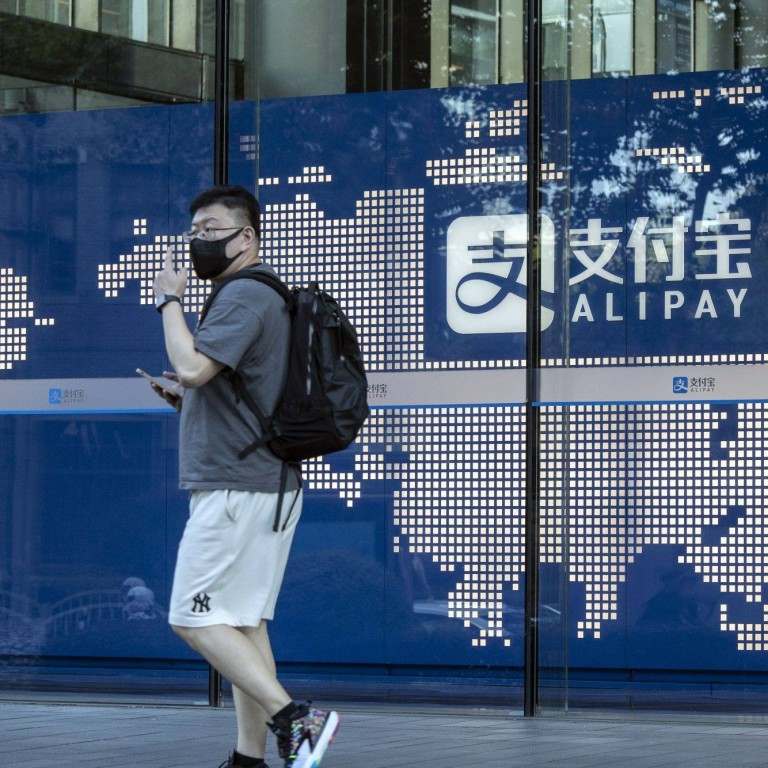 Ant Group's mutual fund unit sees sharp drop in profits amid regulatory clampdown and economic headwinds
The mutual fund's revenue for the half year also dropped nearly 7 per cent from 5.8 billion yuan
Sharp decline in fund's profit came as a slowing economy hurts earnings at Chinese funds and as Ant Group continues its state-led restructuring
Ant Group, the Alibaba Group Holding-affiliated operator of popular Chinese mobile payment service Alipay, saw its mutual fund unit's net profit for the first half drop more than 70 per cent, as economic headwinds and regulatory pressures took their toll.
Ant (Hangzhou) Funds Sales, the mutual fund distribution arm of Ant Group, recorded a net profit of 82.85 million yuan (US$12.1 million) in the first half of the year, a 74.5 per cent decline from the first half of 2021, according to the latest financial results published by Shanghai-listed Hundsun Technologies.
The mutual fund's revenue for the half year also dropped nearly 7 per cent from 5.8 billion yuan to 5.4 billion yuan, the company's report shows. Ant Group is a shareholder in Hundsun, a financial software provider focused on wealth and asset-management solutions.
The sharp decline in the fund's profit came as a slowing economy hurts earnings at Chinese funds, and as Ant Group continues to undergo a lengthy state-guided restructuring process after its initial public offering was called off at the last minute by Chinese regulators in late 2020.
The unit's contribution to Alibaba's net profit in the second quarter also declined 17.3 per cent from the same period last year.
Ant Group did not immediately respond to a request to comment.
China Merchants Bank and Shanghai Tiantian Fund Distribution, which run mutual funds of similar size to that of Ant Group's unit, also saw their half-year net profit drop 45 per cent and 8 per cent, respectively.
As part of efforts to revive its public offering, Ant Group has been taking steps to meet regulatory requirements as it transforms itself into a financial holding group. That includes distancing itself from affiliate Alibaba, which also owns the South China Morning Post.
Last month, Alibaba said that all of Ant Group's top executives, including chairman and chief executive Eric Jing Xiandong and chief technology officer Ni Xingjun, have exited the e-commerce giant's partnership structure.
The two companies also agreed on July 25 to terminate their data sharing agreement, which they entered into in 2014. They will instead negotiate terms of their data sharing arrangements "on a case-by- case basis and as permitted by applicable laws and regulations", Alibaba said in its 2021 annual report.