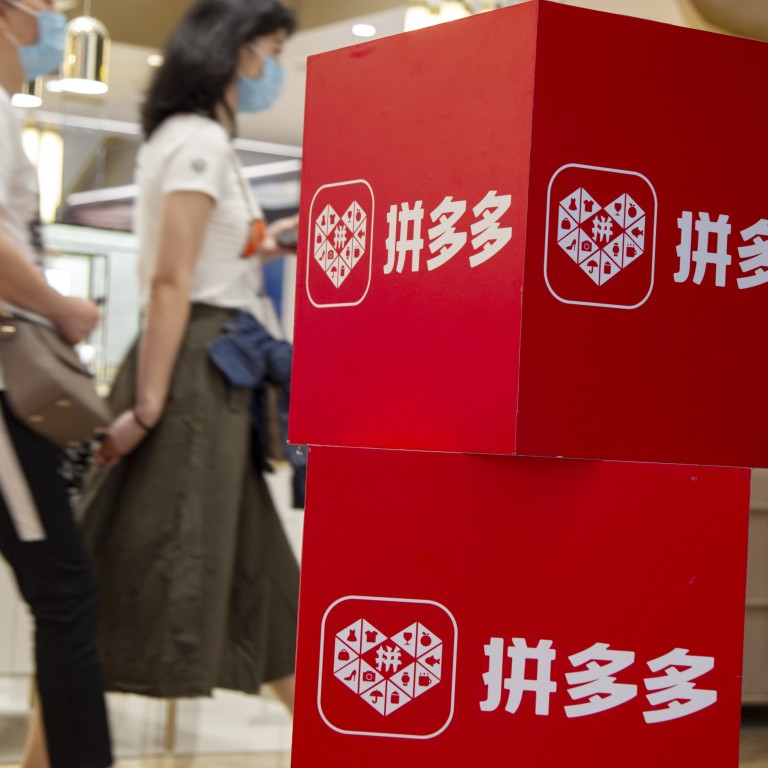 China's budget-focused Pinduoduo launches Shein-style app to woo US consumers with cheap fast fashion
Pinduoduo has a new app called Temu targeting US consumers, featuring cheap apparel like 77-cent earrings and a US$4 dress
The Shanghai-based company beat expectations in the second quarter amid weakening consumer spending in China, as it seeks to expand overseas
Shanghai-based e-commerce company Pinduoduo, which surprised investors this week with strong second-quarter performance, has launched a Shein-style app to woo US consumers with offerings such as earrings that cost just 77 US cents or a US$3.76 dress.
The app called Temu is operated by Whaleco Inc, a US-based company that Chinese media
LatePost
reported is owned by Pinduoduo. The app puts the budget
e-commerce
firm in direct competition with fast-fashion platform Shein, as it eyes overseas expansion amid a slowing economy at home.
Registration information for a Chinese website inviting merchants to sign up as vendors on Temu also shows the site as owned by Pinduoduo. The company did not respond to requests for comment.
The Nasdaq-listed firm joins Chinese rival Shein by bringing made-in-China apparel directly to US consumers. It has even matched Shein's free shipping for orders of US$49 or more.
Known for its cut-to-the-bone deals, Pinduoduo has weathered economic headwinds in China better than others. Its better-than-expected revenue and profit for the second quarter far exceeded growth at competitors
JD.com
and
Alibaba Group Holding
, owner of the
South China Morning Post.
Its revenue jumped 36 per cent for the quarter, while profit skyrocketed by 268 per cent. Alibaba barely reported any revenue growth, and JD.com, China's second largest e-commerce company, reported 5.4 per cent revenue growth in the same period.
Pinduoduo, founded by billionaire Colin Huang in 2015, has grown quickly through the use of discounts offered when users promote goods on social networks. It is seen as a platform for more price-sensitive consumers, helping it stay resilient amid lower spending in China, where consumer confidence has been bruised by
rising unemployment
and
bleak economic projections
.
"If you look at other e-commerce companies such as Alibaba and JD.com, their performance was [affected], as the economic environment is not good," said Tsz Wang Tam, a Hong Kong-based equity analyst at DBS Bank. "But Pinduoduo is special. It maintained strong growth amid the macro environment."
However, Tam noted that the "outstanding performance of Pinduoduo can't represent the overall performance of China's e-commerce industry". He expects the company to maintain good revenue growth for the next few quarters, but profit growth may not be as good as this quarter.
Pinduoduo's plan to venture overseas has been in the cards for a while. Chen Lei, who took over as chairman of Pinduoduo last year after Huang stepped down from his corporate roles at the age of 40, said during an earnings call on August 29 that the company is willing to try an overseas push.
"We are sufficiently aware that overseas business will be, of course, challenging, and it will require constant trials and experimentation," he said.
Zhuang Shuai, founder of Bailian Consultancy, said Pinduoduo's strong performance is a result of investment in the agriculture sector, the success of its fresh grocery service Duoduo Grocery, and weakening competition in China's low-end e-commerce market.
"Through continuous investment in agriculture, Pinduoduo has established a strong 'category threshold', and this will continue to become its growth point in the future," Zhuang said. "JD gave up its bargain commerce platform Jingxi and temporarily abandoned the low-end market, and this eased the competition faced by Pinduoduo. All these factors are favourable to its revenue growth."
Duoduo Grocery, which Pinduoduo started in late 2020, kept more than 100 employees working in its warehouse in Shanghai's Fengxian district during a citywide lockdown this year to meet surging demand for fresh food. Some local communities saw the daily number of orders on Duoduo Grocery rise tenfold, according to Chinese media reports.
Emily Zhao, a 25-year-old employee at an internet company in Shanghai's Changning district, said her company gave workers roughly 1,300 packages of vegetables and meat provided by Duoduo Grocery in April, when the Shanghai lockdown began.
Zhao said the goods from Pinduoduo helped her survive the lockdown, "when it was almost impossible to buy any fresh food at any platform like JD.com or Freshippo", Alibaba's grocery service.