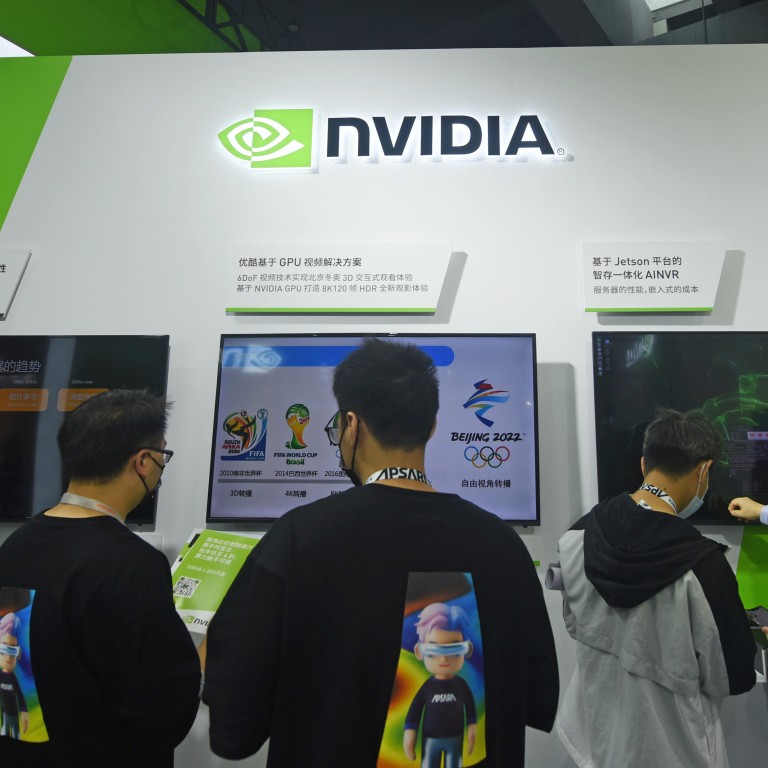 Tech war: China chip veteran says Nvidia is hard to replace in artificial intelligence, urges start-ups to catch up
Nvidia supplies 95 per cent of general-purpose GPUs in AI training systems, said Lu Jianping of Shanghai-based chip rival Iluvatar Corex
China's GPU start-ups should focus on 'versatility' by supporting more algorithms to ensure the chips are supported by more systems, he said
Nvidia has a near monopoly on graphics processing units (GPUs) used to train artificial intelligence (AI), a chip expert at the country's leading rival to the Californian tech giant said on Wednesday.
Lu Jianping, chief technology officer at Shanghai-based Iluvatar Corex, said Nvidia controls 95 per cent of the market for general-purpose GPUs used to train AI models. He made the comments during an online session organised by China's ICwise, a consultancy focused on the country's chip supply chain.
While local Chinese rivals have started to develop their own GPUs, they are still not able to challenge industry giants AMD and Nvidia, according to Lu, who previously worked for Nvidia and
Samsung Electronics
. However, Lu said Chinese firms could catch up by improving "versatility" through support for more AI algorithms.
"If a client has developed an AI algorithm … it should be able to run on an Nvidia chip, but also on an Iluvator chip," Lu said.
The online session focused what has become a major debate in China's chip industry since the US government's decision last month to
restrict Nvidia from selling
its two most advanced chips, the A100 and the upcoming H100, to clients in China, which has sent shock waves through China's AI, cloud computing and smart vehicle industries, as there is no immediate substitute for those GPUs.
Iluvatar Corex could be the best positioned Chinese start-up that
stands to benefit from the US restrictions
, as it claims to have the only domestically produced GPU in mass production. The Tiangai 100, which took four years to develop and is already being used for cloud computing applications, has received 230 million yuan (US$33 million) in orders so far, the company said at the
2022 World AI Conference in Shanghai
this month.
Lu said that he was unable to find any mature "rival products" from Chinese GPU start-ups for assessment against Nvidia chips. "So far we can't get any, probably because everyone is still in the development stage," he said.
Meanwhile, continued computation demand in China AI applications will give local start-ups an opportunity to grow, according to Lu. As a starting point, Chinese GPU companies can "benchmark" their products against those from Nvidia.
"Making products not far from what Nvidia can offer is key to continue generating revenue," he said.
Nvidia said the US licensing requirement may result in sales losses of up to US$400 million in its third financial quarter, but the company is talking with Chinese clients about alternative products not included in export controls as replacements.