Chinese social media users are flocking to the decentralised Mastodon platform to find community amid crackdown at home
The decentralised Mastodon platform has seen the number of Chinese users surge by about 50,000 this year amid harsher social media policies in China
While small compared with mainstream platforms, dedicated users appreciate building small communities to discuss sensitive issues
In the weeks after a video of a
woman shackled by her neck
in Jiangsu province went viral in February on Douyin, the Chinese version of
TikTok
, Beijing
censors went to work
removing posts that threatened a widespread public backlash against government officials that some charged with not doing enough to curb human trafficking. However, one social media platform with a growing number of Chinese users speaking out against the government remained out of reach for authorities.
Mastodon, an open-source microblogging software, was created by German developer Eugen Rochko in 2017 as a decentralised version of Twitter that is difficult to block or censor. It was partially a response to the control over user data exerted by Big Tech platforms, and the source code has since been used for many alternative platforms catering to those disaffected with mainstream options. Former US president Donald Trump's Truth Social, for example, uses Mastodon code.
For Chinese users, though, the ability to build their own community outside the control of any central authority is a significant draw. From the beginning of February through August of this year, the number of people posting in Chinese on Mastodon has jumped by nearly 50,000 to about 154,000 users, who have created more than 9.5 million posts in that time, according to a bot that tracks these numbers. While small by Chinese social media standards, the interconnected network of sites – each known as a Mastodon instance – has created a place for people to air political grievances anonymously without having posts disappear overnight.
"I think users of Mastodon may have two main types of content interests. One is that they need a corner to express their personal daily life, and the other is that they want to discuss and vent their dissatisfaction with politics and society," said a Chinese computer science master's student who asked to go only by his English name James. He lives in Southeast Asia and runs his own Mastodon server, which includes the bot he created to track Chinese users.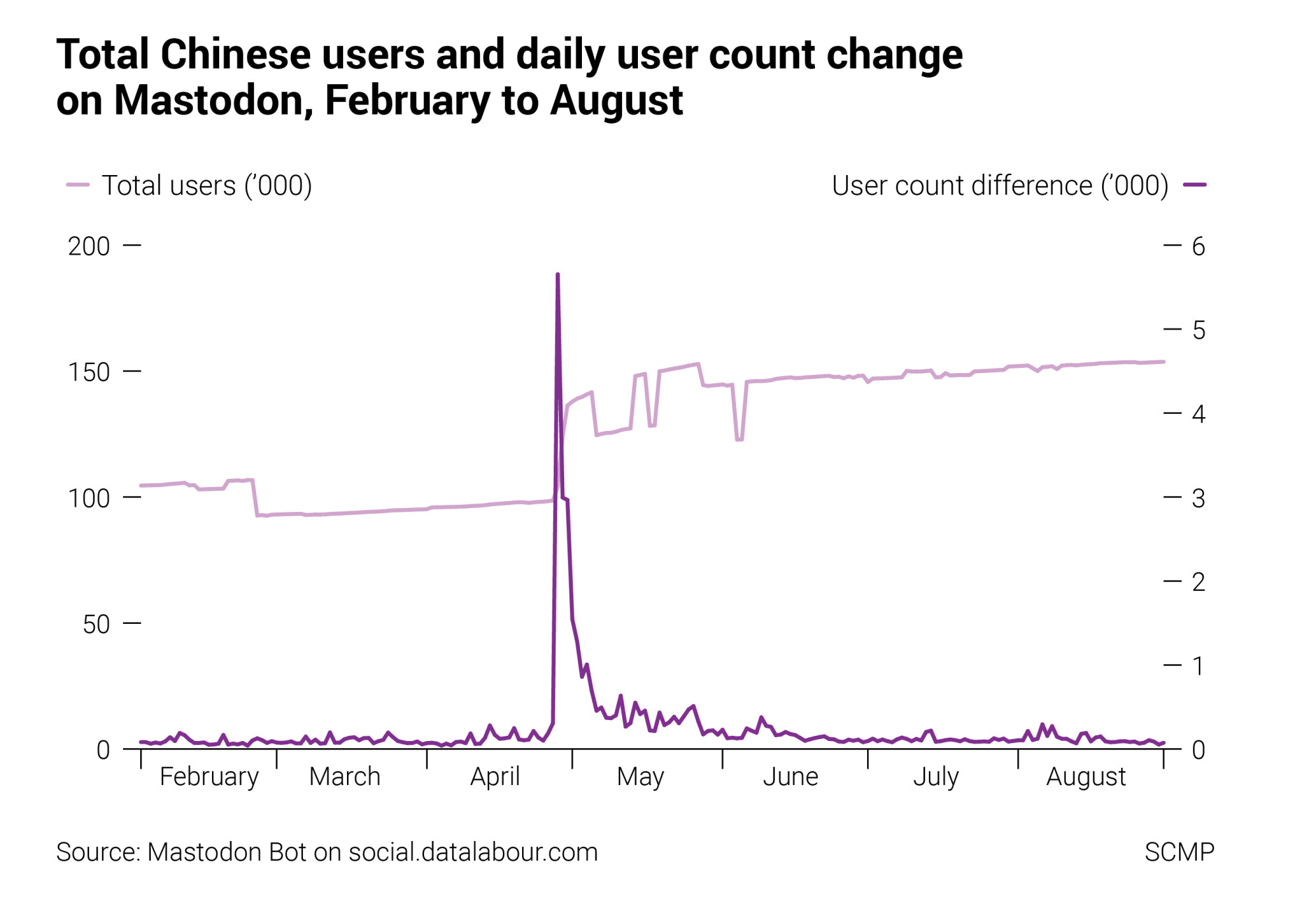 Fleeing Douban
For many, discussing political issues is not a primary reason for joining Mastodon, or necessarily a consideration at all. Activity among Chinese Mastodon users tends to change based on what is happening with social media platforms in mainland China.
One regular user of the platform was Humar Isaac, a Uygur woman from China's western region of Xinjiang who now lives in Sweden. Isaac gained international attention in 2019 when she started posting on social media and
giving news media interviews
about how she lost contact with her parents amid the
wave of detentions of Uygurs
and other predominantly Muslim minorities in Xinjiang.
She said her first experience with Mastodon came that same year, when she was invited by an acquaintance to a newly created community, where she was able to find emotional support from "normal people".
"That's when I was invited to that group to experience talking freely with people and not worrying about getting deleted or censored," Isaac said. "I really needed an outlet to talk about my situation in Mandarin. Back then, Mandarin was my most comfortable language."
Isaac now maintains a presence on a different Mastodon instance, Alive.bar, one of the largest Chinese sites in the network, which is already blocked by China's
Great Firewall
.
Speaking out
Still, politics remains a dominant theme in many Chinese conversations on Mastodon.
"I've seen someone say he doesn't want to see so much about politics, he just wants a quiet corner," James said. "But there are not many of these people, and they seem to be met with criticism from other users."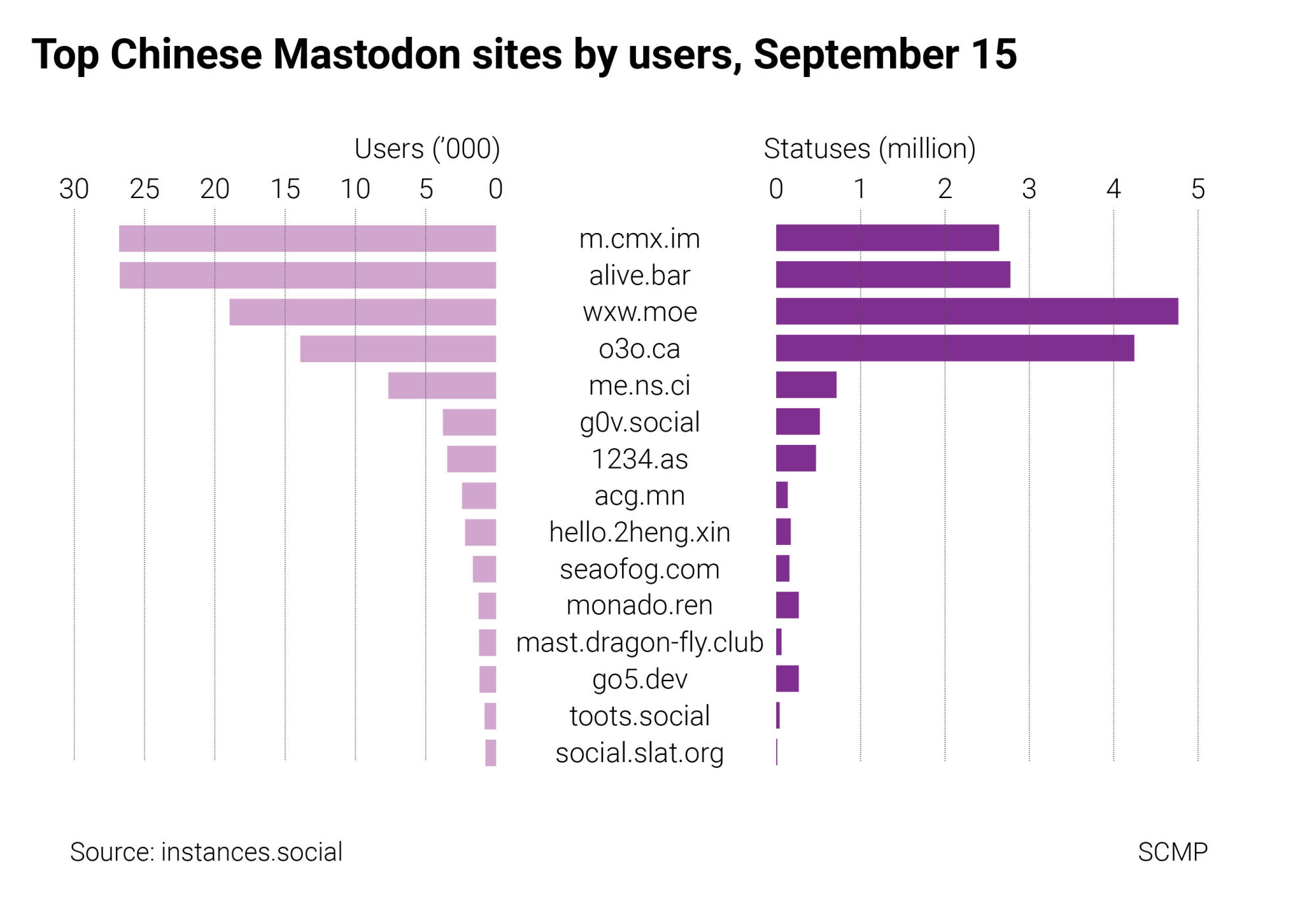 Topics related to women's rights and violence against women are a particular flashpoint on Mastodon, just as they are on domestic social media. Posts related to many events, such as the recent
attack on women at a restaurant in Tangshan
, are often scrubbed from Chinese platforms when they do not match the government narrative.
After news broke in February about the mother of eight from Yunnan province, who was found chained up in a rural county near the city of Xuzhou, Chinese Mastodon networks were flooded with posts about the news. Many people related to the news through their own experiences or those of people they know.
Covid-19 restrictions in China is another hot topic this year. While the policies have attracted criticism on Mastodon, as on other social networks, some people also just used the platform as an outlet to relay their experiences with relentless Covid testing and living under – or sometimes fleeing – lockdowns.
As Isaac and so many other Chinese Mastodon users have found, the decentralised platform offers an outlet where they do not have to worry about posts being removed or responses being flooded with attacks from so-called "
little pinks
" – nationalist social media users known for defending the Communist Party against even the slightest criticism.
Older posts are also difficult to resurface, as there is no free text search, only searching for hashtags. This is by design and encourages users to be more comfortable sharing their thoughts in the moment without worrying about how that information will be used in the future.
Blocking content is also difficult for the Great Firewall because it is shared across instances. Alive.bar might be blocked, but people on another domain can follow users there.
Still, Isaac said it is difficult to spread the word about Mastodon in China now because censors are quick to target new terms that become too popular on social media. She likened it to the brief popularity of Clubhouse, a live-audio social media site.
"Before we had a tiny, little bloom of Clubhouse," Isaac said. "Two weeks of freedom and utopia, and Taiwanese people and mainlanders crying, and Hong Kong people crying, and talking about their common interests and understanding each other … Super moving.
"And then two weeks later, it got banned, and nobody remembers it right now."