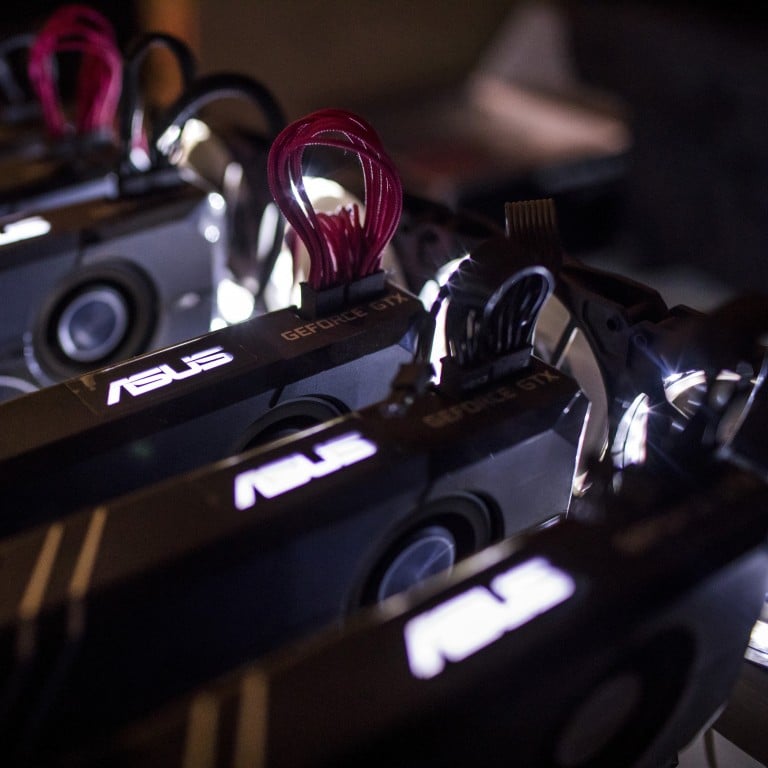 Ethereum Merge pushes GPU prices in China to 'lowest level' in shift away from cryptocurrency mining
Graphics cards sellers in China are reeling from plunging GPU prices over the past two months leading into Ethereum's switch to a proof-of-stake blockchain
Consumer GPUs from Nvidia and AMD were already falling in price after China's bitcoin crackdown and a cryptocurrency market rout
Graphics processing units (GPUs), the chips widely used for
video gaming
and mining
cryptocurrency
, have seen their prices fall to the "lowest level ever" in China after Ethereum made a game-changing adjustment to its
blockchain
that no longer requires mining, according to merchants.
Sellers of graphics cards that were once in high demand by cryptocurrency miners – including those using Nvidia's GeForce RTX 3080, RTX 3080 Ti and RTX 3090 – used to command triple the recommended retail price. Those days may be over as prices have slid over the last couple months, according to merchants in Shanghai's electronics retail market, in anticipation of the Ethereum blockchain's shift last week to proof-of-stake, referred to as "the Merge".
The change means that new ether can be generated from people staking a certain amount of cryptocurrency they already own. The previous
proof-of-work model
required a lot of energy and powerful computers, making high-end GPUs highly coveted. The RTX 3080, for example, has plummeted from about 8,000 yuan (US$1,140) to 5,000 yuan in three months, according to a merchant surnamed Peng, who sells graphics cards in a shop at the Buy Now market in Shanghai.
"When the wave of bitcoin mining was at its peak, people from the mining companies just walked in the stores with cash and took away all the graphics cards we had in store," Peng said. "But now look at the stores. No one is buying new computers because of the coronavirus, not to mention those who want to install a new graphics card."
The price of graphics cards, traditionally used for video gaming, have tended to surge with the prices of cryptocurrencies because of GPUs' unique capabilities that make them well suited for hashing, the complex computations used for mining on proof-of-work blockchains.
Many graphics cards on the market come from third-party companies like Asus, Micro-Star International (MSI) and Gigabyte, but they almost all use GPUs designed by the leaders in the space: Nvidia and Advanced Micro Devices (AMD).
Another merchant surnamed Liu, who operates a personal computer and component store in the same Shanghai market, said the prices of lower-end RTX 3080 cards from manufacturers such as MSI and Colorful had dropped by roughly 1,000 to 2,000 yuan from two months ago. That came after talk about the highly anticipated Ethereum Merge began to pick up in crypto communities, he said.
"I had a customer who bought an RTX 3080 card for 9,400 yuan late last year, and now he has to sell it for less than half that price, even though that specific model is not suitable for mining," Liu said.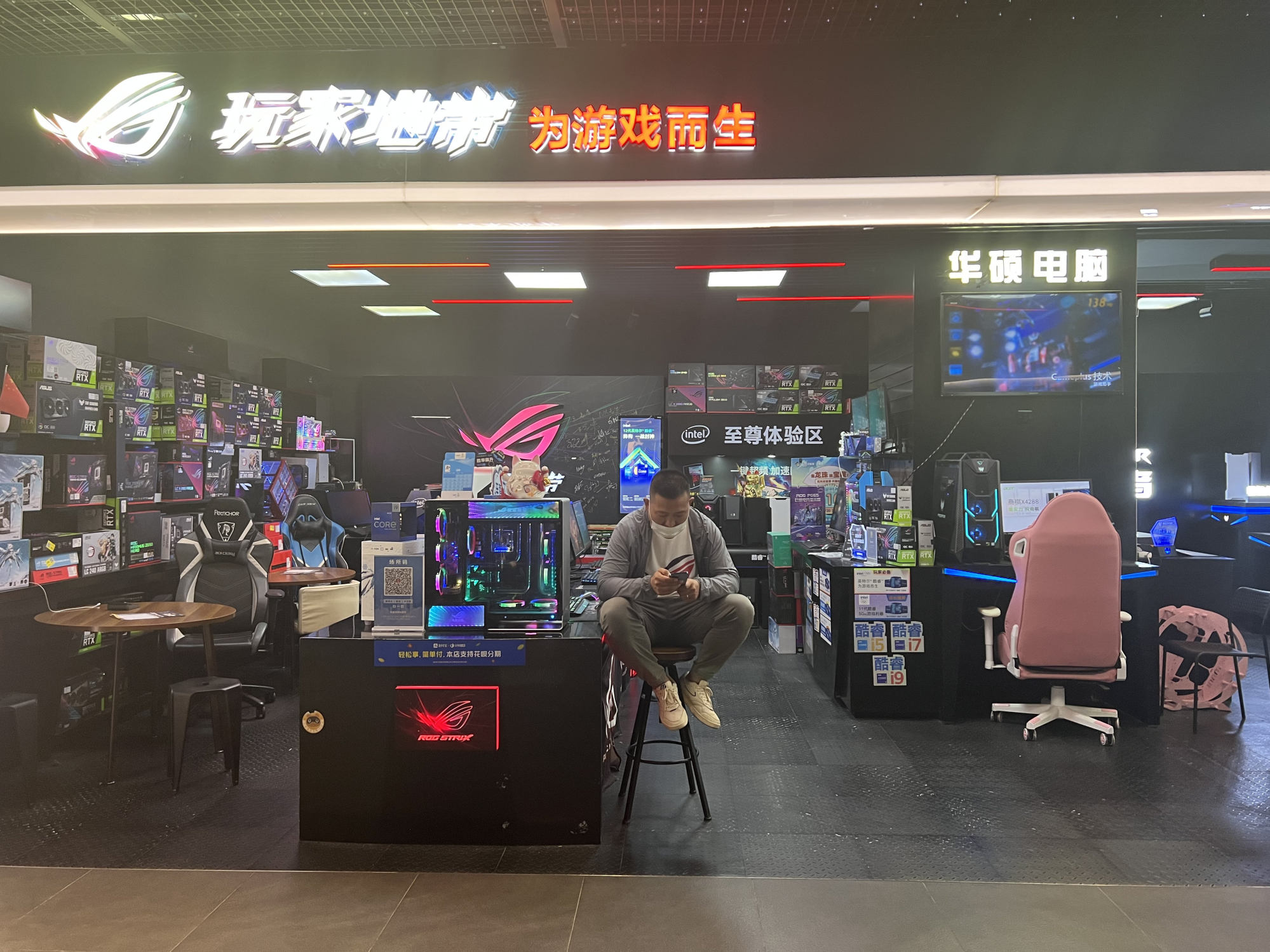 Peng and Liu are not alone. Multiple merchants at Buy Now, one of Shanghai's largest local consumer electronics retail markets located in Xuhui district, sat idle in their shops last Tuesday next to boxes piling up with unsold graphics cards.
Prices have also been falling online, but at a slower pace. On e-commerce platforms
JD.com
and
Taobao
– the online marketplace operated by Alibaba Group Holding, owner of the South China Morning Post – many merchants have marked down RTX 3080 cards by a few hundred yuan from three months ago.
Graphics card retailers have faced a tough couple of years in China. Last year, Beijing's crackdown on bitcoin mining sent
graphics card prices plummeting
. The subsequent cryptocurrency market rout this year has seen bitcoin and ether both plunge by 72 per cent from their highs last November to about US$19,000 and US$1,300, respectively, similarly lowering demand for graphics cards.
Meanwhile, China is grappling with weaker consumer demand amid a slowing economy. In the second quarter, personal computer shipments in the country fell 16 per cent year on year, marking the worst decline since 2013, according to data from market research institute Canalys.
Over several years of operating his shop, Peng has seen graphics cards go from one of the most demanded computer components to now facing a glut.
Liu said graphics card prices have reached their "lowest point", with some models having dipped below the recommended retail prices.
Wang Lei, another merchant at the Buy Now mall who specialises in Asus graphics cards, said GPU prices have fallen so much that he thinks they are at or near their bottom.
"It is already at the lowest level I've ever seen," he said.
While Nvidia is also
grappling with new sanctions
that restricts it from selling to China advanced GPUs commonly used to train AI, Wang said he has not seen any impact from the news. Those GPUs are mainly designed for enterprise customers, not for gamers and bitcoin miners, he said.
Other headaches related to the Ethereum Merge could be coming, though. Peng said a large number of second-hand graphics cards may soon be released, causing further disruptions.
"These cards were operating at full capacity when doing mining jobs, so they are likely to have a number of problems such as the possibility of a sudden system crash," Peng said. "I don't think any PC users will want them, but it is difficult to tell from the outside whether it was a mining card."