Mainland Chinese banks, banned from crypto assets at home, weigh services in Hong Kong after policy change
Some mainland banks and family offices are considering starting or reactivating virtual asset projects in Hong Kong, Deloitte China's digital asset leader said
Hong Kong's new digital asset rules have generated buzz, but some investors say they want to see more detailed plans
Mainland Chinese financial institutions, strictly banned by Beijing from any involvement with
cryptocurrency
assets at home, are considering launching related businesses in Hong Kong, where new measures for boosting the city's status as a crypto hub have drawn interest from the industry.
Some mainland Chinese banks, family offices and other financial service providers are considering kicking off or reactivating virtual asset projects in Hong Kong, including offering cryptocurrency services to their clients in the city, Robert Lui, Hong Kong Digital Asset Leader at Deloitte China, told the South China Morning Post on Tuesday at Hong Kong's FinTech Week.
"I received calls from some of our friends in the mainland yesterday, and they were talking about 'one country, two systems' and whether their virtual asset businesses can come to Hong Kong," Lui said.
Unlike Hong Kong, the mainland Chinese government regards cryptocurrency as a threat to financial stability and strictly prohibits banks from dealing with cryptocurrencies such as bitcoin. Last year, China's central bank issued a notice clarifying that
providing such services to Chinese citizens
could also be illegal.
While some mainland financial institutions already have their own
non-fungible token (NFT)
and
metaverse
businesses in Hong Kong, progress on those projects has slowed in what the industry is calling the "crypto winter" this year, and because regulations in the city were not clear, according to Lui.
With the latest regulatory change, businesses are getting a clear signal that more virtual asset-related investment products, including security token offerings, are encouraged to come to Hong Kong, he added.
Amid Hong Kong's drive to boost its competitiveness after rigid Covid-19 travel restrictions and the introduction of a
Beijing-imposed national security law
drove out business, the city has proposed a series of policy measures that it hopes will restore its status as a cryptocurrency hub.
The measures, announced by the government on Monday just ahead of its FinTech Week event, include a
new licensing regime for virtual asset providers
that will allow financial services to sell crypto-related assets to retail traders. The city will also study how to develop exchange-traded funds with exposure to cryptocurrencies, along with reviewing property rights for tokenised assets and the legality of smart contracts.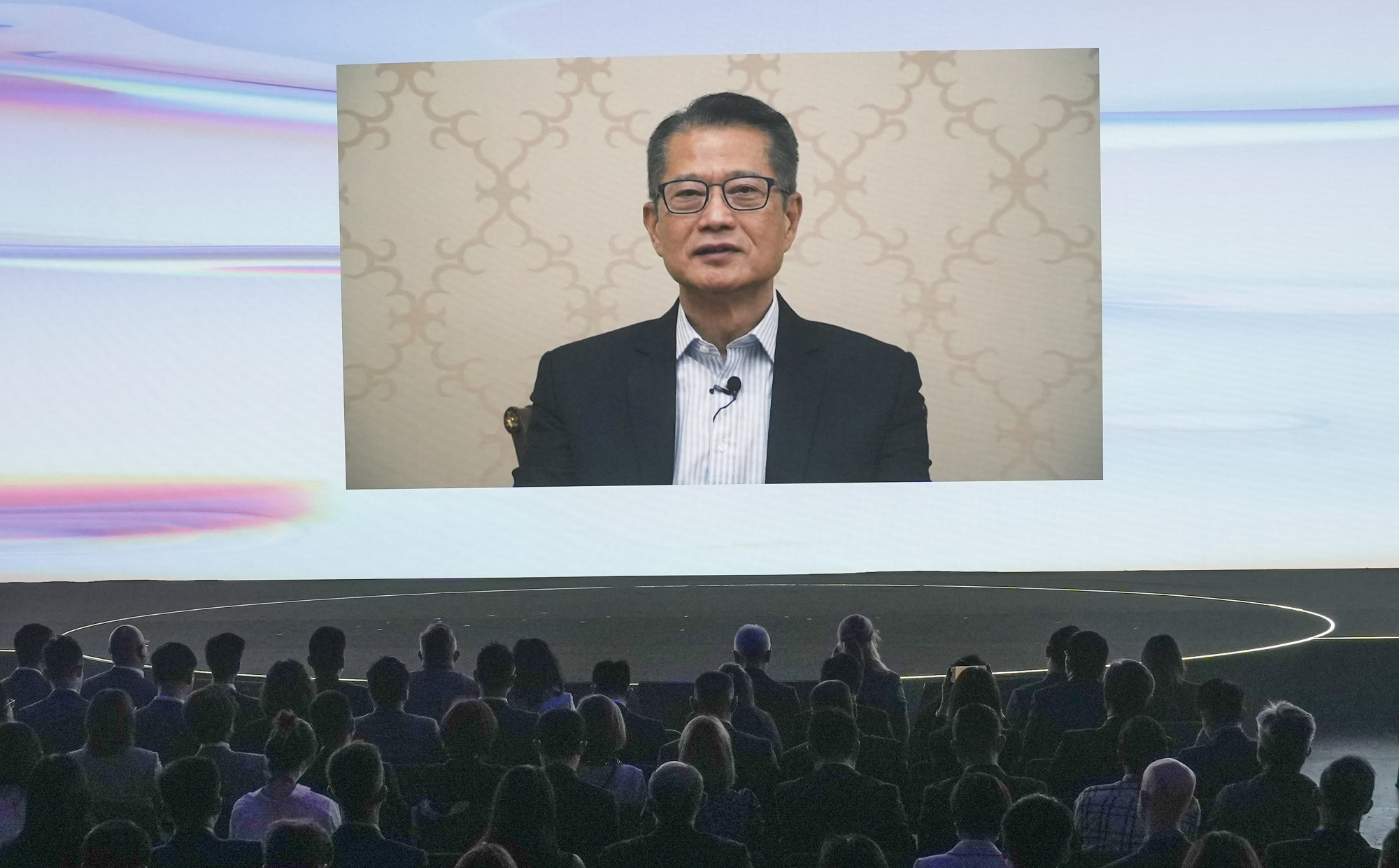 The Hong Kong government recognises "the potential of DLT [distributed ledger technology] and Web 3.0 to become the future of finance and commerce" and "is prepared to embrace this future", Secretary for Financial Services and the Treasury Christopher Hui said on Monday.
Last month, Elizabeth Wong, director of licensing and head of the fintech unit of the Securities and Futures Commission (SFC), tried to reassure businesses that Hong Kong's official stance on cryptocurrencies is
separate from that of mainland China
because of "one country, two systems".
King Leung, head of fintech at the government agency InvestHK, also told the Post in an interview at FinTech Week that he foresees gaming as a space where mainland entrepreneurs could come to Hong Kong to experiment with virtual assets.
"In China, there's so many talents and so much money in the Web2 gaming space, and Web3 gaming in Hong Kong has, from organic growth, [developed] an amazing ecosystem," Leung said. "So if you were the founders of Web2 gaming, where do you go? You would naturally come to Hong Kong."
Some cryptocurrency enthusiasts in mainland China, whose crypto-related business activities are subject to constant scrutiny and crackdowns from Beijing, have also expressed excitement about Hong Kong's change in direction, saying the city could now be a good place to move their endeavours.
Still, many investors and observers remain cautious as they await more detailed measures.
"You can see the [Hong Kong government's] sincerity from the documents, but in the long term, how it's executed and whether there could be sustainable development, those need the test of time," Jun Yu, founding partner of venture capital firm A&T Capital, wrote on Twitter.
While Hong Kong's convenience and connectivity with mainland China makes it the best choice as a springboard, moving directly to Singapore or Western countries would still be more helpful for Chinese Web3 entrepreneurs, he wrote.