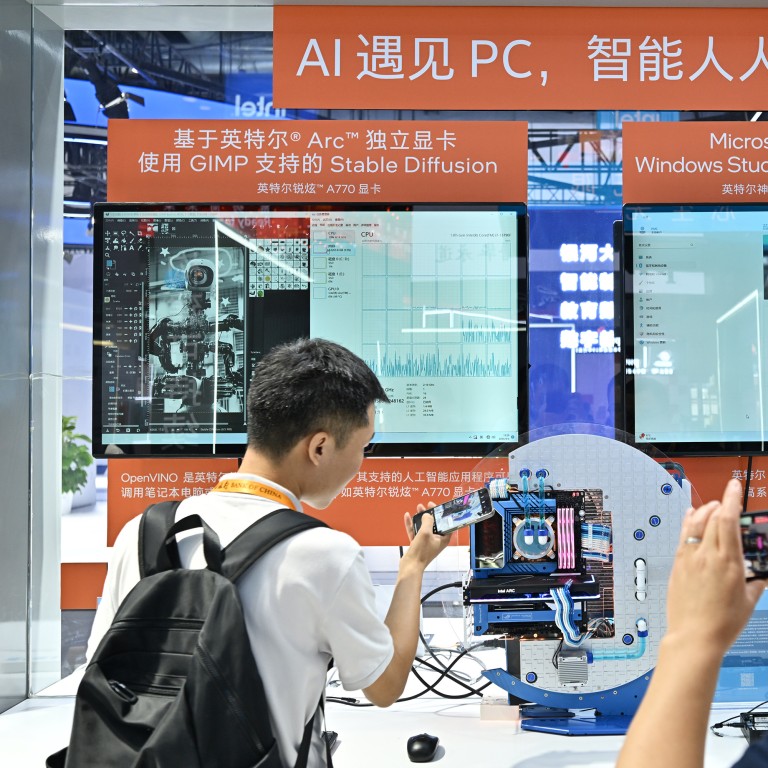 Intel sees massive demand for AI chips designed for China amid LLM boom and US export curbs, report says
Sales of Intel's Gaudi2 processors, tailored to comply with US trade restrictions, have been strong since their launch in July, Taiwanese media reported
Under soaring demand, the US firm has placed more orders with its supplier Taiwan Semiconductor Manufacturing Co (TSMC), the report said
US tech giant
Intel Corp
has seen soaring demand for its
artificial intelligence (AI)
chips designed specifically for clients in China, as mainland companies rush to improve their capability in ChatGPT-like technology, according to a report by Taiwanese media DigiTimes.
Sales of
Intel's Gaudi2 processors
, which are tailored to comply with US export curbs while catering to Chinese clients' demand for AI chips, have been strong since their launch in July, prompting the Californian firm to place more orders with its supplier
Taiwan Semiconductor Manufacturing Co (TSMC)
, the report said, citing unnamed industry sources.
TSMC and Intel, which has not disclosed its recent sales performance in mainland China, did not immediately respond to requests for comment.
Intel's chief financial officer David Zinsner said at a conference earlier this month that the company had seen more customers looking to its Gaudi chips as an alternative to processors that were in short supply.
A race by Chinese tech firms to build their own large language models (LLMs) has sparked robust demand for advanced chips used to train algorithms that support intelligent chatbots similar to Microsoft-backed OpenAI's ChatGPT.
China in August approved the
public roll-out of its first batch of local LLMs
, including Ernie Bot by search engine giant Baidu, SenseChat by AI specialist SenseTime, as well as similar offerings from state-backed start-up Zhipu AI and Baichuan, a Tencent Holdings-backed venture of Sogou co-founder Wang Xiaochuan.
The move allowed Chinese companies to open their chatbots to the world's largest internet population, setting the stage for businesses to compete for a slice of the burgeoning generative AI market.
As of May, China had at least
79 LLMs with more than 1 billion parameters
– a measure of the size and sophistication of a model – according to a report published by the Institute of Scientific and Technical Information of China, a government research agency.
However, amid growing demand for AI technology, the US has restricted China's access to advanced chips, such as Nvidia's A100 and H100 processors, which are widely used to train LLMs.
The shortage of AI chips has created a black market for
smuggled chips
in China, which was the world's largest semiconductor market last year, accounting for a third of global sales, according to the Semiconductor Industry Association.
Intel, which generated 27 per cent of its total revenue last year in China, according to its annual report, introduced Gaudi2 after Nvidia launched its remodelled A800 and H800, which are also not subject to US export controls.
At the unveiling of Gaudi2 in China, Intel executive vice-president Sandra Rivera said the chip was designed to lower the barrier to entry and enhance mainland clients' ability to "deploy AI through cloud and smart-edge technologies, helping build up China's AI future".