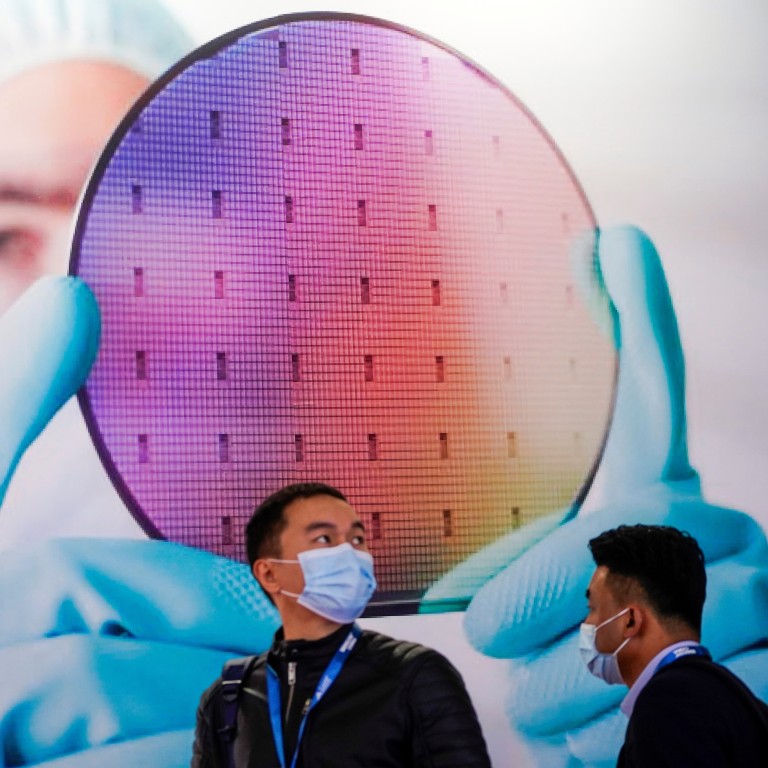 New Chinese semiconductor firms have tripled in 2021 as Beijing and Washington jockey over technological supremacy
The number of new company registrations in the semiconductor industry from January to May tripled in China, bolstered by generous national subsidies
As China pursues self-sufficiency in semiconductors, Washington is seeking to counter Beijing with a new bill funding domestic fabrication
The number of newly registered chip-related companies in China more than tripled in the first five months of the year from the same period in 2020 in a fresh sign that China is sparing no effort in its pursuit of self-sufficiency in semiconductors, for which the country relies heavily on imports and US technologies to satisfy domestic demand.
From January through May, China saw 15,700 new companies involved in everything from designing to manufacturing chips, according to Qichacha, a website that compiles corporate registration information. The surge comes on the back of a wave of investment in the semiconductor industry thanks in part to Beijing's generous subsidies and support.
China's semiconductor industry remains burdened by a slew of US sanctions as it tries to catch up to international peers – mainland foundry Semiconductor Manufacturing International Corp (SMIC) is far behind Taiwan Semiconductor Manufacturing Co (TSMC) in fabrication of advanced chips while China has been blocked from acquiring advanced lithography tools from Dutch industry leader ASML – but the country is seeing quick progress in more mature areas like manufacturing with larger process nodes and making memory chips.
Many of the country's tech giants are either getting into the game or increasing investment.
Chinese telecoms equipment giant
Huawei Technologies Co
recently invested US$12.8 million in a Beijing-based company that makes excimer lasers for the lithography process, the state-owned
Global Times
reported on Sunday. SMIC, mainland China's most advanced foundry, has grabbed a larger share of the global wafer foundry market during the ongoing chip shortage. Carmakers such as BYD and handset maker Xiaomi have also announced ambitious plans to expand in the chip industry.
In 2020, China's integrated circuit (IC) output rose nearly 29.6 per cent to 261.4 billion units. For April, the latest numbers available, output was up 29.4 per cent over a year earlier to 28.7 billion units.
As China looks to advance in semiconductors, the US has made moves to counter those efforts. On Tuesday, the Senate
passed the landmark US Innovation and Competition Act
, identifying China as a key rival to US technological dominance. The bill provisions billions of dollars to help boost American semiconductor manufacturing, as Washington seeks to reverse what it sees as the country's dangerous reliance on Chinese supply chains.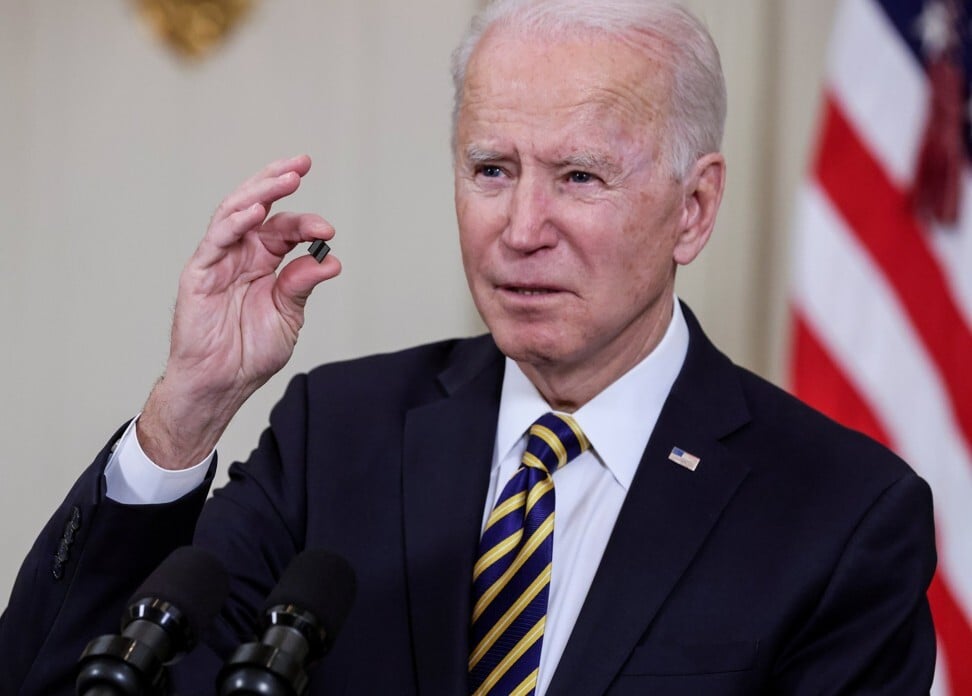 "We are in a competition to win the 21st century, and the starting gun has gone off," President
Joe Biden
said in a statement after the bill cleared the Senate. "As other countries continue to invest in their own research and development, we cannot risk falling behind. America must maintain its position as the most innovative and productive nation on Earth."
While IC production is up in China, the country is also importing more to meet industry demand. IC imports rose 30 per cent in the first five months of the year over the same period in 2020, reaching 260.35 billion units worth 1.04 trillion yuan (US$162.5 billion).
Stewart Randall, head of electronics and embedded software at consultancy Intralink, said that China's drive to incubate more semiconductor companies started soon after the US began to restrict the export of chip technologies in 2019. However, the pace at which new chip companies are cropping up has accelerated in recent months, he said.
"Over the past year, there were always new semiconductor companies appearing that I'd never seen before," Randall said. "There used to be a set amount I knew to contact and I would have covered all the key targets for my clients, but now lots of new ones appear all the time, so I'm never finished with my business development work."
The new US bill, if it becomes law, is not likely to impact China's self-sufficiency drive, according to Randall. "China is all in on semiconductor investment and innovation. It's already taking it as a national priority and will continue to," he said.
Clinton Fernandes, a professor of international and political studies at the University of New South Wales, said that the Chinese government's active participation in the market is hardly unique.
"Other states also have extensive industrial policy and state engagement, which is the basis for the modern hi-tech economy," he said.