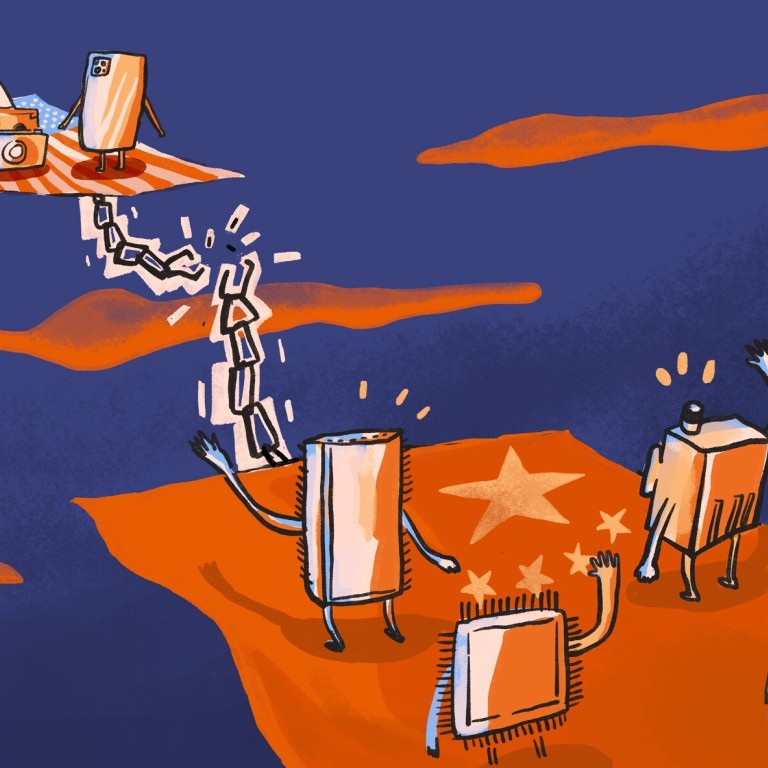 US-China tech war: how one dumped Apple supplier's fate shows the pain of global supply chain politics
Ofilm was kicked off Apple's supplier list over allegations that it was involved in a programme that transferred ethnic minorities from Xinjiang to work
Most of the workers the Post spoke to were from Jiangxi, not Xinjiang
In the third instalment of a five-part series on US-China technology policy, Tracy Qu and Jane Zhang visited a factory in the Jiangxi provincial capital of Nanchang, to see how a recently-blacklisted camera maker for Apple's smartphones has come to symbolise the pain of supply chain politics. The first part is here, and the second part on Huawei is here.
When Huang started work at Ofilm Group's factory on June 7 in his second stint at the factory that produces camera modules, touch screens and other components used in electronic gadgets, he noticed several glaring omissions in his orientation for new hires.
"When I attended the [new hire] training the first time, they showed us photos with
Apple
executives. They were very confident then," said Huang, 22, speaking to a
South China Morning Post
reporter at a concession stand near the optics factory and who would not give his full name as he is not authorised to speak with the media. "But they did not show the pictures this time."
The absence of the world's most valuable company was not an oversight. Shenzhen-based Ofilm, which has many factories in the Jiangxi provincial capital of Nanchang, was
kicked off Apple's supplier list in mid-March
over allegations that it was involved in a government programme that transferred ethnic minorities from
Xinjiang
to work at the company's factories.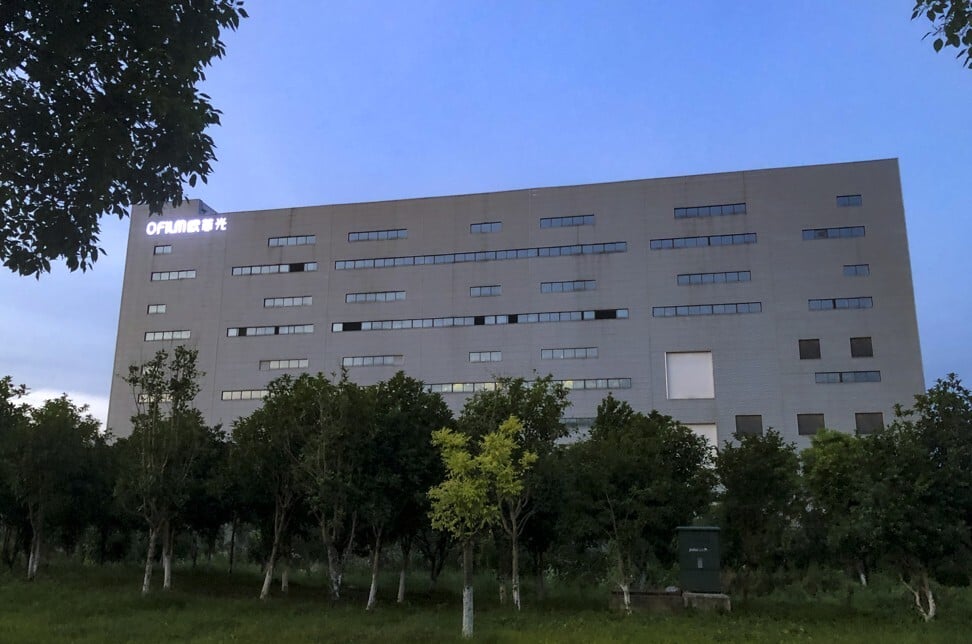 Ofilm declined to comment on Bloomberg's report that the American company had severed its contracts several months ago.
Ofilm issued a statement at the time saying the US Department of Commerce's decision "was not in line with the real situation" and asked the department to conduct a second review.
Apple did not respond to a request for comment on this story and several calls to Ofilm's Nanchang office were not returned.
The company quickly denied the report in a stock market filing and insisted that it had maintained good cooperation with its "major American client".
But the stock market sell-off continued amid multiple reports that Apple was cutting orders with Ofilm. Ofilm's shares are currently trading around 9 yuan, down about 60 per cent from a 12-month high of 23.6 yuan last July.
In March 2021, Ofilm told investors that it had lost "a particular overseas client", which contributed about a quarter of its operating income in 2019. In April, it shocked China's stock market by saying that it may have incurred 1.8 billion yuan (US$278 million) in losses in 2020, instead of a January forecast for a profit of 900 million yuan.
The company eventually reported 2 billion yuan in losses for 2020, a sharp decline from its 510 million yuan profit in 2019.
In response to an official question from the Shenzhen Stock Exchange, the company said earlier this month that it had booked about 2.5 billion yuan in losses from the "loss of a particular overseas client", including devaluations in assets, intangible assets as well as projects under construction.
The indirect losses could be even higher.
In Nanchang, a city of 6 million, Ofilm is deeply involved with the local government. A year before it was put on the US Entity List, Ofilm and its subsidiaries had started to receive steady investments from the local Nanchang government worth nearly 6 billion yuan.
For example, in one deal Nanchang Industrial Holdings, an investment arm of the municipal state asset administration, spent 3.5 billion yuan to buy a 16 per cent stake in the listed vehicle of Ofilm in October 2019, making it the single largest shareholder.
The Nanchang government is soon expected to book losses on its Ofilm investments, with the shares down around 30 per cent since October 2019.
Dong Weigang, a 32-year-old barbershop owner nearby who counts workers from the factory as clients, said the number of daily orders at his shop had declined to 30 per day from around 40 orders last year.
"Many old employees have left. They came in to get a haircut before telling me they were heading home," Dong said.
A 24-year-old Ofilm factory worker the Post spoke to, who would only give his surname as Zeng, said hiring by the company had slowed. "They only recruit a few people now. In other factories, there are at least forty or fifty new employees a day, while I've only seen a single digits number of new employees [at our place] these days," he said.
The exclusion of O-film from Apple's supplier list is not an indication that the iPhone maker is cutting reliance on Chinese suppliers in general.
SCMP Infographic: The anatomy of an Apple iPhone - where the parts come from
However, Ofilm's fate still illustrates the potential pain for China if wider moves are made to exclude the country from global value chains. Many Chinese suppliers are small cogs in big supply chains but currently they tend to be grouped at the bottom, and not at the top, so can be substituted by companies elsewhere.
Apple contributed 1 per cent to Ofilm's fourth-quarter revenue, according to 2019 filings, while contractual values to the Chinese company made up 0.04 per cent of the cost of products sold by the American company, according to Bloomberg's data.
And the risks of such a break-up in traditional business relations are rising as both Beijing and Washington push nationalistic supply chain policies.
Paul Triolo, director of tech policy practice at Eurasia Group, said deeper involvement of the state in shaping cross-border supply chains could bring fresh uncertainties for industry players.
"You must get a little bit uncomfortable when you see that the US government is going to pursue this very broad policy of controlling semiconductors and manufacturing equipment."
At a government-organised press conference in February 2021, Yusupjan Yasinian, a Uygur young migrant worker from Xinjiang, said he joined Nanchang Ofilm in October 2017 "upon introduction by friends" and worked on their mobile phone production lines until August 2019.
Yasinian said he lived together with another three young men from Kashgar, a city in southern Xinjiang, and enjoyed the stay as there were "refrigerators, air-conditioning, washing machines and water heaters" available, according to a statement on a news website run by the Xinjiang government.
On a recent visit by Post reporters to the six-floor buildings in Nanchang used as dormitories for Ofilm workers, which are about a mile from the production zone, it was clear that they are not locked or guarded, with vendors directly entering buildings and knocking on dormitory doors.
On the stairs, slogans had been painted to remind workers to be polite and nice to each other, such as "it's by heaven's arrangement we are in the same room, please join hands to achieve dreams together".
All of the workers Post reporters spoke to for this story were from Jiangxi, not Xinjiang.
However, it is clear that Washington and Beijing remain at loggerheads over Xinjiang, and Ofilm is unlikely to be the last Apple supplier to be dragged into supply chain politics.
The Information, a tech-focused news website, reported last month that another seven Apple suppliers in China, including CN Innovations, AcBel Polytech and Suzhou Dongshan Precision Manufacturing Co, were linked to "forced labour" programmes, citing its own investigation and findings by human rights groups.
A spokesman for CN Innovations, told The Information that it currently had no Xinjiang employees. "We pride ourselves for treating everyone fairly, equally and respectfully, regardless of their background," he said. AcBel and Dongshan Precision did not provide a comment for The Information report.
Leaving the important argument about forced labour to one side, it remains the case though that for thousands of young workers pulling down 12-hour shifts and sharing dormitories with strangers, factory jobs at plants like Ofilm provide a lifeline. There will be pain for many if these jobs are lost.
Liu, a 28-year-old single mother with two kids, left her hometown this month. She came to Ofilm with a single black backpack, in the hope of making money to raise her kids.
"My son called me and accused me of abandoning him. I told him that this was not true, mum needs to earn money to raise you and your sister," said Liu.