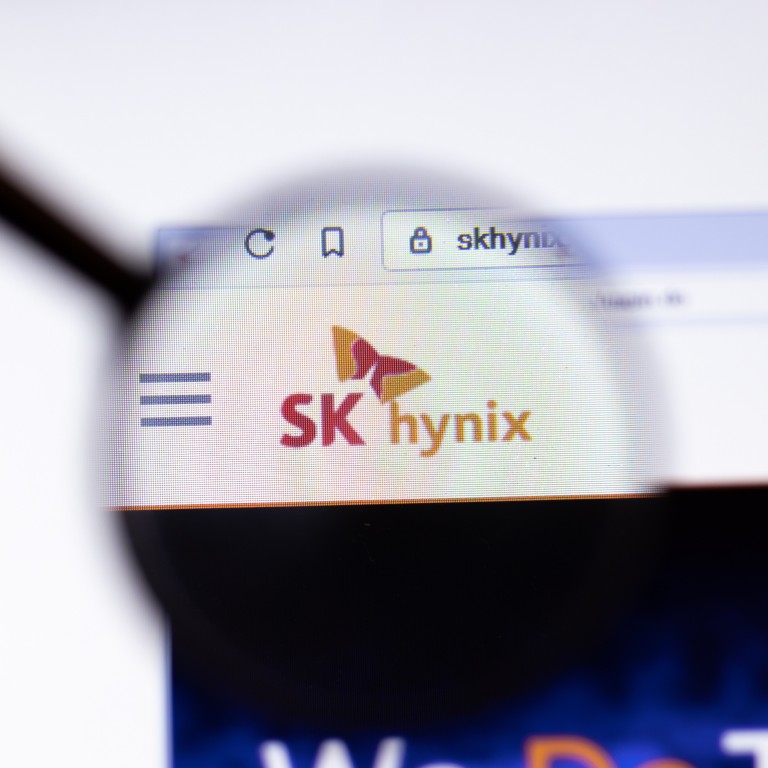 US-China tech war: Beijing's semiconductor ambition faces fresh headwinds as Washington adds pressure on SK Hynix
SK Hynix had planned to move EUV machines to plant in Wuxi, China
ASML produces lithography systems used by leading global foundries and chip makers including TSMC and Samsung
Beijing's semiconductor self-development drive is facing fresh headwinds after Washington's move to block South Korean chip firms from moving advanced equipment to China, analysts say.
SK Hynix, a South Korean semiconductor giant, had planned to install some of its new extreme ultraviolet lithography (EUV) machines produced by Dutch firm ASML in its factory in Wuxi, Jiangsu province. However, this was thwarted after Washington barred it from shipping the equipment to China, according to a Reuters report last week.
SK Hynix chief executive Lee Seok-hee told reporters on Monday that the company's priority was to upgrade its plant in Icheon with the highly-advanced manufacturing equipment, instead of shipping the EUV machines to Wuxi. He said SK Hynix has been "cooperating well" with the US government.
ASML produces lithography systems used by leading global foundries and chip makers including Taiwan Semiconductor Manufacturing Company (TSMC), Samsung Electronics and Intel. ASML's EUV machines are required for producing cutting edge 5- and 7-nanometre node chips and are also used in developing key materials used in chip manufacturing.
US Trade Representative Katherine Tai said US restrictions on SK Hynix's plan to bring EUV machines to a Chinese factory were imposed due to "legitimate concerns". In comments which aired on Monday, the top US trade official told a radio station in Seoul during a visit to South Korea last week that "it is important for us to work with our partners and our allies in particular, on matters of shared economic and national security" – in an apparent reference to China.
The US has placed trade restrictions on several Chinese companies in recent years, including telecoms giant Huawei Technologies Co, citing national security concerns amid rising tech tensions between the world's two-largest economies. Beijing, meanwhile, has been pushing for greater self-sufficiency in strategic technologies, such as semiconductors.
It would be a bitter pill to swallow for China if SK Hynix pulls back from plans to expand cutting-edge production in Wuxi. The local municipal government held a large ceremony to celebrate the launch of a Sino-Korean semiconductor park in early October, centred around SK Hynix's complex there. The existing SK Hynix foundry in Wuxi started volume production last December, producing chips for image sensors and display drivers. The equipment for the plant was moved from an old factory in Cheongju, Korea.
US pressure on non-US chip makers, such as SK Hynix and TSMC, to comply with Washington's tech sanctions on China will complicate Beijing's efforts to narrow its technology gap with leading players.
"It has become more visible that only mature technology will be allowed when it comes to foreign semiconductor companies' plans to expand their capacity or build new fabs on the mainland," said Arisa Liu, a senior semiconductor research fellow at the Taiwan Institute of Economic Research.
This is not the first time that the US has blocked exports of EUV systems to China-based foundries.
The US previously opposed sales of EUV machines to leading Chinese foundry Semiconductor Manufacturing International Corporation (SMIC) due to concerns that they could be used to strengthen the country's military. SMIC denied this allegation.
China still lacks the ability to make EUV machines despite years of effort dedicated to development of the technology. EUV machines have become crucial to volume production of cutting-edge chips as Moore's Law edges towards its physical limits. The Law refers to a prediction by Intel co-founder Gordon Moore that the number of transistors on an integrated circuit would double roughly every two years.
In the advanced EUV segment, ASML is the only viable player and is the sole EUV supplier to Samsung, TSMC and Intel – the only chip makers pushing the leading edge right now.
Tilly Zhang, an analyst with consultancy Gavekal, wrote in a research note published on Tuesday that the US has the capability to block hi-tech exports to China since "virtually all advanced chips are produced on the basis of US technology". ASML's EUV machines also use US-origin technology, according to an engineer at the Netherlands-based company.
"It is now probably impossible for Chinese companies to buy the equipment needed to build facilities that could produce leading-edge chips, because of the sanctions the US has put on SMIC and the less formal US pressure on key equipment suppliers in Europe and Japan," Zhang wrote.
The immediate impact on China, however, might not be so great, some analysts said, as most Chinese fabs currently use mature technologies of 28-nm and above to meet growing demand from customers.
"There isn't any semiconductor production line in China that requires EUV now", said Xie Ruifeng, a senior analyst with Shanghai-based consultancy ICWise. "DUV machines are sufficient for manufacturing memory chips."
However, over the long run, the US ban could hurt China's position in the global semiconductor supply chain, especially when Washington is encouraging TSMC and Samsung to set up plants on American soil.
In an echo of TSMC's 5-nm chip plant in Arizona, South Korean tech giant Samsung Electronics has agreed to build a new US$17 billion chip plant in Taylor, Texas, according to a Wall Street Journal report, which also said Samsung had not made a final decision on the location.
"One concern of the Chinese government is that these foreign companies – which face hindrances to importing equipment into China – will consider other geographic regions for the sake of their development," said Liu.