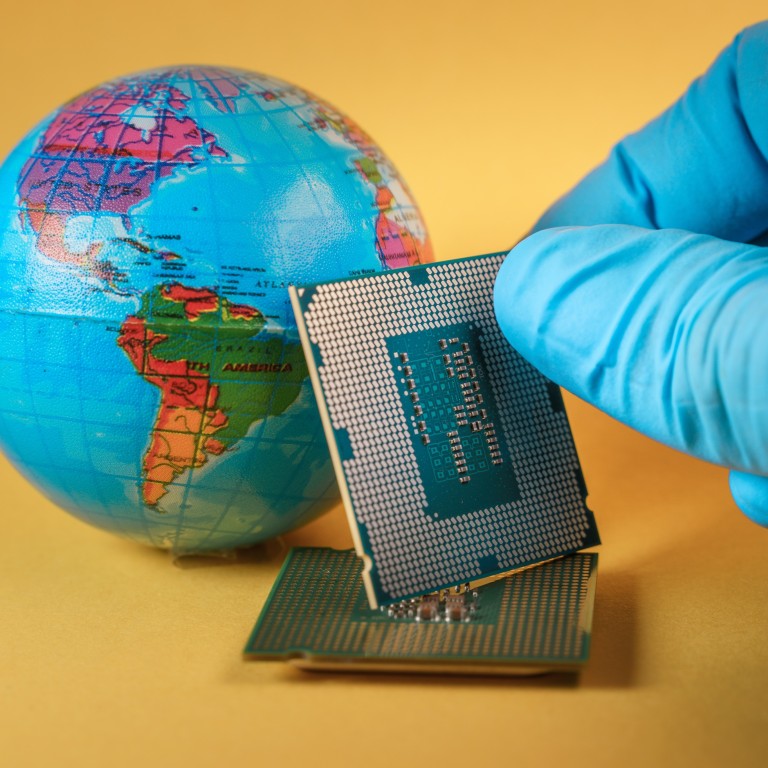 US-China tech war: semiconductor links across Taiwan Strait face political headwinds
Strained cross-strait and US-China relations could bring more uncertainty to global supply chains
Speculation about what could happen next is expected to rise this week when Taiwan takes part in Washington's Summit for Democracy
The long-standing bond between mainland China, the world's second-largest economy, and
semiconductor
powerhouse
Taiwan
faces its stiffest challenge in decades amid increased
cross-strait tensions
and growing friction between Beijing and Washington.
While the close economic ties between the mainland and Taiwan are not expected to unravel, analysts warn that the strained cross-strait and
US-China relation
s could bring more uncertainty to global supply chains after the disruptions caused by the
Covid-19 pandemic
and the
ongoing chip shortage
.
Speculation about what could happen next is expected to rise this week when US President
Joe Biden
hosts the first of two Summits for Democracy on December 9-10.
Taiwan is among 110 invitees
to the virtual event, which brings together leaders from government, civil society and the private sector, according to the US State Department. China and Russia were not invited.
While the relationship between Washington and Taipei has become closer, the ties between Taiwanese chip makers and their customers on the mainland remain strong, according to Arisa Liu, senior semiconductor research fellow at the Taiwan Institute of Economic Research.
"The Taiwanese semiconductor industry still wants to be closer to mainland China, which is the world's largest market for chips," Liu said.
Recent developments, however, indicate that Taiwanese investments in mainland China are decreasing.
In the first 10 months of this year, Taiwanese investments on the mainland reached US$4.3 billion, which was the second-lowest amount of capital outlay in a decade and about a third of the US$14.6 billion total recorded in 2010, according to the Investment Commission of the Ministry of Economic Affairs in Taiwan. That data, however, does not provide specific breakdowns of the island's semiconductor-related investment on the mainland.
Earlier this month, Taiwan's ASE Group, the world's largest chip assembly and packaging services provider, sold its four factories on the mainland to Chinese fund Wise Road Capital for about US$1.46 billion. The firm said its profit from the sale would be used to expand operations in its home market.
The community of Taiwanese semiconductor engineers employed on the mainland remains large, despite cross-strait tensions, according to an engineer from the island who has worked at two different firms on the mainland the past two years.
While it is early to tell how Beijing will ultimately respond to the upcoming US Summits for Democracy and Taipei's part in it, the ramifications are likely to be felt by global supply chains. These rely on the mass manufacturing prowess and vast consumer market of the mainland, and depend on Taiwanese chip foundries' products used on smartphones, computers and home appliances, cars and telecommunications networks.