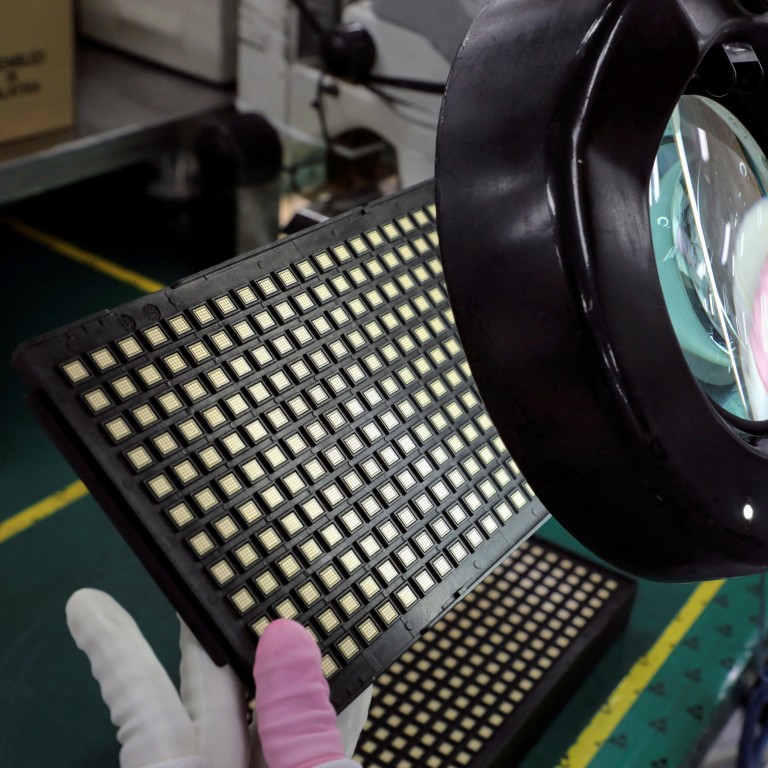 US-China tech war: Shanghai company at heart of Beijing's semiconductor self-sufficiency drive red-flagged by Washington
Shanghai Microelectronics was one of 33 Chinese entities added to an export watch list by the US Commerce Department on Monday
Red flag is a setback as China is currently unable to make advanced chips, such as those used in the latest smartphones
A prominent company at the heart of China's semiconductor self-sufficiency drive has been red-flagged by the US, signalling that rivalry between the world's two-largest economies over strategic technology is intensifying.
Shanghai Microelectronics (SMEE), which is perhaps Beijing's best current hope to produce machines that can manufacture advanced chips, was one of 33 Chinese entities added to an export watch list by the US Commerce Department on Monday, a move that could restrict the company's imports of US technologies and products.
While the impact of being added to the list, which is compiled by the US Bureau of Industry and Security to question the bona fides of the companies involved, is not as significant as being added to the Commerce Department's Entity List, it does mean that US exporters need to obtain licences to sell certain items to companies on the list.
This could prove costly for a company like SMEE, which is pushing hard to catch up in a strategic technology area.
China is currently unable to make advanced chips, such as those used in the latest smartphones, mainly because it has no access to the state-of-art lithography machines, a space currently dominated by Dutch company ASML Holding.
While SMEE is China's only lithography maker, its equipment can only produce chips at the 90-nanometre node, which is far from the cutting-edge.
"If China wants to reach a certain level of self-reliance in the semiconductor industry … Chinese tool vendors need to work on the lithography tools for foundries and the technology needs to be good enough to compete with ASML, Canon, and Nikon," said Lucy Chen, vice president of Taiwan-based Isaiah Research.
She added it was too early to say what the impact on SMEE's production would be as a result of being added to the US watch list.
There was hope among some industry analysts that SMEE would produce lithographic machines with a resolution of 28-nm before the end of 2021, but this was not delivered.
SMEE did not immediately respond to a request for comment on Tuesday.
The addition of SMEE to a US watch list comes on top of existing American restrictions on China's access to ASML's extreme ultraviolet (EUV) lithography machines, the technology required to produce chips at 7-nm and below.
SMEE said on Monday that it had delivered its first 2.5 to 3-dimension advanced packaging lithography machine, a small step forward in catching up with advanced technologies.
These machines integrate multiple chips side-by-side, or by die stacking, to achieve high interconnected density.
According to analysts, the packaging lithography machine is used for wafer packaging, part of the back-end process for chip making. By comparison, wafer manufacturing is a front-end process that requires more complicated machinery.
"SMEE has been doing well in packaging lithography machines and occupies a high market share," said Song Changgeng, a research director at consultancy ICWise.
"What we are currently stuck on is a lithography machine for wafer manufacturing with a resolution below 40-nm. No visible results have been achieved in this field."
China's inability to produce advanced chips has forced the country to rely on wafer fabs run by the likes of Taiwan Semiconductor Manufacturing Co (TSMC) and Samsung Electronics. But these suppliers have also been pressured by US trade sanctions.
TSMC last year suspended its advanced chip processing contract with Huawei Technologies Co to comply with US sanctions, hobbling Huawei's lucrative smartphone business.
China has continued to shower cash on new chip-making plants in mature technology areas but obstacles are mounting when it comes to securing core equipment in cutting-edge areas of the semiconductor industry.