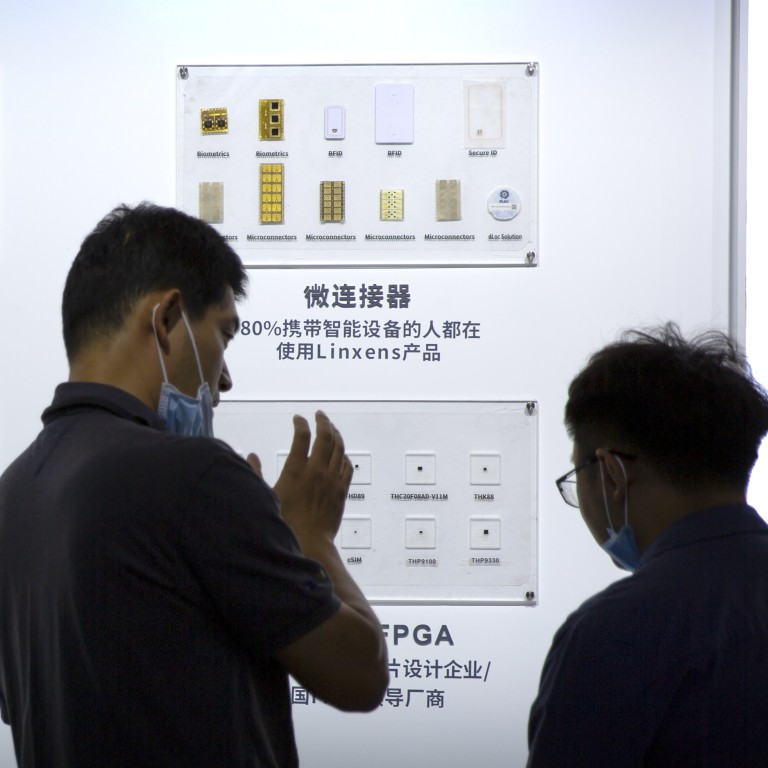 Foxconn risks fine from Taipei after taking minority stake in Chinese chip champion Tsinghua Unigroup
Foxconn's Shanghai-listed unit invested US$788 million in Tsinghua Unigroup via its subsidiary investment fund
However, the deal could be clouded by deteriorating cross-strait relations amid mainland China's poaching of Taiwanese semiconductor talent
Foxconn Industry Internet (FII), the Shanghai-listed subsidiary of Hon Hai Technology Group, has acquired a minority stake in China's state-backed chip maker Tsinghua Unigroup.
Hon Hai - also known as Foxconn, the world's largest iPhone assembler – invested 5.38 billion yuan (US$788 million) in Tsinghua Unigroup via Guangzhou-based Xingwei Industrial Investment Partnership Fund, Taiwan-listed Hon Hai Technology said in a stock filing on Thursday.
The Xingwei investment fund was set up in March 2022 by FII and Wise Road Capital, the lead investor behind Tsinghua Unigroup's debt restructuring process. FII controls a 99 per cent stake in Xingwei.
The deal came after
Tsinghua Unigroup
, the former high-flying
technology
conglomerate affiliated with
China's top university
, completed its year-long debt-restructuring process on Monday, after concluding the business registration of its new equity owner, directors, supervisors and general manager.
However, the deal could be clouded by deteriorating cross-strait relations over geopolitical tensions, supply chain bottlenecks, and mainland China's poaching of Taiwanese semiconductor talent.
The Taiwan government is reportedly considering fining Foxconn up to T$25 million (US$835,600) for investing in Tsinghua Unigroup without first seeking regulatory approval, Reuters reported on Friday, citing a source.
Tsinghua Unigroup's new owner, Beijing Zhiguangxin Holding, was formed last year by
Wise Road Capital
and its sister fund Beijing Jianguang Asset Management Co, known as JAC Capital. They have taken over 100 per cent of Unigroup's equity from Tsinghua Holdings and Beijing Jiankun Investment Group.
The debt overhaul helped avert one of China's largest potential corporate failures that could hurt several semiconductor champions under its wing. Unigroup said creditors will be compensated with a 95 to 100 per cent return on their investment through a 60 billion yuan (US$8.94 billion) bailout plan involving cash outlays and various debt-to-equity swaps.