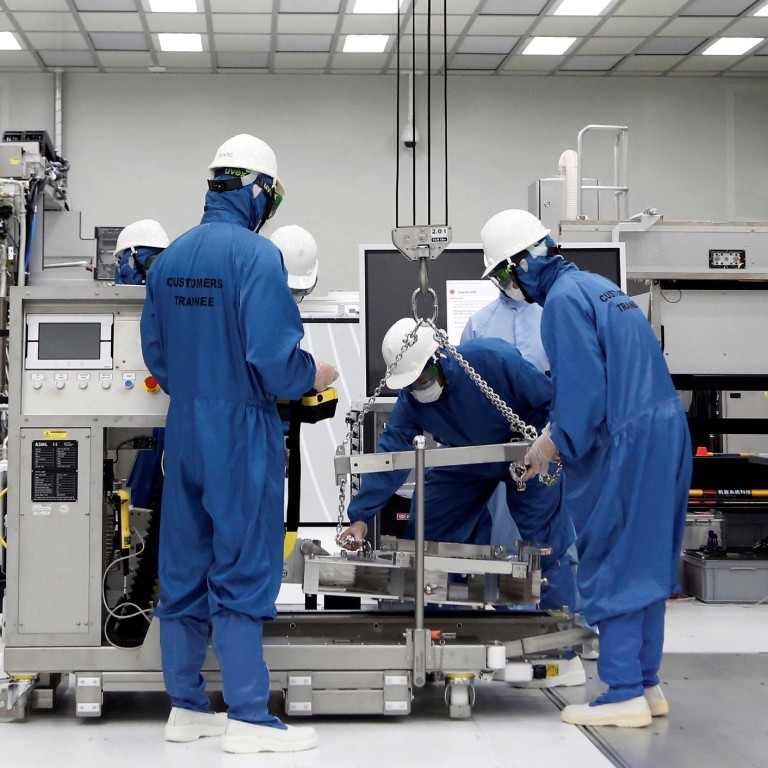 Tech war: broader ban on ASML sales to China will hurt firm's revenue and set back Beijing's domestic chip-making drive, analysts say
ASML could lose around US$2 billion in revenue if deep ultraviolet (DUV) technology sales to China are blocked, according to one analyst
While a broader sales ban on ASML remains an extreme scenario, it is ringing alarm bells in Beijing
ASML Holdings, which has a monopoly position in the production of advanced chip-making machines, could suffer heavy revenue losses if it heeds a US demand to stop selling more equipment to China, according to experts and industry analysts.
The Dutch lithographic equipment maker is not currently selling extreme ultraviolet lithography (EUV) systems to China, making it impossible for the country to make cutting edge chips, such as those used in the latest smartphones.
However, the Dutch government said last week that Washington now wants to block ASML from exporting less advanced deep ultraviolet (DUV) lithography systems to China, according to a Bloomberg report.
In response to questions from the Post, ASML downplayed the government talks and said "the discussions are not new and no decisions have been made".
ASML could lose around US$2 billion in revenue if DUV sales to China are blocked, according to Wang Xiaolong, research head at Shanghai-based semiconductor consultancy ICWise. "The impact is much higher than the ban on EUV."
While a total sales ban on ASML remains an extreme scenario, it is ringing alarm bells in Beijing, as DUV is used in a wide range of chip-making processes. Foundries with capacity expansion plans targeting mature nodes spanning 28-nanometre, 55-nm and 65-nm would bear the brunt of proposed sanctions in this area, according to experts.
China's semiconductor self-sufficiency drive needs ASML machines, as China itself is unable to make DUV systems. China has no alternative options and the impact would be huge if the country cannot import the equipment, said an ASML engineer, who requested anonymity as the matter is sensitive.
ASML's DUV immersion technology, which has been available since 2007, is prevalent in the installed base of semiconductor manufacturers all over the world.
As a workhorse lithography system in the chipmaking industry, it contributes every day to the production of chips that are critical to various end-markets including automotives, smartphones, Internet of Things and wearable devices.
ASML currently has four immersion DUV systems and five older "dry" DUV systems on offer. "Immersion systems are must-haves for the 28-nm production line," said ICWise's Wang.
"But you need other [older] types of lithography systems to support operations, so the restricted sale of immersion systems would affect other types of ASML machines too."
The impact on ASML would be huge. ASML sales of DUV systems to mainland China-based entities amounted to 2.74 billion euros (US$2.78 billion) in 2021, accounting for 14.7 per cent of ASML's total net sales of 18.6 billion euros, according to its 2021 annual report and data provided by ASML China.
However Robert Maire, president of Semiconductor Advisors, noted in a blog that ASML would still be able to sell its full suite of tools to non-Chinese chip makers. "The bottom line is this has little to no impact on ASML's long-term strength or success. The only thing that will happen is that the shipping address of ASML's tools will change," wrote Maire.
Sales of DUV immersion systems accounted for 36 per cent of ASML's total system sales of 13.7 billion euros in 2021, while EUV systems accounted for 46 per cent.
Amid the ban on ASML exports of EUV systems to China, China's top foundries, such as Semiconductor Manufacturing International Corp (SMIC) and Hua Hong Semiconductor, have shifted their focus to mature nodes starting from 28-nm. Both SMIC and Hua Hong posted record-high revenue growth last year on the back of brisk demand from local semiconductor design companies for their mature processes.
Lithographic systems – the single most tech- and capital-intensive area in a long list of chipmaking tools – is considered an Achilles' heel for China's chip-making industry.
In 2008 China rolled out a special "No 2 Project" aimed at narrowing the gap with foreign countries in chip-making technology, tools and materials, and more than 200,000 scientific researchers across the country have taken part. China, however, has failed to produce a domestic machine that can rival the ones ASML produces.
Shanghai Microelectronics (SMEE), considered China's best shot at making breakthroughs in lithography tools, was added to a US export watch list with another 32 Chinese entities by the US Commerce Department in February, restricting the company's imports of US technologies and products. SMEE's best lithographic system can make chips on 90-nm.