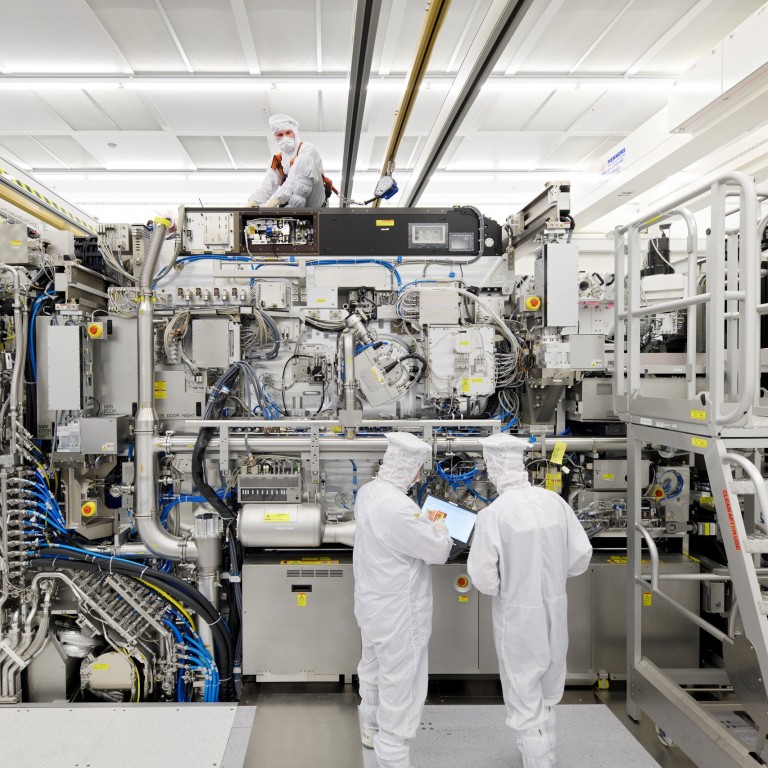 Tech war: ASML's second-quarter sales data shows shift away from mainland China to Taiwan and South Korea as US lobbying intensifies
Share of China in ASML's total sales of lithographic systems by value dropped to 10 per cent in the second quarter of 2022
Changing sales pattern has occurred as Washington intensifies lobbying to stop Dutch firm from exporting DUV machines to mainland China
ASML Holdings, which has a monopoly position in the production of advanced chip-making machines, has seen early signs of revenue being switched from mainland China to other markets as Washington continues to press the firm to impose a broader ban on sales of equipment to the country.
According to data released by the company on Wednesday, the share of mainland China in ASML's total sales of lithographic systems by value, dropped to 10 per cent in the second quarter of 2022 from a share of 34 per cent in the first quarter when the country was the largest single market.
ASML's shipments to Taiwan made up 41 per cent of its total sales in the second quarter, while South Korea accounted for 33 per cent, leaving mainland China in third place. Shipments to the US accounted for 10 per cent of total sales in the June quarter, up from a 6 per cent share in the first quarter.
The decline in mainland China's share of ASML's second quarter sales was mainly caused by the concentrated delivery of extreme ultraviolet lithography (EUV) systems to other markets, ASML said in a statement.
The changing sales pattern has occurred as Washington intensifies lobbying efforts to stop the Dutch firm from exporting a broader set of chipmaking equipment to mainland China. This includes less advanced deep ultraviolet (DUV) lithography systems, in addition to EUV systems that ASML has already stopped shipping to China amid US restrictions.
"I think we need to realise that China is an important player in the semiconductor industry and especially in more mature nodes," said ASML CEO and president Peter Wennink during an earnings conference call late on Wednesday.
Wennink said demand from mainland China remained robust and foundries there had strong appetite for ASML's immersion and dry systems in process nodes spanning 20-nanometre, 28-nm, 45-nm and 65-nm.
Regarding US lobbying for a broader ban on exports of chip-making equipment to mainland China, Wennink said "it's a political position which we have to wait for politicians to come up with".
A broader ban on the export of ASML equipment to China could deal a heavy blow to the country's semiconductor self-sufficiency drive as these machines are used in a wide range of chip-making processes spanning 28-nanometre, 55-nm and 65-nm.
Meanwhile, ASML could lose around US$2 billion in revenue if DUV sales to China are blocked, according to Wang Xiaolong, research head at Shanghai-based semiconductor consultancy ICWise. "The impact would be much higher than the ban on EUV."
ASML on Wednesday reported second-quarter net sales of €5.4 billion (US$5.5 billion), up 35 per cent year-on-year on the back of strong demand in semiconductor end markets and for lithography equipment.
The Dutch lithography giant shipped 91 lithographic systems in the second quarter for a total amount of €4.14 billion, including 21 immersion DUV systems and 12 advanced EUV systems. Immersion DUVs and EUVs together accounted for 81 per cent of its second-quarter system sales.
However, ASML cut its forecast sales growth in 2022 to around 10 per cent from guidance of 20 per cent in the first quarter. It expects third-quarter net sales of between €5.1 billion and €5.4 billion.