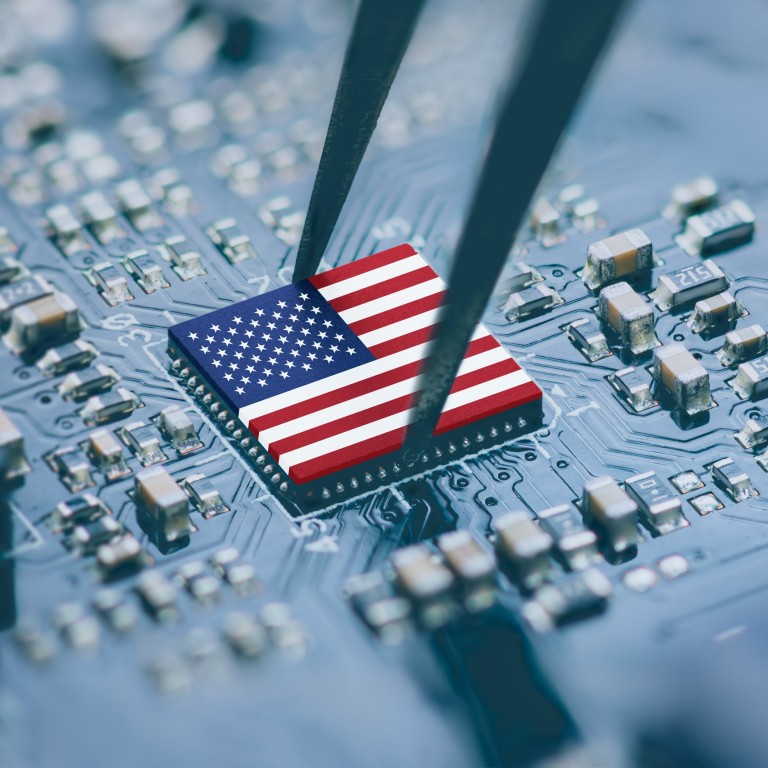 Tech war: China's attacks on US Chips Act continue, although Beijing has few countermeasures, analysts say
The Chips Act will disrupt semiconductor cooperation and investment between China and the US, and hurt the interests of global chip companies, the CCPIT says
China relies heavily on imported technologies for chip design and manufacturing, making it hard for the country to make technological breakthroughs on it own
China's attacks on the US Chips and Science Act, which offers subsidies of up to US$53 billion for semiconductor investments on American soil, continued this week, but observers say Beijing has few options in terms of realistic countermeasures.
State-backed trade groups, including the China Council for the Promotion of International Trade (CCPIT) and China Chamber of International Commerce, have joined the chorus of Chinese state media and government voices in condemning the Chips Act.
The new law will disrupt "normal" semiconductor cooperation and investment between China and the US, hurt the interests of global chip companies – including American ones, undermine the global semiconductor supply chain, and intensify geopolitical risks, CCPIT spokesman Sun Xiao said in a press conference on Monday.
Separately, Li Yong, who heads an expert committee at the China Association of International Trade, called the US law a form of "semiconductor hegemony", in an interview with Xinhua on Tuesday. Li said clauses which prevent US subsidy recipients from using funding to expand advanced semiconductor manufacturing in countries such as China were "poisonous".
The Chips Act would reduce China's overall silicon capacity by 180,000 12-inch wafers a month by 2025, according to a research note from Shanghai-based ICWise, a semiconductor consulting firm.
The renewed criticisms largely repeat the tone of an earlier statement from the
China Semiconductor Industry Association
, the state-backed trade group representing the country's integrated circuit industry, which denounced the
act
as a violation of
fair trade
, while warning the law could lead to "chaos" in global supply chains.
The Chips Act, signed into law by US President Joe Biden earlier this month, also provides US$200 billion for research into
artificial intelligence
,
quantum computing
and other advanced technologies – areas that Beijing has designated as national priorities.
China's state-backed
Integrated Circuit Industry Investment Fund
, also known as the "Big Fund", has allocated 343 billion yuan (US$50 billion) in capital for the country's chip sector. Local governments, including Beijing and Shanghai, have also set up semiconductor industry funds, with total capitalisation of 32 billion yuan and 50 billion yuan, respectively.
The complaints from China are emblematic of its lack of effective countermeasures, analysts said, because such criticisms will not be effective in dialling back US efforts to slow China's advance in fundamental technologies including semiconductors.
China relies heavily on imported technology, equipment and materials for chip design and manufacturing, making it hard for the country to make technological breakthroughs on its own.
The US has also invited Japan, South Korea and Taiwan to join the so-called Chip4 alliance, seen by Beijing as a plot to marginalise China's role in semiconductor supply chains.
In particular, Seoul is balancing the need to protect South Korean interests in China with the advantages of an important semiconductor alliance, given its key role in producing the world's memory chips.
Yang Hyang-ja, chairwoman of a special parliamentary committee on semiconductors, said China cannot retaliate against South Korea for joining the group, as the country's participation in a US-led semiconductor alliance was inevitable, according to a report by the Korea Times.
Yang's comments came ahead of a preliminary meeting of the Chip4's potential members to negotiate terms and come up with action plans. Seoul has confirmed its plans to attend the meeting, which is slated for early September.
Yang previously met the Chinese ambassador to South Korea, Xing Haiming, who told her that China and Korea should "exclude external interference" when it comes to cooperation in the semiconductor industry.
South Korea memory giants Samsung Electronics and SK Hynix have invested heavily in wafer fabs in China. Seoul's top priority was to help the companies steer clear of geopolitical conflicts that may damage their business interests in China, according to analysts.