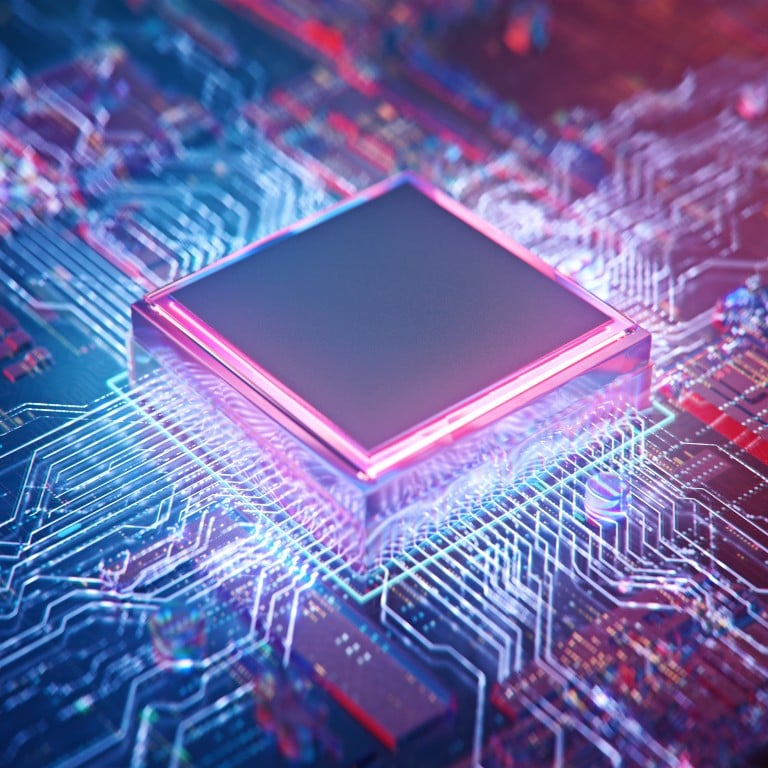 Tech war: China looks for silver lining in latest US restrictions on artificial intelligence chips
The ban was a hot topic of debate among delegates at the World Artificial Intelligence Conference in Shanghai this week
An employee at a Tianjin-based AI server company said its government business might suffer because of the ban
Washington's latest restrictions on exports of certain US-origin advanced artificial intelligence (AI) chips to China has elicited shock and anger on the mainland, but also sparked calls to double down on efforts to find domestic substitutes.
While China's foreign ministry spokesman Wang Wenbin labelled the latest restrictions an act of "technology hegemonism", as it could slow China's big data centre development, the country's chip veterans are trying to play down the immediate impact and highlight the possibility that Chinese graphic processing unit (GPU) makers will benefit.
News of the ban, which restricts certain high-end chips from Nvidia and Advanced Micro Devices (AMD) from being exported to China, was a hot topic of debate among delegates at the World Artificial Intelligence Conference in Shanghai this week.
One delegate from a Chinese GPU company, who declined to be named as he was not authorised to speak to the media, said the ban could benefit local companies.
He said domestic players lag behind Nvidia and AMD in terms of product performance, so it is unlikely that local products can replace the high-end US chips in the short term. However, an alternative would be to pack more local chips together to deliver higher performance.
Domestic GPU suppliers will not have much of a chance if clients are already using Nvidia chips, this delegate said.
An employee at a Beijing-based GPU company, surnamed Liu, said the ban may open up opportunities in the industrial market.
"The impact [of the ban] will be huge for Nvidia as it accounts for around 80 per cent of the domestic GPU market, whereas AMD's market share of GPU products in China is quite limited," said Liu. "So for those of us who make general-purpose AI GPUs, there will be more development opportunities in the industrial market."
An employee at a Tianjin-based AI server company, which uses a combination of domestic and foreign GPUs, said its government business might suffer because of the ban.
Servers that run on Nvidia's A100 chips, which are on the trade blacklist, are mainly used in government applications such as criminal identification and road traffic monitoring, according to the AI server company employee.
It is very difficult to replace these chips with domestic products given Nvidia's high performance and well-established ecosystem, he said.
For other applications in the industrial sector, such as servers used by iPhone assembler Foxconn Technology Group to improve manufacturing productivity, the company is already using GPUs from Chinese suppliers such as Huawei Technologies Co and Cambrian, the employee said.
Overall, he said the ban might deepen awareness of the need to accelerate the adoption of domestic GPUs. With the escalating US-China tech war, more major customers are requesting the localisation of components, and this awareness will only grow after the latest ban, he added.
In recent years, a growing number of Chinese start-ups have emerged in the GPU field. For example, Biren Technology was founded in 2019 to focus on producing general-purpose GPU chips. Other players include Shanghai-based Vastai Technologies, Iluvatar CoreX, and Hexaflake Information Technology.
In Beijing this week, China is hosting an international services trade fair with many tech firms showcasing their latest offerings. State-owned media Global Times quoted a GPU delegate at the fair as saying that most functions provided by Nvidia chips can be replaced by domestic ones, but it was unclear what types of Nvidia chips were being used in the comparison.
Nvidia has said the US ban could cost it US$400 million sales in China for the current quarter. China contributed about US$7 billion to Nvidia's total revenues in 2021.
Separately, in a stock filing on Thursday, Nvidia said it is allowed to export its A100 chip, which is covered by the export licensing restrictions, to US clients with business needs in China through March 1, 2023, and that Washington has authorised A100 and H100 order fulfilment through Nvidia's Hong Kong facility through September 1, 2023.