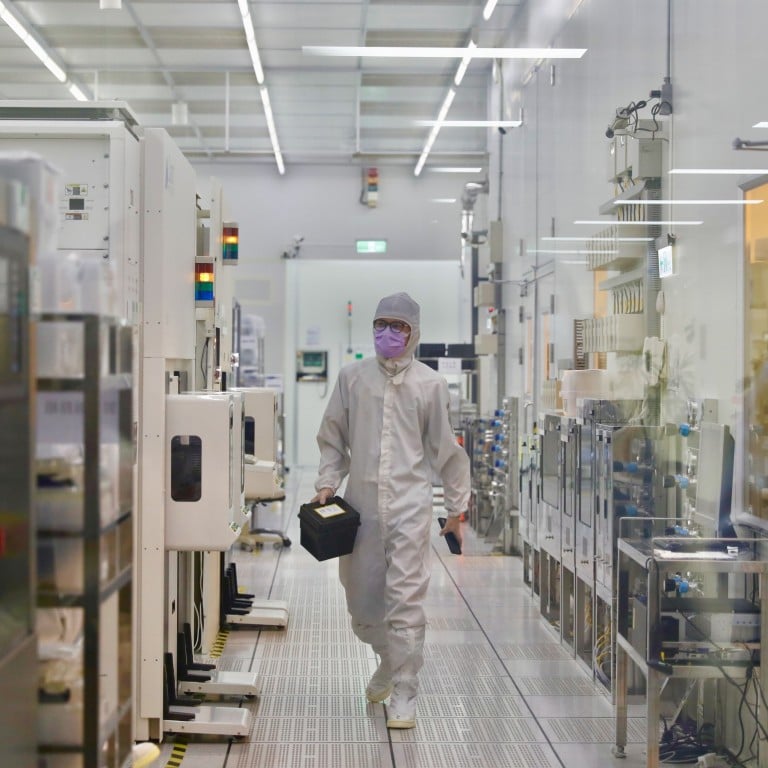 Tech war: China chip start-ups clamour to tout AI chip breakthroughs after Nvidia sales ban, prompting analyst scepticism
Chongqing-based Xiangdixian Computing Technology has unveiled Tianjun No. 1, a GPU with 12-nanometre node technology
Analysts say that Chinese chip companies still lag far behind Nvidia, which has a near monopoly on GPUs used to train AI models
Chinese semiconductor start-ups are rushing to claim breakthroughs in artificial intelligence (AI) chips after the US restricted the export of advanced chips from Nvidia Corp and Advanced Micro Devices (AMD) to China, prompting scepticism from many industry analysts.
Chongqing-based Xiangdixian Computing Technology, which designs microprocessors, this week unveiled Tianjun No. 1, a graphics processing unit (GPU) with 12-nanometre node technology. The company claimed it has "reached an internationally advanced level" and will "effectively fill the gap in the domestic market", according to an official post on its WeChat account on Wednesday.
Xiangdixian, a chip design start-up founded in Chongqing, southwestern Sichuan Province in 2020, is headed by chip veteran Tang Zhimin who previously worked for Loongson Technology and Hygon Information Tech, two Chinese chip companies that make microprocessors.
Tang said the launch of the new 12-nm chip, which took one and a half years to come to fruition, was due to "the support of the Chongqing government and other parties in society". "China currently lacks mature and advanced domestic products in the field of GPU chips," said Tang, adding that the new chip was now entering mass production and would help
address the country's strategic "choke points"
.
The announcement came a few weeks after Shenzhen-based AI chip design start-up Moffett AI revealed a new AI inference accelerator, called S30, which it said has stronger computing power than Nvidia GPUs. It said the computing power of the S30 is twice and 1.2 times stronger than the Nvidia A100 and H100 respectively, the two chips that have been banned for export to China by the US as of September.
Moffett AI, which was established in 2018 by Wang Wei, a former chip architect at Qualcomm and Intel, said it was a "victory of 12-nm chips over 4-nm chips", according to a post on the company's official WeChat account on September 9.
The moves by these chip start-ups to promote their achievements comes after Washington imposed export restrictions on certain advanced AI chips from Nvidia and AMD on August 31, which sparked calls in Beijing for the country to double down on efforts to find domestic substitutes.
Shanghai-based GPU start-up Biren Technology, which released a new 7-nm chip called BR100 in August, made a splash at the World Artificial Intelligence Conference in Shanghai in early September, when it said the BR100 had "set a global record" in computing power, with peak performance three times better than equivalent products on the market.
However, analysts and industry insiders have said that Chinese chip companies still lag far behind Nvidia, which has a near monopoly on GPUs used to train AI models.
Lu Jianping, chief technology officer at Shanghai-based Iluvatar Corex, said Nvidia controls 95 per cent of the market for general purpose GPUs used to train AI models. Lu said that he was unable to find any mature "rival products" from Chinese GPU start-ups for assessment against Nvidia chips.
"So far we can't get any, probably because everyone is still in the development stage," he said in a recent online session organised by chip industry consultancy ICwise.
"There are certain domestic alternative GPUs in mainland China, but they have a gap of 3-5 years with Nvidia's advanced chips," said Zhang Xiaorong, director of Beijing-based research institute Shendu Technology. However, domestic GPU firms now have more room for development after the US sales ban, he added.