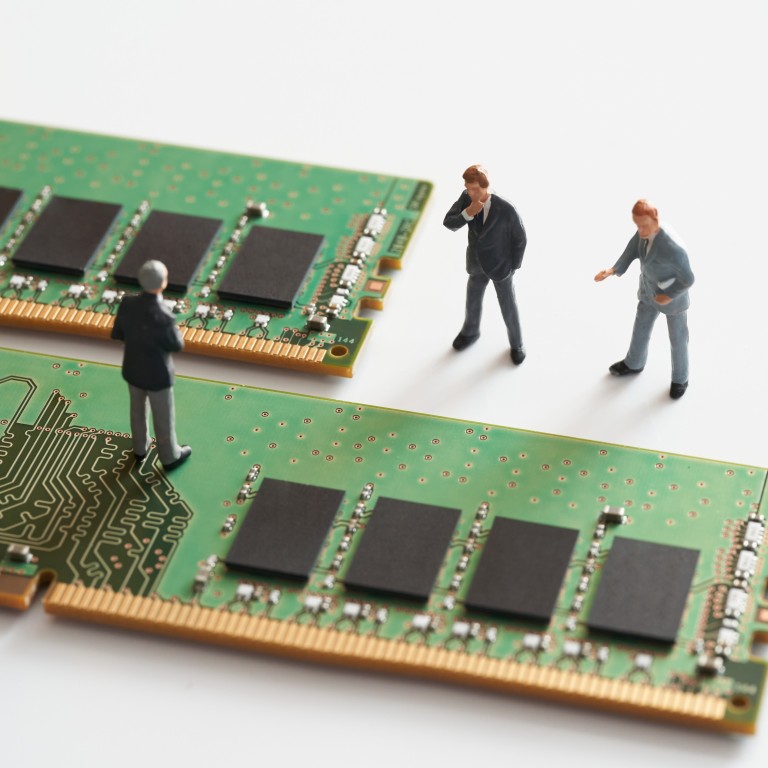 US citizens at Chinese chip firms caught in the middle of tech war after new export restrictions
Washington's latest export restrictions prohibit 'US persons' from supporting the 'development or production' of chips at targeted Chinese firms
Several C-suite executives at affected companies worked in the US semiconductor industry and gained citizenship before returning to China
New US restrictions on Chinese chips firms could put American executives at targeted companies in a precarious situation since Washington banned "US persons" from supporting their development.
The latest
restrictions announced last week
by the US Department of Commerce do not mention employment, but it could be covered by the new rules that "restrict the ability of US persons to support the development or production" of chips at "certain China-located semiconductor fabrication 'facilities' without a licence".
JW Insights, a semiconductor industry research firm in China, said the term "US person" could be "one of the most influential terms" in the latest export controls.
The latest escalation in the
US-China tech war
is part of Washington's efforts to restrict or slow the technological advancement of its geopolitical rival.
While specifics on implementation remain unclear, the rules could cast a shadow over technology personnel either holding US citizenship or permanent residency at Chinese chip companies, according to Ruan Donghui, an attorney at law firm Dentons.
According to a review of published C-suite profiles by listed Chinese companies – including AmLogic, Advanced Micro-Fabrication Equipment of China (AMEC), 3Peak, Starpower Semiconductor, ACM Research and Halo Microelectronics – there are dozens of executives in China's chip industry with US citizenship.
Most of these executives are naturalised citizens who were born in China and studied at American universities or worked in the US chip industry.
The chairman and CEO of Shanghai-listed AMEC, for instance, is Gerald Yin Zhiyao, who was born in Beijing and attended University of California, Los Angeles, in 1980, according to his official biography.
He went on to work as an engineer at
Intel
and became the chief technology officer of the Asian branch of Applied Materials. The 78-year-old founded AMEC in 2004, according to corporate filings.
Zhou Zhixu, another US citizen, is chairman of Shanghai-listed 3Peak, which focuses on analogue integrated circuit (IC) products and systems. He founded the company in 2008 after serving as a senior tech executive at Motorola for 13 years. He also earned a degree in the US, from the University of Arizona, according to corporate filings.
Wayne Dai Wei-Ming, who was born in Shanghai, was a computer engineering professor at the University of California, Santa Cruz, before starting VeriSilicon in 2001. The chip design company listed in Shanghai in 2020.
At some Chinese companies, holding a US passport can be seen as an asset. The key tech personnel team at Piotech, a provider of semiconductor thin film equipment that listed in Shanghai in April, consists mostly of US citizens.
This includes six out of the seven members of the team listed in the company's prospectus who attended universities in the US and worked at top chip makers in the country, including Intel and Lam Research.
The chief technology officers at Focuslight Technologies, which designs high-power diode lasers, and Vanchip Technology, which designs radio-frequency power amplifiers, are also both US citizens.
Technology exchange between the US and China in recent decades has led to many entrepreneurs, executives and scientists contributing to the integration of the two countries' semiconductor industries.
However, rising hostilities since the administration of former US president Donald Trump has put increasing pressure on Chinese chip firms.
At least one targeted Chinese chip company has been dealing with a high-profile departure in recent weeks. Simon Yang, the former CEO of Yangtze Memory Technologies Co (YMTC),
stepped down from his post
at China's largest memory chip producer last month.
Yang attended Rensselaer Polytechnic Institute in Troy, New York, according to his official biography, and worked in the US for two decades before returning to China in 2010. However, there is no public information about Yang's citizenship.
Additional reporting by Che Pan.