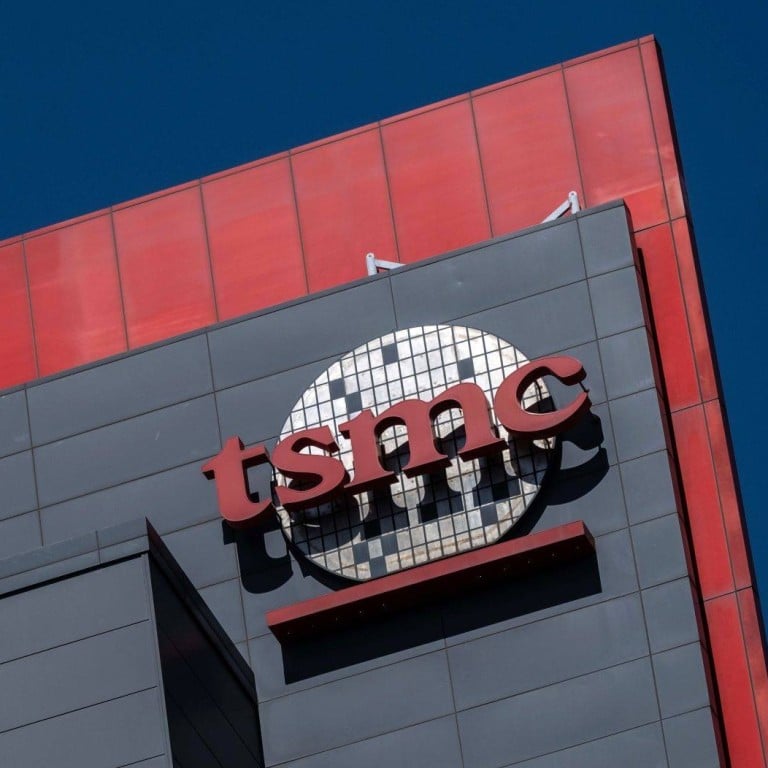 TSMC gets one-year equipment waiver for mainland China chip plant, easing the blow from new US restrictions
The world's most advanced chip fabrication company secured a one-year waiver to import chip-making equipment to its facility in Nanjing
TSMC joins South Korea's SK Hynix with a temporary respite from new US export restrictions to mainland China as Washington seeks to align chip-making allies
Taiwan Semiconductor Manufacturing Co (TSMC)
, the world's most advanced chip fabrication company, said it has secured a one-year waiver to import chip-making equipment for mature and advanced nodes to its plant in Nanjing, the capital of China's eastern Jiangsu province, the company's executives said on Thursday.
"The one-year US authorisation for tool imports into the Nanjing foundry that TSMC has received covers both the 28nm and 16nm," Wendell Huang, chief financial officer at TSMC, said during the company's third-quarter earnings conference call.
After the new restrictions the US issued last week, which are part of a broader effort to slow the advance of China's semiconductor industry, license requirements for shipping certain chip-making tools to China-based foundries owned by non-mainland entities will be reviewed on a case-by-case basis.
The exemption for TSMC allows the Taiwanese chip maker to maintain uninterrupted operations at its plant in Nanjing, but the company's most advanced chip-making facilities remain at home in Taiwan, the self-ruled island that Beijing regards as Chinese territory.
Another key part of Washington's strategy in curbing China's chip capabilities is aligning Asian allies that play important roles in the semiconductor supply chain to get them on the same page regarding export controls and other related policies. The so-called Chip 4 alliance seeks to coordinate supply chain policies among Japan, South Korea, Taiwan and the US, but new curbs on access to mainland China risk
cutting off a large market
for chip firms.
In addition to TSMC, South Korean memory chip giant SK Hynix also secured a one-year authorisation to continue its operations in China without additional licensing requirements otherwise required by Washington's new rules, according to a company statement on Wednesday.
TSMC CEO C.C. Wei said on the same call that the new regulation has "set the control threshold at very high-end specifications, which are primarily used for artificial intelligence or supercomputing applications". The initial assessment about customer feedback suggested that the impact on TSMC is "manageable", he added.
"Only very high-end compute chips are restricted," asset management firm Alliance Bernstein said in a recent research note. "We estimate that amounts to about 0.4 per cent of TSMC's 2023 revenue or 5 per cent in an unreasonably extreme case."
TSMC's Nanjing fab is the only foreign fab in mainland China that makes chips using the 16-nanometre node. Last year, the Nanjing government approved the fab's expansion plan despite
nationalist calls for a boycott
on the grounds that the 28nm node is outdated technology. While the plant produces both 28nm and 16nm chips, TSMC is currently building a foundry in the US state of Arizona that will use the 5nm process.
Amid troubles in China and signs of a possible global recession on the horizon, TSMC has begun preparing for an industry downturn. The company revised down its capital spending this year to US$36 billion, 10 per cent below the lower end of its previous guidance of US$40 billion, citing weaker chip demand and supply chain disruptions affecting tool deliveries.
For the third quarter, however, TSMC earnings beat estimates with a 36 per cent year-on-year jump to US$20.3 billion.