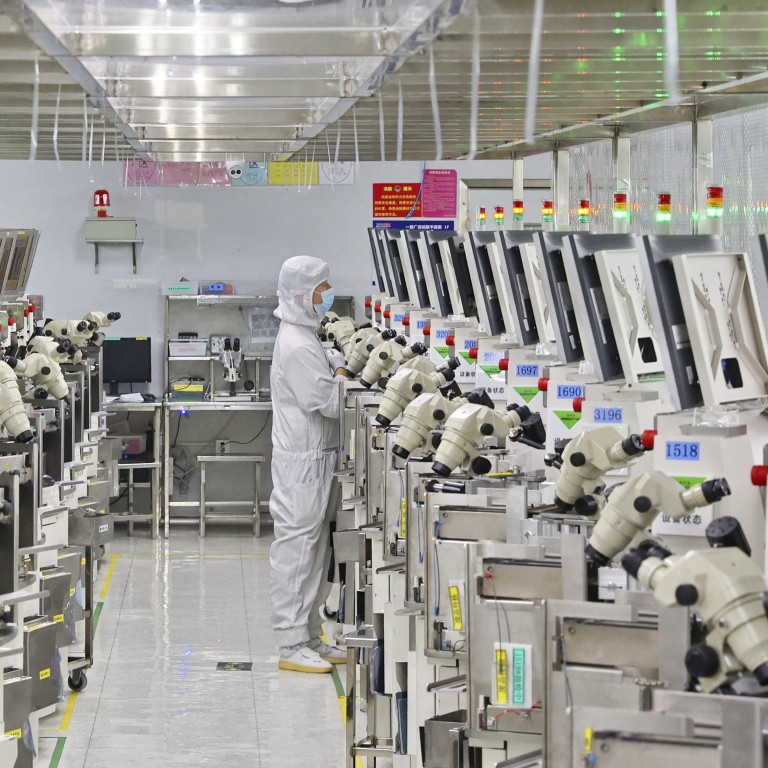 Tech war: Chinese local governments ramp up chip industry support as US piles on export restrictions
Local governments like Shenzhen are playing catch-up with traditional semiconductor hubs such as Shanghai
Analysts have warned that local authorities should be 'cautious' and take a long-term perspective when drafting policies to avoid wasting resources
China's local governments are doubling down on cash incentives and policy support for home-grown semiconductor companies, as part of Beijing's drive to achieve greater self-sufficiency in the chip sector amid heightened rivalry with the US.
Local governments like Shenzhen are playing catch-up with traditional semiconductor hubs such as Shanghai by unveiling a range of new measures and fresh cash to support semiconductor firms, in a broad move to bolster the country's efforts to lessen dependence on foreign technology.
Some of the ambitious plans have emerged in cities previously not on China's semiconductor radar screen. Lishui, a prefecture-level city in eastern Zhejiang province, has joined the charge by rolling out several measures to support the local chip industry. The city is run by the son of China's former president, Hu Jintao.
A WeChat article published on the local government's account last Friday noted that authorities are giving rewards to chip design enterprises that have designed their own copyrighted products.
Furthermore, if the annual revenue of a chip design enterprise's main business exceeds 20 million (US$2.78 million), 100 million and 500 million yuan, the government will give them a subsidy of 300,000, 1 million and 5 million yuan, respectively.
For chip manufacturing and material firms with sales over 500 million, 1 billion, 2 billion and 5 billion yuan, the government rewards will be 5 million, 10 million, 20 million and 50 million yuan, respectively.
Lishui, which is part of the Yangtze River Delta, only recently achieved "a leap from zero to one" in the development of its semiconductor industry after its "speciality platform" was recognised by Zhejiang province's new industry scheme, according to the government article.
"The policy issued this time has clear direction, precise force, high gold content, strong pertinence and strong support," the article states, quoting Xia Zhiming, a local government official in Lishui.
Separately, Nanjing, capital of eastern Jiangsu province, has announced policies to support its semiconductor industry. The government will speed up the development of certain industries, such as software and information services, smart grid, integrated circuits and biomedicine, it recently announced.
Meanwhile Shanghai, already well-established as the country's financial hub, has now styled itself as China's semiconductor highland, with the city accounting for one quarter of the country's semiconductor value output and 40 per cent of its chip talent, according to official data.
The local government published guidelines earlier this month in which the city, which imposed strict lockdowns to deal with Covid-19 outbreaks this year, declared its ambition to become a base for "industries of the future" amid an intensifying US-China tech war.
China's southern tech hub of Shenzhen, traditionally an electronics and software centre, is playing catch-up and trying to enhance its role in the chip value chain.
The government pledged to provide up to 10 million yuan each year to foot part of the cost for local chip design firms to buy the necessary IP cores to progress their research.
It is also giving away cash rewards of as much as 30 million yuan to attract top chip companies to set up shop in the city as part of a new plan set out earlier this month.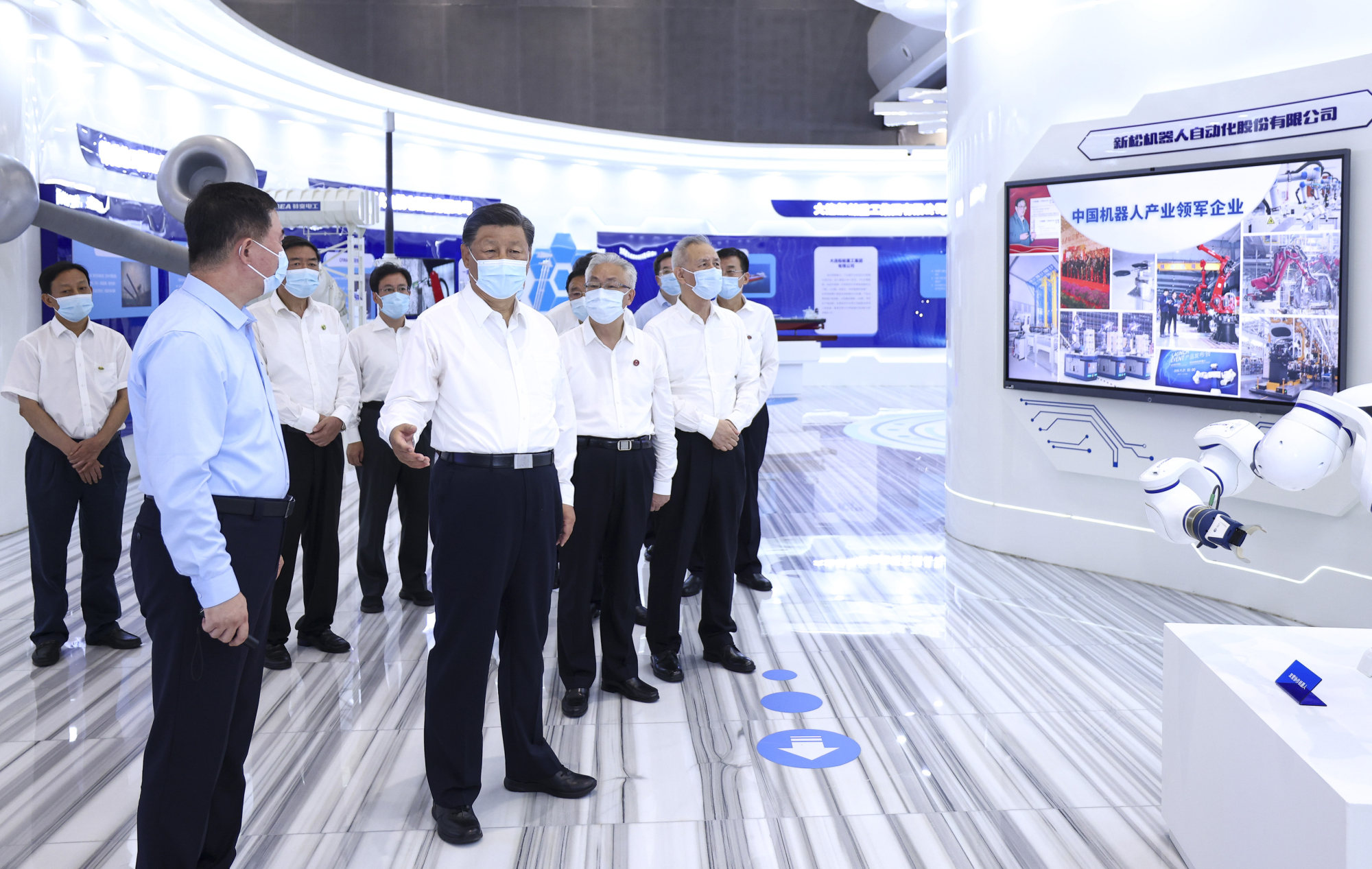 Hefei, capital of eastern Anhui province, as well as Hangzhou, capital of Zhejiang, have both rolled out subsidy schemes and policy plans to support self-developed semiconductor technologies in June and July.
The self-sufficiency drive has seen success and failure, while tensions with the US have escalated.
In 2014, the central government set up the China National Integrated Circuit Industry Investment Fund, known as the Big Fund, to bankroll and cultivate promising start-ups in the country's self-sufficiency drive.
Spurred by Beijing's call, local governments have showered money on the sector, but some of these efforts have been undermined by lack of expertise and misdirection.
Furthermore, several key executives involved in the Big Fund have been put under state graft investigations this year, and some local projects, such as the Wuhan government's brainchild, Hongxin Semiconductor Manufacturing Co, have failed.
Local authorities should be "cautious" and take a long-term perspective when drafting policies to avoid wasting resources, according to a report by semiconductor consultancy ICWise last month.
"Semiconductors is a scientific field, and [the government] needs to respect professionalism and study the growth pattern instead of getting on board blindly," the report said.
"Local governments need to find their current positioning in the value chain and avoid dragging local finances into a quagmire … [by] carefully looking at their own foundation and advantages."
China's central and local governments must provide greater support for semiconductor research and development to push the sector forward, according to Wei Shaojun, president of the integrated circuit design branch at the China Semiconductor Industry Association.
"If we don't have continuous R&D input, there won't be momentum for development in the future," Wei said in August.
President Xi Jinping also stressed at a key meeting last month that China must step up development of technology critical to national security and adopt a top-down "new whole country system" to seek breakthroughs.
The task has become more urgent after the US tightened its grip on the access Chinese firms have to advanced technology, with the semiconductor industry a key target.
Earlier this month, the US Department of Commerce's Bureau of Industry and Security made two updates to export-control rules aimed at restricting China's ability to obtain advanced computing chips, putting restrictions on 31 Chinese companies, research institutions, and related groups.
It has also placed restrictions on the involvement of "US persons" in developing chip facilities in China.