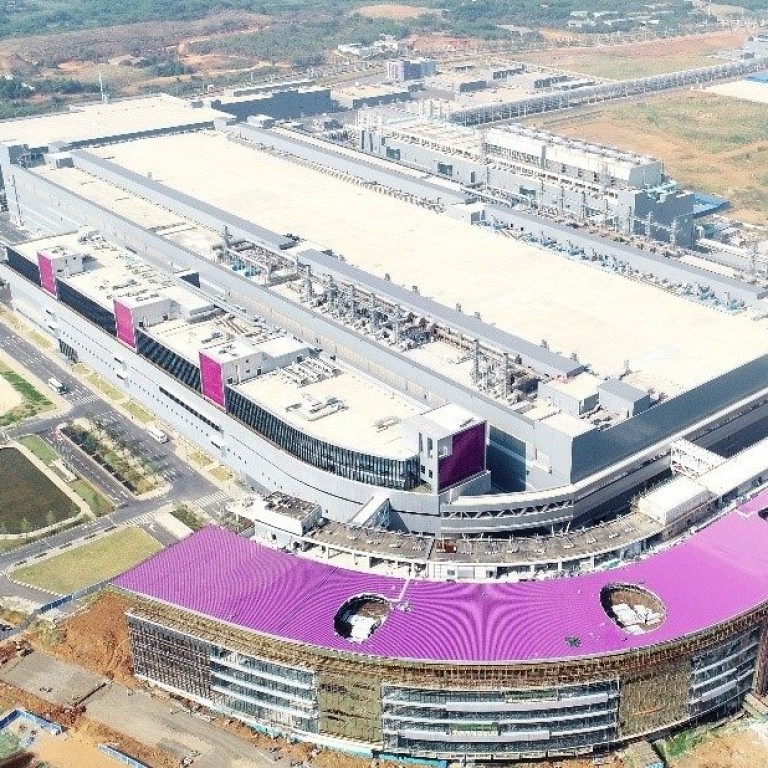 Tech war: YMTC sends message of compliance after Washington puts China's largest memory chip maker on watch list
If YMTC does not comply, it will be added to the Commerce Bureau's Entity List, subjecting it to strict US export controls
'YMTC is a commercial entity that follows global, market-based and compliant concepts' said YMTC in a statement
Yangtze Memory Technologies Co (YMTC), added to a trade watch list by the US government two weeks ago, has highlighted its compliance "across the globe" in the first public statement by China's largest memory chip maker since Washington imposed sweeping export restrictions.
YMTC initially kept its own counsel after it was added to the "unverified list" by the US Bureau of Industry and Security on October 7. The company can be removed from the list if it provides the US government with more details about the end users of its products. If it does not comply, it will be added to the Commerce Bureau's Entity List, subjecting it to strict US export controls.
YMTC's statement late on Thursday, which included a denial that it had met with the Chinese government on US restrictions, indicates that the memory chip maker wants to avoid further punishment by Washington.
"YMTC is a commercial entity that follows global, market-based and compliant concepts," said the company. "We've always adhered to the principle of legal and compliant operation across the globe since establishment."
Analysts said YMTC will have to navigate the latest US restrictions carefully.
"YMTC faces uncertainty in its business continuity and it probably will be forced to refocus on mature nodes," said Sravan Kundojjala, a senior analyst at Strategy Analytics. "It could take some time for the industry to figure out the full effects [of the latest restrictions]."
Few Chinese semiconductor companies have publicly responded to the latest US restrictions but there are signs that most want to comply where possible.
China's top semiconductor equipment maker
Naura Technology Group
has told its American employees in China to stop taking part in component and machinery development to comply with Washington's restrictions on the involvement of US citizens in key chip facilities on the mainland.
YMTC has been under growing scrutiny by US politicians in recent months.
Marco Rubio, Republican vice-chair of the Senate intelligence committee, sounded an alarm in September over reports that Apple would add YMTC to its list of suppliers for NAND flash memory chips that are used to store data on smartphones. Apple suspended those plans earlier this month, according to media reports.
Meanwhile, US suppliers KLA and Lam Research have pulled out supporting teams from YMTC facilities.
A week before the US announced the restrictions, Simon Yang, who has headed YMTC since it was founded in 2016, stepped down. Yang, a US-educated engineer who previously worked at Intel and GlobalFoundries for more than a decade, is one of the leading figures in China's push for greater technological self-reliance, according to a report on a Chinese industry website.
YMTC has not responded to several requests for comment on these matters.
After a Bloomberg report that YMTC had attended emergency meetings at the Ministry of Industry and Information Technology to assess the damage from latest US sanctions, YMTC issued a statement.
Without citing Bloomberg directly, YMTC said such reports contained malicious intent and "not only damage the corporate image of YMTC, but will also have serious adverse effects on the semiconductor industry environment at home and abroad".
"The statement signifies that YMTC is trying to keep a low profile [amid the US sanctions]. It is somewhat scared," said Chen Rang, a long-time investor and entrepreneur in China's semiconductor industry.
In July 2021, YMTC said in a statement – in both English and Chinese – that all its products and services are "exclusively for commercial and civil usage only", in response to prevailing media reports about its potential links to the Chinese military.