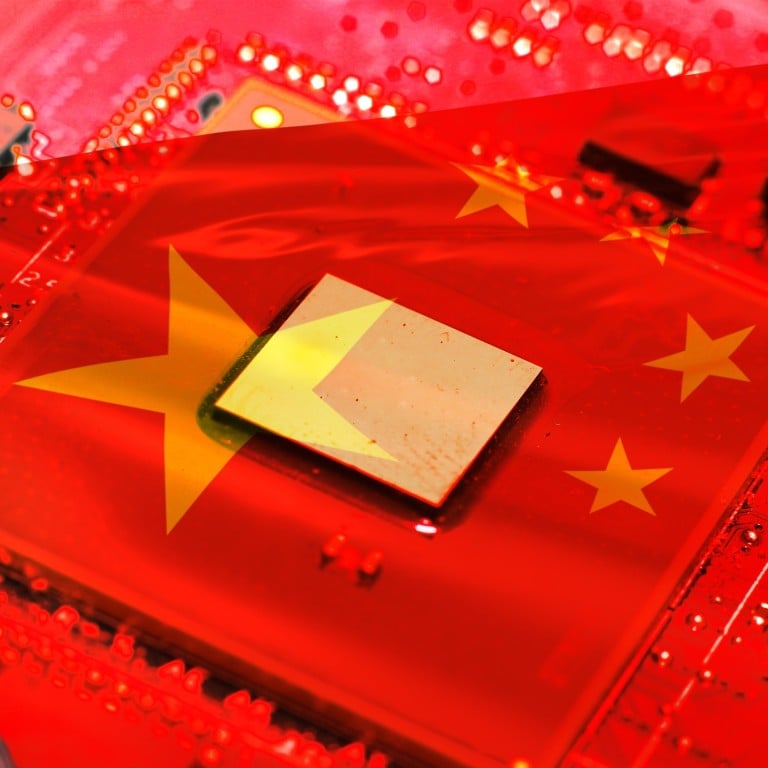 Tech war: Washington takes another swipe at China's tech ambitions by adding key chip and AI firms to trade blacklist
The Bureau of Industry and Security names 36 entities it says are 'acting contrary to the national security or foreign policy interests of the US'
It is becoming increasingly doubtful that China will be able to make semiconductor breakthroughs without access to US technologies
The US government has landed a fresh blow on China's semiconductor ambitions by putting the country's most advanced AI chip firms and its top memory chip maker on a trade blacklist, analysts say.
The addition of dozens of firms, including Yangtze Memory Technologies Co (YMTC) and its Japanese subsidiary as well as Cambricon Technologies, one of China's top AI chip developers, to the US Entity List is a clear escalation of the US-China chip war and indicates the US is determined to prevent China from ascending the curve of advanced chip technology.
Wang Lifu, an analyst at Shanghai-based chip industry consultancy ICWise, said YMTC would face a shortage of machines, materials and components for its research, development and production of chips, as a result of being added to the list. "Normal production and operation will become difficult," Wang said.
Most Chinese companies added to the Entity List have not commented on the matter.
An executive at Shanghai-listed Cambricon told investors that it is still reading documents and assessing the possible impact. Others – including YMTC – have said little after the Bureau of Industry and Security (BIS), an agency under the US Department of Commerce, named 36 entities it said were "acting contrary to the national security or foreign policy interests of the US".
Shanghai Micro Electronics Equipment (SMEE), the state-owned Chinese chip-making equipment manufacturer that is struggling to catch up with advanced peers, was among those added to the list.
The US move, which marked the largest batch of Chinese entities added to the trade blacklist since January 2021, came two months after the agency initiated a sweeping round of new export controls to restrict China's access to advanced chipmaking technologies and talent.
The Chinese government has, however, voiced its opposition.
A spokesperson from China's Ministry of Commerce dismissed the US move on Friday as a "typical practice of market distortion and economic bullying" and pledged that China will take "necessary measures" to safeguard the rights and interests of Chinese entities.
On Monday, China launched a suit at the World Trade Organization against the United States over its chip export control measures, China's commerce ministry said.
However, China's options for retaliation are, in practice, limited, given that many of its chip firms rely on US-origin technology to some extent.
When it was added to the US "Unverified List" in early October, YMTC pledged compliance across the globe. But the BIS still decided to put it on the stronger Entity List, alleging that YMTC has transferred technologies to sanctioned companies Huawei Technologies Co and Hangzhou Hikvision.
Hefei Core Storage Electronic, which designs NAND flash controllers and systems, was also added to the Entity List, along with PXW Semiconductor Manufacturing Co, which has said it is on course to make 28-nanometre chips by 2025.
Others added to the list include six companies affiliated with China Electronics Technology Group, the third largest electronics and IT company in the country, and the Institute of Computing Technology of the Chinese Academy of Sciences, where China's first general-purpose CPU was born.
As the US tightens export restrictions, it is becoming increasingly doubtful that China will be able to make semiconductor breakthroughs without access to US technologies. Companies added to the Entity List must apply for a special licence to purchase US products and services.
And the list is just one part of Washington's strategic plan to thwart China's chip development.
"Blacklisting YMTC should be just a first step," said Roslyn Layton, co-founder of US think tank China Tech Threat, which has pushed for a hardline US approach on China. "We urge the BIS to remain vigilant so that YMTC cannot circumvent today's penalties."
However, there was a glimmer of hope for some companies.
The BIS announced in a separate document that it is removing 26 Chinese entities from the Unverified List, including Beijing Naura Magnetoelectric Technology, a subsidiary of chip tool maker Naura Technology Group, after Washington was able to verify their bona fides.
Additional reporting by Che Pan