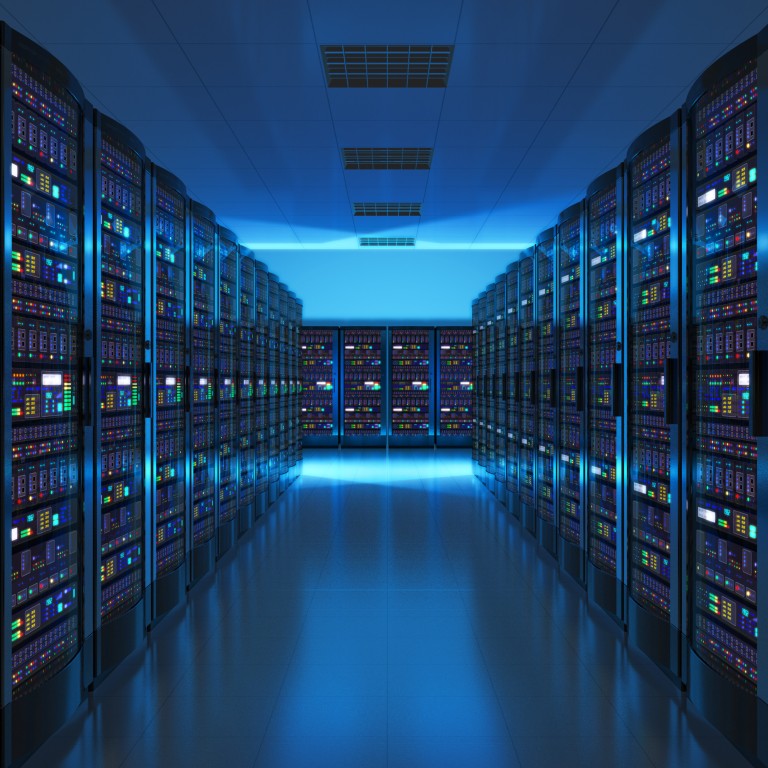 Tech war: US decision to add AI server firm Inspur to its trade black list will hinder China's computing power
Addition of Inspur to Entity List means Shandong-based company will find it increasingly hard to source key components from US suppliers
Inspur is one of 28 Chinese entities being added to US Commerce Department's Entity List along with BGI and Loongson
The US decision to add Inspur Group to a trade blacklist will constrain China's advancement in artificial intelligence (AI) as the server giant provides over half of AI servers in the domestic market, according to Chinese analysts.
Inspur, the world's second-largest AI server manufacturer, is one of 28 Chinese entities being added to the US Commerce Department's Entity List along with genetics firm BGI and chip developer Loongson, due to alleged activities contrary to US national security and foreign policy interests.
Inspur Group did not immediately reply to a request for comment on the development.
Shares in Inspur Electronic Information Industry Co, the company's main listed vehicle in Shenzhen, plunged 10 per cent on Friday while the share price of Inspur Software, the company's software unit, lost 2.6 per cent in Shanghai. Hong Kong-listed Inspur Digital Enterprise lost 7.2 per cent.
Inspur was originally at risk of being sanctioned by the US in 2020 when it was included in a list of 20 Chinese companies alleged to have links with China's military, according to the US Department of Defense.
Intel briefly suspended shipments to Inspur in June 2020 but the shipments were later resumed when it was clear the company had not been sanctioned.
The addition of Inspur to Washington's Entity List means that the Shandong-based company will find it increasingly hard to source key components from US suppliers, a move that will severely hinder the country's development of computing power.
For example, Inspur is a key supplier of AI servers to Baidu.com, the search engine giant that is betting big on China-style ChatGPT services, according to a message to investors by Inspur last month.
Inspur has also signed strategic partnership deals with Alibaba Cloud and Tencent Holdings, and its servers are also used by China's key infrastructure providers such as China Mobile, according to earlier corporate announcements. Alibaba owns the South China Morning Post.
Xiang Ligang, founder of Beijing-based telecoms-focused information portal
CCTime.com
, said the sanctioning of Inspur is a clear sign that the US wants to deal a blow to China's computing power. "Inspur is a very important server company [for China]. The US is trying to contain China's rise in computing power," said Xiang.
A lack of advanced chips from US suppliers such as Nvidia and Intel could be a particular problem for Inspur. In its
2019 annual report
, which is the last time Inspur disclosed its top suppliers, Nvidia was ranked No. 2 among its top five suppliers, accounting for nearly 8 per cent of its purchasing budget that year.
Jason Jia, a Beijing-based lawyer at Zhong Lun, said that being added to the trade sanctions list will have a significant impact on a company that uses technology – from software to hardware – sourced from US-related supply chains.
Computing power and data resources are two of the most critical tools when it comes to advancing AI, according to Liu Jingfeng, a senior researcher at Beijing-based technology think tank Jazzyear.
Chinese internet firms are currently scrambling to announce various ChatGPT-like products and as such, the need to train large language models (LLMs) will "drive demand for underlying computing power as well as AI server sales" by Inspur, according to a research note published by Huatai Securities last month.
The US also added AI unicorn 4Paradigm, which provides AI solutions to clients including China's largest bank and state media title the People's Daily, to the trade blacklist in the latest round.