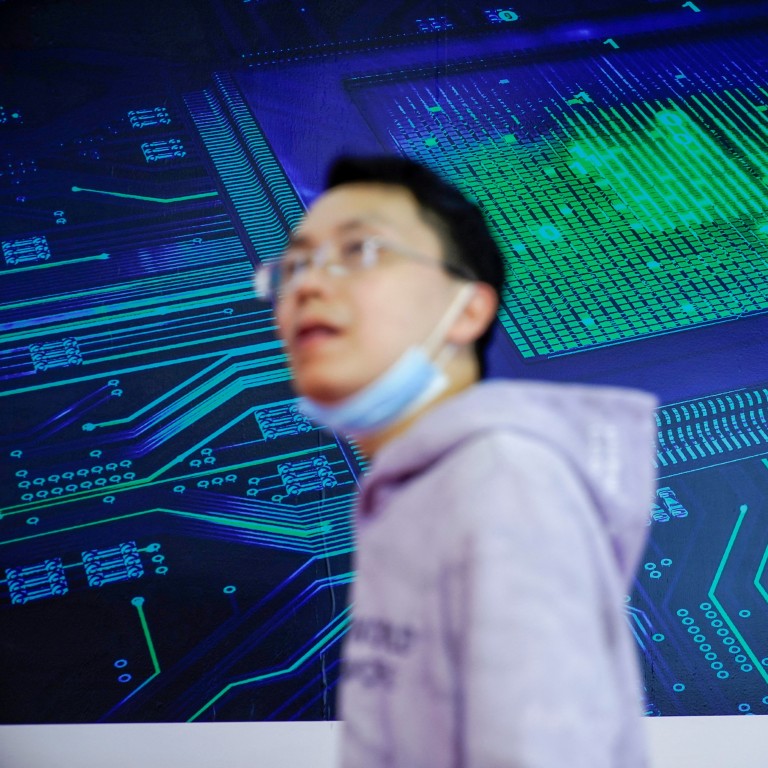 Tech war: China slams US Chips Act subsidies at WTO in Beijing's latest protest against Washington's restrictions: Xinhua
The Chips and Science Act, signed into law by President Biden in 2022, sets aside US$53 billion to fund domestic chip production and research
China representative says industry subsidies allow US to 'interfere with the allocation of market resources' and show 'double standards'
Beijing has hit out again at the US's efforts to boost its semiconductor industry via subsidies under the Chips and Science Act, saying that the actions manifest a "Cold War mentality" and severely disrupt the global chip supply chain.
A Chinese representative slammed recent moves by the US on Wednesday at a regular meeting of the World Trade Organization's Committee on Subsidies and Countervailing Measures, according to Chinese state-run news outlet Xinhua.
The Chips and Science Act, signed into law by US President Joe Biden in August last year, sets aside US$53 billion to fund domestic semiconductor production and research, and is seen by Beijing as part of a plot by Washington to stymie China's technological progress.
The representative said that such industry subsidies allow the US to "interfere with the allocation of market resources", and shows how the US adopts "double standards" in this area as it is harsh on others but lenient on itself, according to Xinhua.
The combination of US chip industry subsidies and export control measures have also "severely disrupted the global semiconductor supply chain", and showed Washington's "Cold War mentality and hegemonic behaviours", damaging both China, the US and its allies, the Chinese representative was reported as saying by Xinhua.
In a reported agreement reached in January, the US, Japan and the Netherlands are moving to curb the export of certain advanced chip-making equipment to China, which would hinder Beijing's ambitions to shore up domestic semiconductor manufacturing.
Last month, Beijing called on the WTO to review the US-Netherlands-Japan agreement, saying it may have violated "the principle of openness and transparency" of the trade body, according to Chinese state broadcaster CCTV.
The comments come after Beijing in December initiated WTO dispute proceedings against the US over its semiconductor export control measures, saying that the moves are inconsistent with the US's obligations under multiple WTO agreements.
On Wednesday, Beijing also called for the WTO to strengthen its "supervision" of US actions that violate WTO rules.
Beijing's mounting protests underline the widening gap between China and the US on semiconductor supply chains, and may presage further measures by the US to contain China's chip sector development.
The Netherlands pledged in March to join US efforts to curb advanced chip and equipment exports to China. Japan also said in March that it would require several Japanese companies, including leading semiconductor manufacturing equipment maker Tokyo Electron, to apply for licences to ship 23 types of cutting-edge chip-making tools to China.
Last week, the China Semiconductor Industry Association (CSIA), a state-backed Chinese semiconductor trade group,
said Japan's recent move
to expand restrictions on exports of advanced chip-making technology would "bring even greater uncertainties" to the global chip industry, and that it would call on the Chinese government to take "resolute countermeasures" as a response.