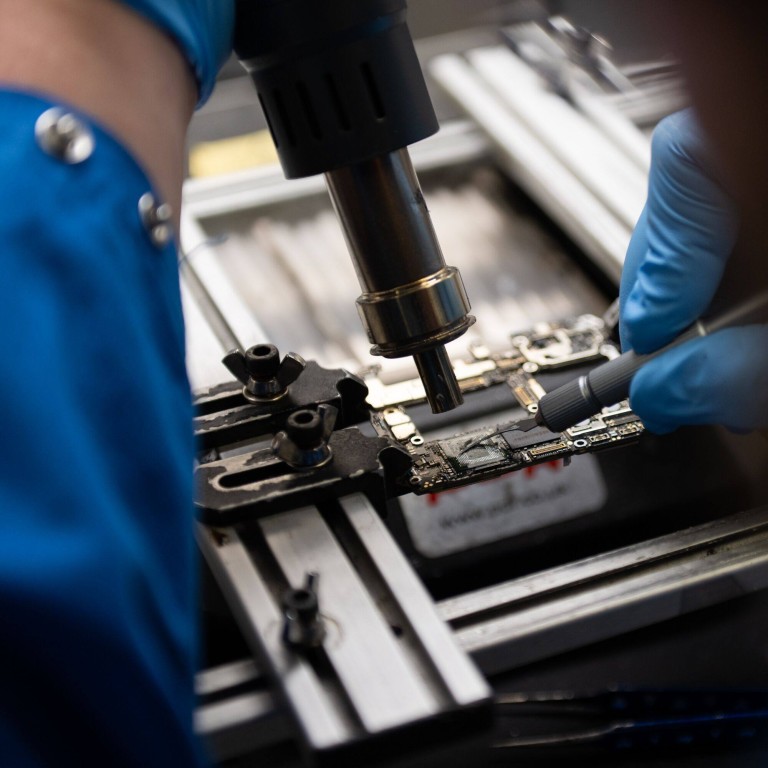 Founding investor in China's leading AI chip firm Cambricon dumps almost all of its stake as losses mount
SDIC Venture Capital Management Co sold 7.4 million shares, or 99.98 per cent of its total stake
Several other early investors have cashed out this year, including the VC arms of China Merchants Bank and Alibaba
A founding investor in Cambricon Technologies, one of China's leading artificial intelligence (AI) chip firms, has dumped nearly all of its equity stake in the Shanghai-listed company as losses mount amid economic headwinds and an industry downturn.
SDIC Venture Capital Management Co sold 7.4 million shares, or 99.98 per cent of its total stake, in Cambricon for a total of 1.48 billion yuan (US$203 million) between March to June this year, according to a Shanghai Stock Exchange filing by the company dated September 23.
SDIC Venture Capital, the venture capital arm established in 2016 by State Development and Investment Corporation, the largest state-owned investment holding company in China, manages a fund of around 30 billion yuan, according to its website.
The stake was acquired before Cambricon held a high-profile IPO that raised 2.8 billion yuan on Shanghai's tech-focused Star Market in July 2020. As of the end of 2022, SDIC Venture Capital was Cambricon's fourth-largest shareholder, according to Cambricon's financial report.
Cambricon shares dropped 3.3 per cent to 126.13 yuan on Monday. Its shares have almost halved from a high of 281.5 yuan when it went public in July 2020, although they have risen this year on the rise of AI-driven chat bots such as OpenAI's ChatGPT, which run on high-performance AI chips.
The move by SDIC Venture Capital, which follows a previous sale of 6.7 million shares to raise 466 million yuan earlier in the year, came as the top AI chip developer in China has struggled to turn a profit over the past few years, despite the global hype over generative AI.
Last year, Cambricon reported a net loss of 1.26 billion yuan, deeper than losses of 824.9 million and 434.5 million yuan in 2021 and 2020 respectively. Cambricon attributed the losses to increased investment in research and development to upgrade its products and to "maintain its technological leadership position in the competitive market".
In the first half of 2023, the company reported a net loss of 545 million yuan, compared with a net loss of 622 million yuan in the same period last year.
Several other early investors in Cambricon have cashed out this year, including the VC arms of China Merchants Bank in Nanjing city and Hubei province. Alibaba Group Holding, which owned a 1.74 per cent stake as of the end of 2022, also exited from the list of top 10 shareholders in the first half this year, according to stock exchange filings. Alibaba also owns the South China Morning Post.
Chen Tianshi, founder and chairman of Cambricon, remains as the company's largest shareholder with a stake of 28.7 per cent as of mid-2023.
Cambricon, founded in 2016 by Chen, a researcher at the Chinese Academy of Sciences, was seen as a potential rival to the world's top chip makers such as Intel and Nvidia. Its chips have been used to power nearly 100 million smartphones and servers, including those of Huawei Technologies and Alibaba.
However, Cambricon has struggled amid US sanctions and laid off nearly half the workers at its self-driving chip unit SingGo earlier this year. The unit retained only a handful of employees for hardware development with new projects suspended, while Cambricon's Shenzhen office also laid off some workers, according to Chinese media reports in July.