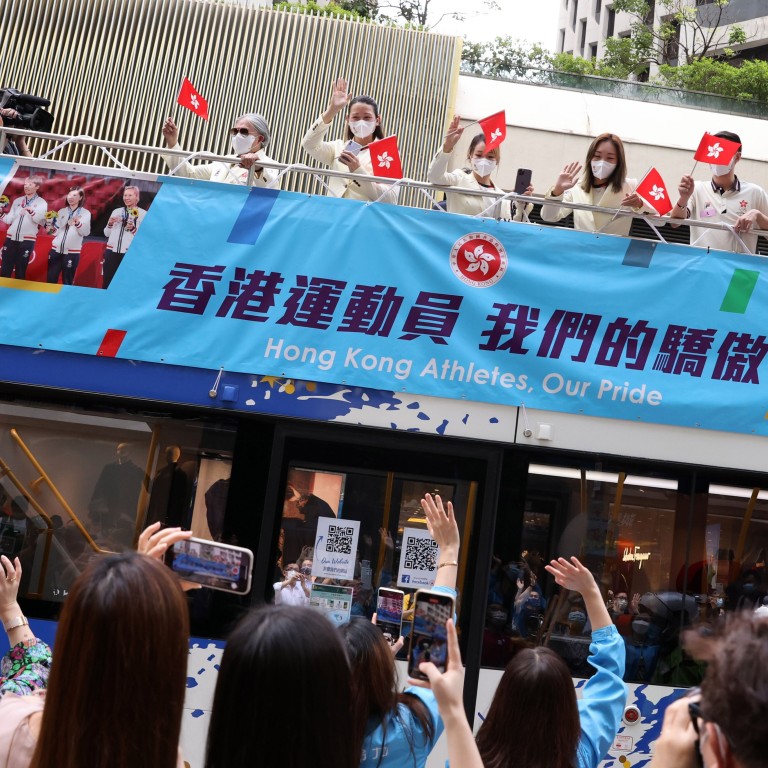 Bus parade lets Hong Kong's Olympic heroes drink in cheers as city welcomes them home
Sports fans get up early, many with children in tow, to applaud athletes who racked up record-breaking medal tally
But some complain buses moved too swiftly to get a proper glimpse, with many of the sports stars seated for much of the journey
An enthusiastic crowd of Hongkongers braved cloudy skies in Kowloon on Thursday to cheer on an open-top bus parade celebrating the record-breaking performance of the city's athletes at the
Tokyo 2020 Olympic Games
.
The Games, which concluded earlier this month, were Hong Kong's most successful yet and by a substantial margin, giving it one gold medal, two silvers and three bronzes. No previous Olympics had produced more than one medal for the city.
Outside the Hong Kong Coliseum in Hung Hom, a group of about 50 fans gathered to cheer on the athletes at the parade's starting point.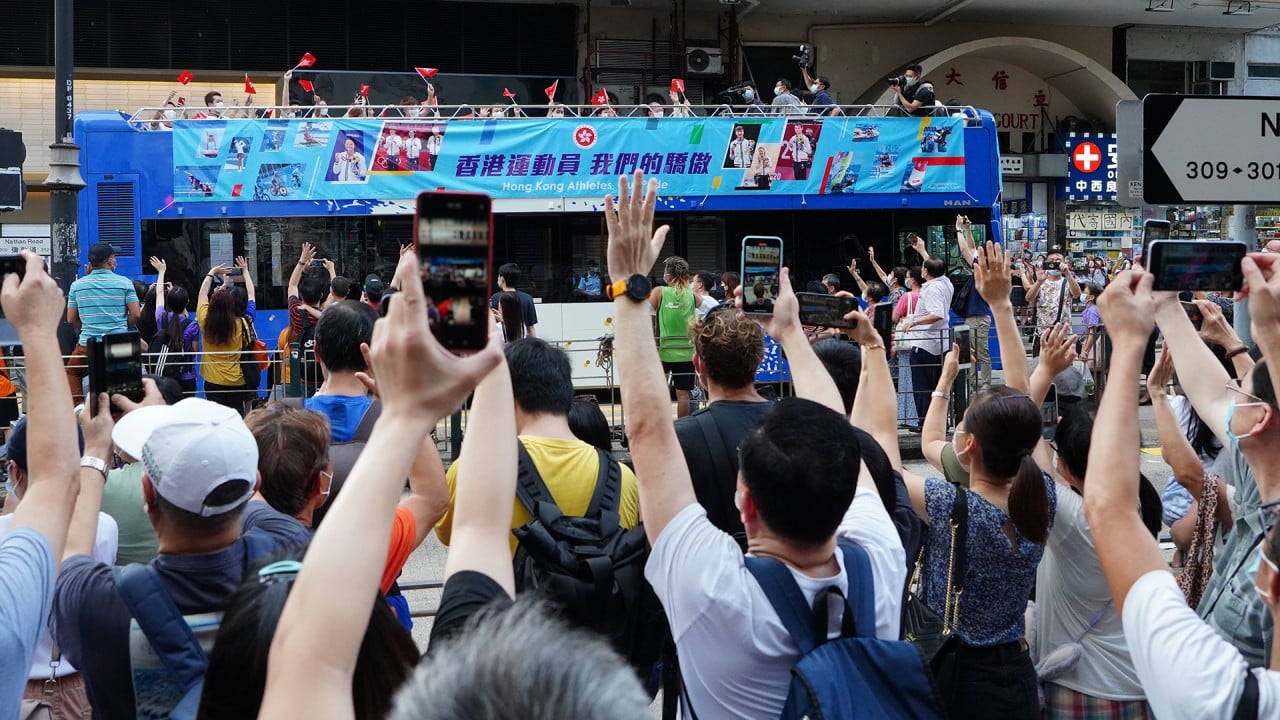 01:43
Hong Kong Olympic athletes welcomed back in homecoming parade
Hong Kong Olympic athletes welcomed back in homecoming parade
Hui Ka-man, a homemaker in her 40s, said she arrived at about 7am to get a good spot to see the athletes.
"I was very excited and couldn't sleep last night. I worried there would be too many people, so I came early to stand closer to the front," she said.
"I'm very proud of the Hong Kong athletes. I hope they do even better at the next Olympic Games. Hopefully the government will invest more in sports and to give our athletes more facilities to train."
Tiffany Yeung, 10, said her favourite athlete was karateka Grace Lau Mo-sheung and that she hoped to take a selfie with her.
"I followed her moves on the television when she competed in the bronze medal bout," she told the Post.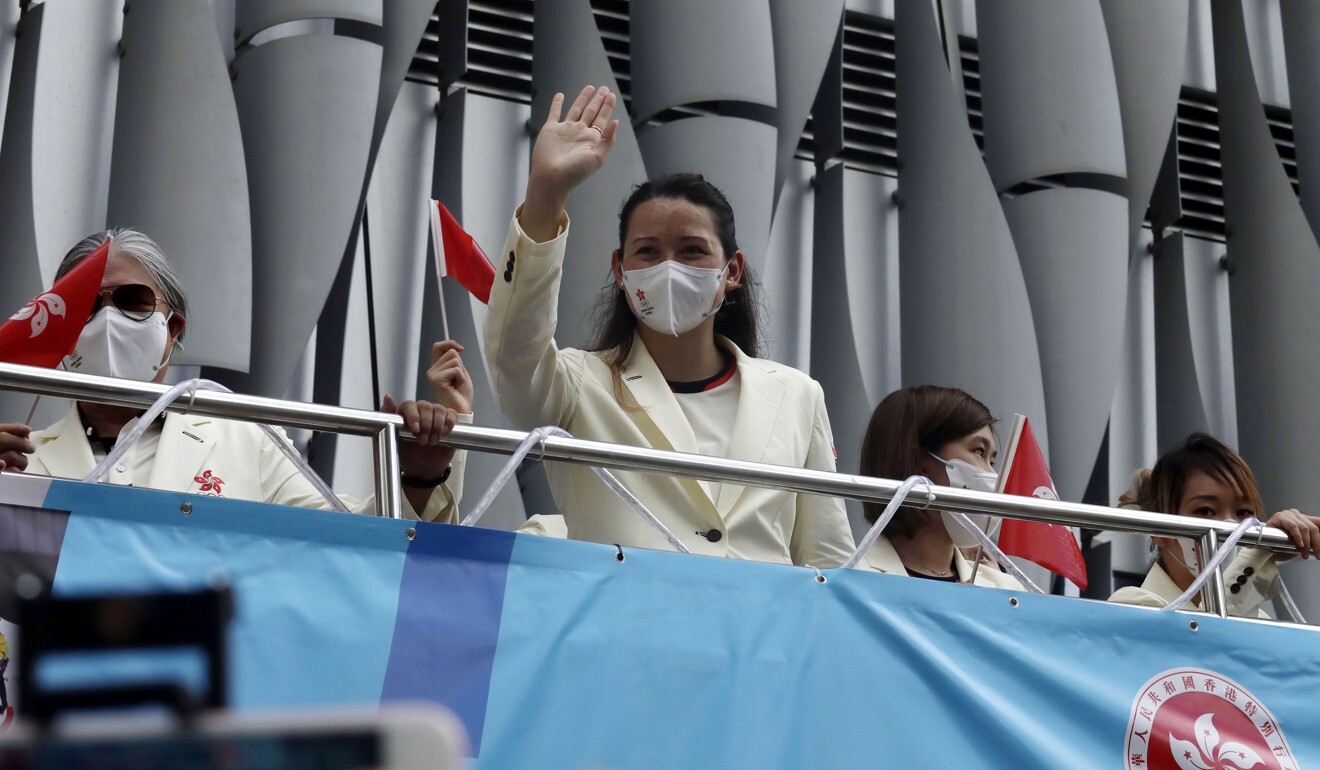 Asked whether she wanted to learn karate, Yeung said she hoped to take fencing classes, a sport she felt carried less risk of accidentally injuring someone.
"I want to be just like [Vivian] Kong Man-wai. My friend is learning how to fence, so I want to do that too," she said.
Another fan, 12-year-old Kinsley Ng, had a selfie-stick in tow, and said he hoped to take a photo with table tennis star Doo Hoi-kem.
"I watched her match and thought she was very hardworking. I also really like her coach Li Ching," he said. "She inspired me to play table tennis, so I signed up for classes starting next week."
Juan Otero, 45, who described himself as "a massive sports fan" brought his wife and four-month-old daughter to cheer on the athletes.
The banker said he had taken a week off work just to watch the Games.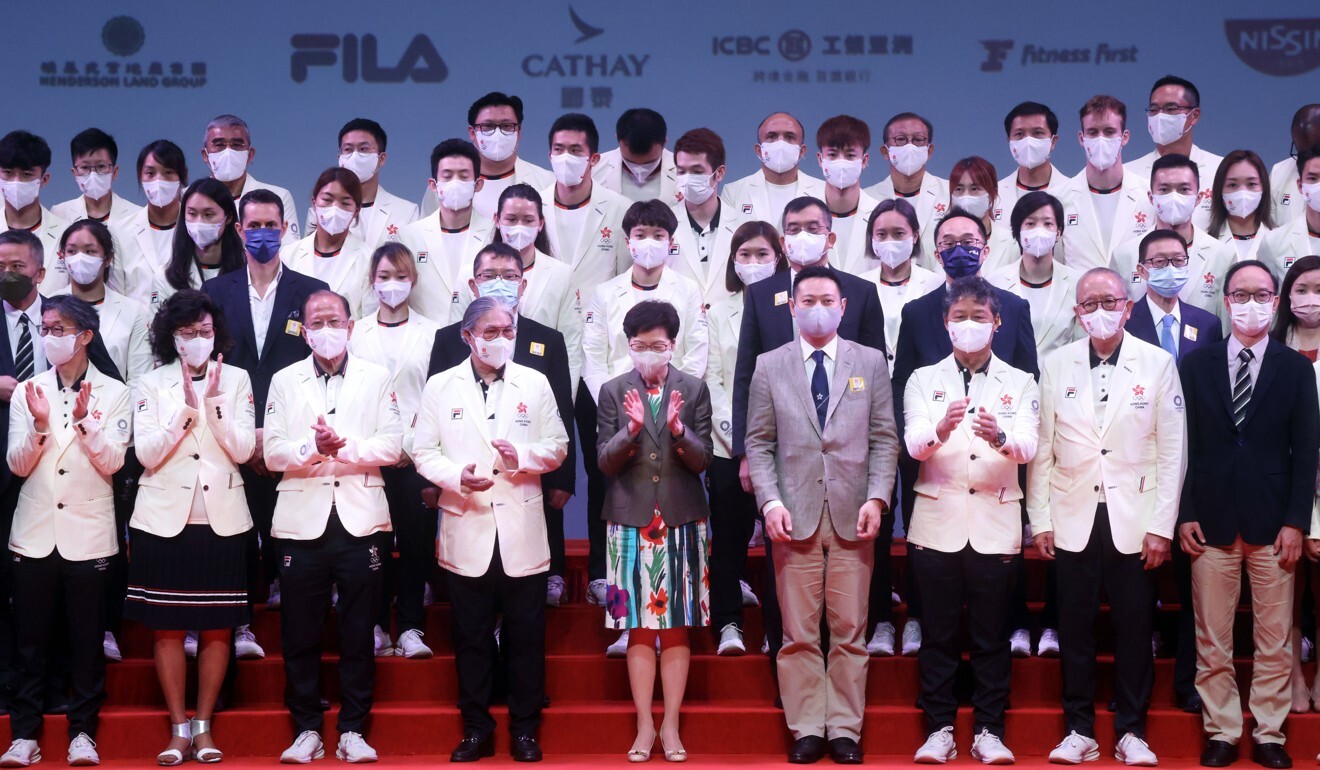 The crowd cheered as the athletes boarded the two buses, with some waving Chinese and Hong Kong flags and chanting "Hong Kong athletes, our pride". The buses departed Hung Hom at about 9.30am.
Ten minutes later, about 80 people were patiently awaiting the athletes at the junction of Nathan Road and Jordan Road, including some parents who had brought along their children to take a peek.
The open-top buses that arrived five minutes later carrying the flag-waving athletes were met with a chorus of cheers and clapping.
But some fans complained the buses moved too quickly to offer a clear glimpse of the Olympians.
Most of the athletes on the upper deck were seated for much of the journey, meaning metal bars obstructed the view of onlookers hoping to get snapshots of their faces with their outstretched phones. Some chased after the buses, which did not stop before swiftly heading onto Nathan Road.
Among the crowd was Kevin Will, 43, who had brought his eight-year-old daughter, saying they were both excited to see the athletes.
"I expected more to the parade, like maybe a band or something, but it was fun," he said.
The American, who works in financial services, said his favourite Hong Kong Olympian was Edgar Cheung Ka-long, who won a gold medal in fencing.
"I think they did pretty well. It's [Hong Kong's] best-ever Olympics," he said. "There are not many American fencers, or table tennis people, so I always cheered for Hong Kong."
Carlton Cheng Ka-chun, who came with his 10 year-old daughter and five- year-old son, took a day off from work just to see the Olympians.
"My daughter loves Siobhan Haughey the most," he said. "It's not easy at all. A Hongkonger winning two medals in a sport [swimming] dominated by foreigners."
The 40 year-old accountant said he wanted to say "keep it up" to the athletes, knowing how hard they worked for what they had accomplished.
"It's an international event, and winning medals is not an easy task at all. Not to mention qualifying for the Games," he said.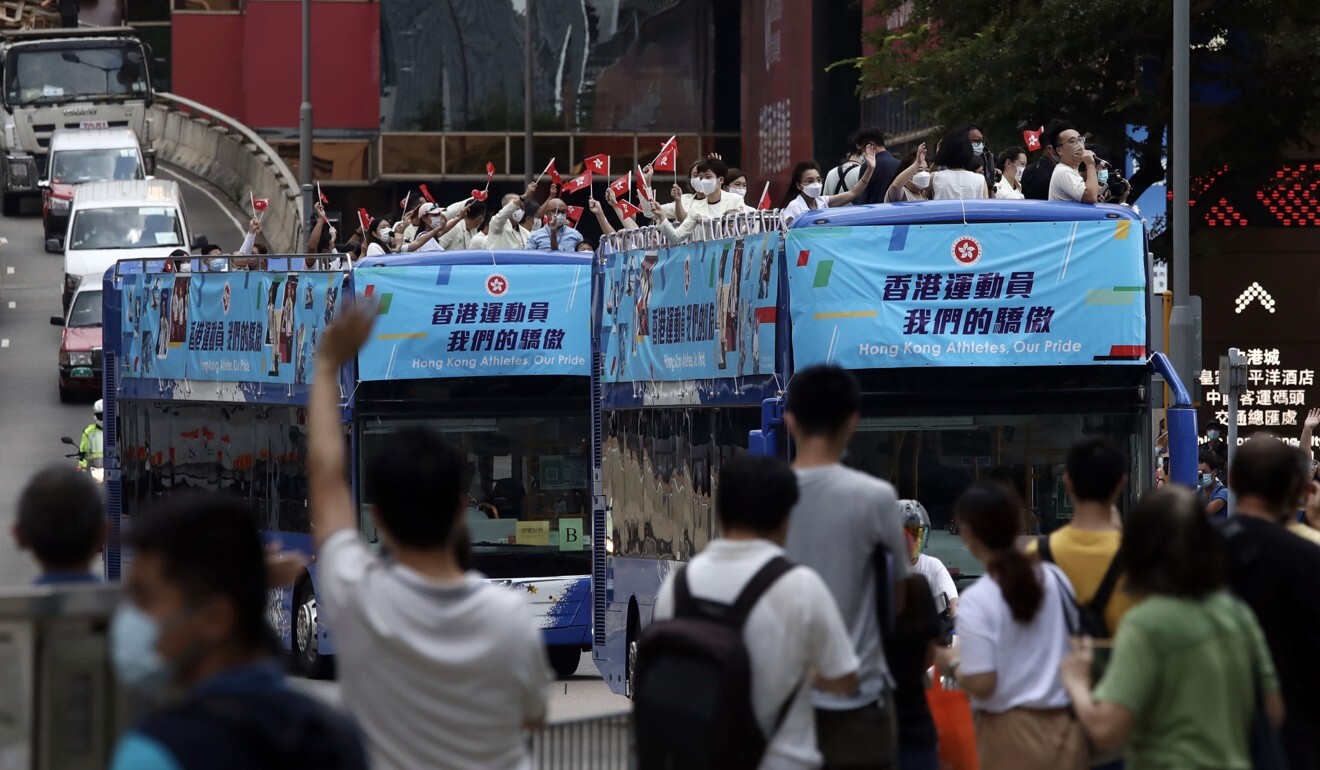 Other than providing more sports venues, Cheng said he hoped the government would raise the salaries of Hong Kong athletes.
"The pay is quite good for elite athletes. But for normal athletes, it is quite hard to get medals," he said. "Their salaries can be increased so they can be more focused on their careers."
After the parade, the athletes arrived at the West Kowloon Cultural District's Xiqu Centre to attend a welcome home ceremony.
Chief Executive Carrie Lam Cheng Yuet-ngor praised the athletes for displaying "the never say die spirit of Hongkongers", noting they had trained in isolation and been unable to see their families and friends amid the coronavirus pandemic.
"The athletes bit the bullet, faced up to the challenges and exceeded expectations," she said. "They demonstrated their extraordinary capabilities during the Games and achieved a historical performance for Hong Kong."
Speaking to reporters after the ceremony, table tennis player Minnie Soo Wai-yam said the parade had been a "very memorable experience".
"I felt very touched after reading Hongkongers' messages of support during the Games. It was great to be able to wave and interact with everyone. It was like we could share our success with them," she said.
Badminton player Tse Ying-suet added: "Because there was no audience at the Olympics, I'm very happy we were able to say 'thank you' to our supporters in person. Some even took the day off to come see us. We are very grateful."
This article appeared in the South China Morning Post print edition as: Cheers and applause for Olympic stars