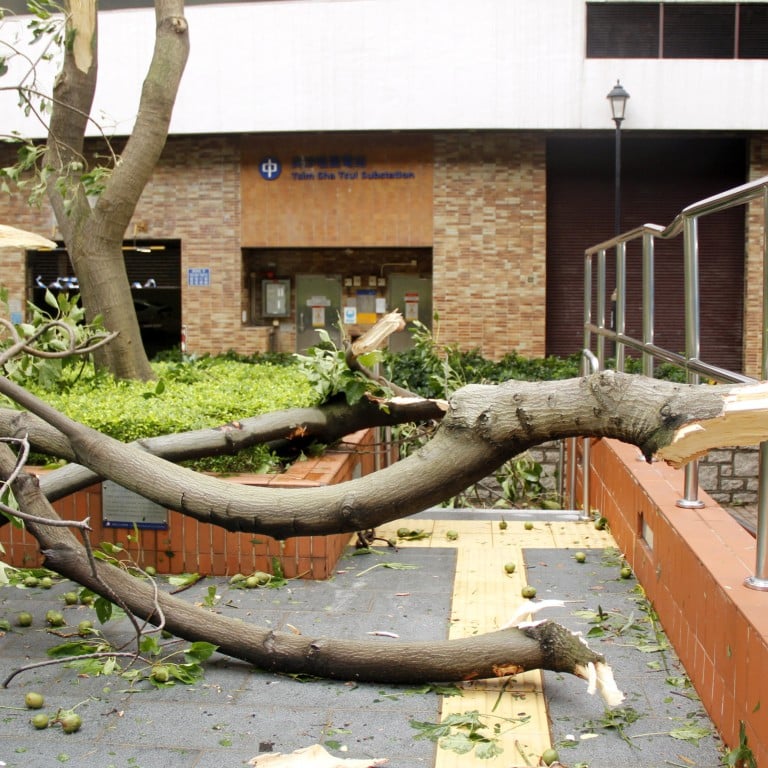 Airlines blamed for chaos in aftermath of typhoon
Desperate travellers blamed poor arrangements by airlines for their confusion and delayed trips, as thousands were still stranded at Chek Lap Kok airport yesterday in the aftermath of Severe Typhoon Vicente.
Some arriving passengers were held in their planes for hours, waiting for a parking spot on the tarmac and buses to take them to the terminals. Others said airline staff failed to provide them with clear messages on baggage and flight times.
The Airport Authority said 348 flights were delayed and 39 cancelled as of 5pm yesterday. Cathay Pacific and Dragonair said they needed a few more days before operations could return to normal. Flights would be delayed until the end of the week and further cancellations might be necessary, they said. The airlines would waive charges on booking changes for all tickets.
About 100 Hong Kong Airlines' passengers at check-in counters were upset and angry as almost all of the 90 flights scheduled on Tuesday evening and yesterday were delayed or cancelled.
Urvashi Sethi's New Delhi-bound Cathay Pacific flight was delayed four times before she finally boarded the plane at 3.30pm yesterday - 20 hours after the scheduled time.
'It is absolutely inhumane treatment. I have never been in a situation where I had to wait so long to just get some information,' said the 40-year-old professional golfer, who was going on holiday. She was asked to go home at 7am yesterday by airline staff as her flight was further delayed to 2.45pm.
'There was only one person working at the gate counter serving over 500 passengers and there was no announcement whatsoever telling us why our flight was delayed over and over again,' Sethi said.
She demanded a written apology from the airline for the poor arrangement, saying, as a frequent flier, she was disappointed in Cathay's service.
Also affected were three backpackers who travelled from Hangzhou , heading for a week-long holiday in Vietnam via Hong Kong. They were stuck at the city's airport for almost a day.
Their Dragonair flight left for Hong Kong on Monday, but was diverted to Xiamen , Fujian province, at the last minute due to the bad weather, said Matt Johanson, 27, who is originally from the United States.
Johanson and his friends were sent to a hotel for the night, flew back to Hong Kong on Tuesday and arrived in the city at about 11pm. It took them more than six hours to leave the arrival hall as there was a queue of more than 500 passengers, but little help from airline staff.
'We almost left our checked-in baggage as two staff members told us it would be sent on to our connecting flight,' said Johanson. But it was not until they asked a third airline employee that they found out their bags were waiting to be picked up. They were finally confirmed on a flight due to leave at 11pm last night, leaving them only four days for their holiday. The three said they would demand a partial refund of their air tickets.
Commenting on an incident when hundreds of passengers were trapped in a parked plane on the tarmac amid strong winds, former civil aviation director Peter Lok Kung-nam said the airport authority might not have been able to foresee the conditions before the plane touched down. Similar incidents had happened before, he said.
A Dragonair flight from Beijing landed shortly after the typhoon signal No9 was hoisted, even though there were no ground staff working on the tarmac. As it was in an outer bay where passengers had to take buses to the terminals, those on board were not allowed to leave.
'It was a special circumstance,' Lok said. 'It would be difficult to foresee what would happen next.'
The Airport Authority said parking space on the tarmac was tight during the typhoon, as departing flights could not leave, while planes continued to arrive. It said it had arranged additional buses to carry passengers between the tarmac and terminals during the night.