South Korea delays Nuri rocket launch amid glitches, heavy winds
Nation had intended to send up its home-grown spacecraft for a second time, to launch satellites, but there were problems with fuel sensors
200-ton Nuri successfully flew to target altitude of 700km in October but mission failed to place dummy satellite in orbit after engine problem
Technical glitches forced
South Korea
to indefinitely postpone the second launch of its home-grown space rocket that had been scheduled for Thursday.
Instead, early on Wednesday, the projectile was placed on a vibration-free truck and returned at a snail's pace from the launch pad to the assembly building, 1.8km away, for detailed checks.
Nuri, meaning "world", had been due to take off from the Naro Space Center in Goheung, about 330km south of Seoul, according to the Korea Aerospace Research Institute (KARI).
The postponement came after wind gusts had already delayed lift-off by a day.
"We apologise to the people [for disappointing them] as we have to put off the launch to ensure that the launch will be a success this time," said KARI president Lee Sang-ryool.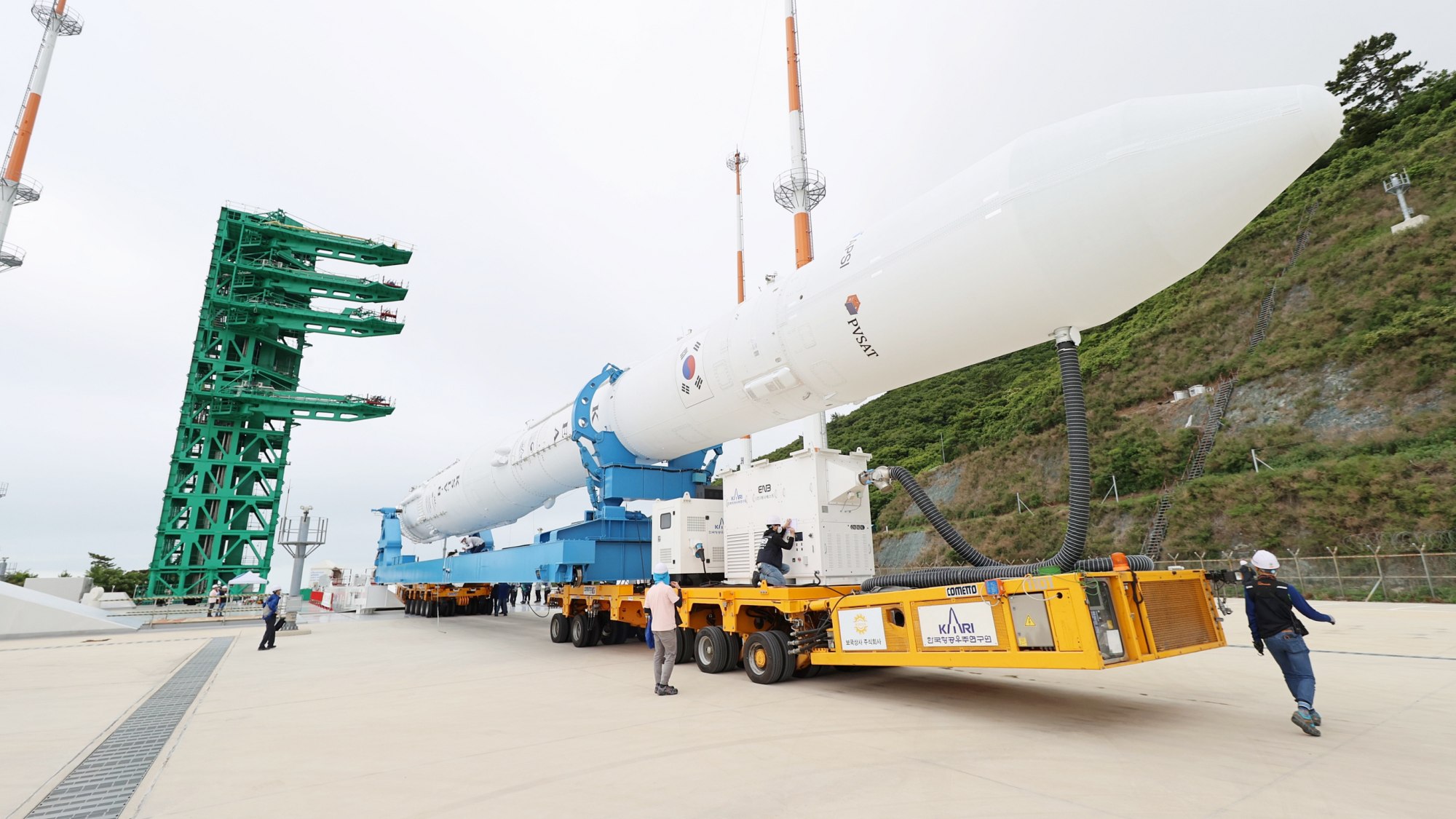 The rocket was supposed to release five satellites into orbit but technical problems were discovered at the launch site, with sensors indicating fuel levels were malfunctioning, said Koh Jung-hwan, head of KARI space rocket development operations.
"At this time, it's hard to tell clearly when we will be ready for the launch," Koh said.
Also known as KSLV-II, the 200-ton Nuri successfully flew to a target altitude of 700km in October. However, that mission failed to place a dummy satellite in orbit because the space vehicle's third-stage engine burned out sooner than expected.
"After working on it for two months, we managed to find what went wrong with the third-stage engine and we fixed the problem," Koh Jung-hwan told Yonhap News TV on Wednesday.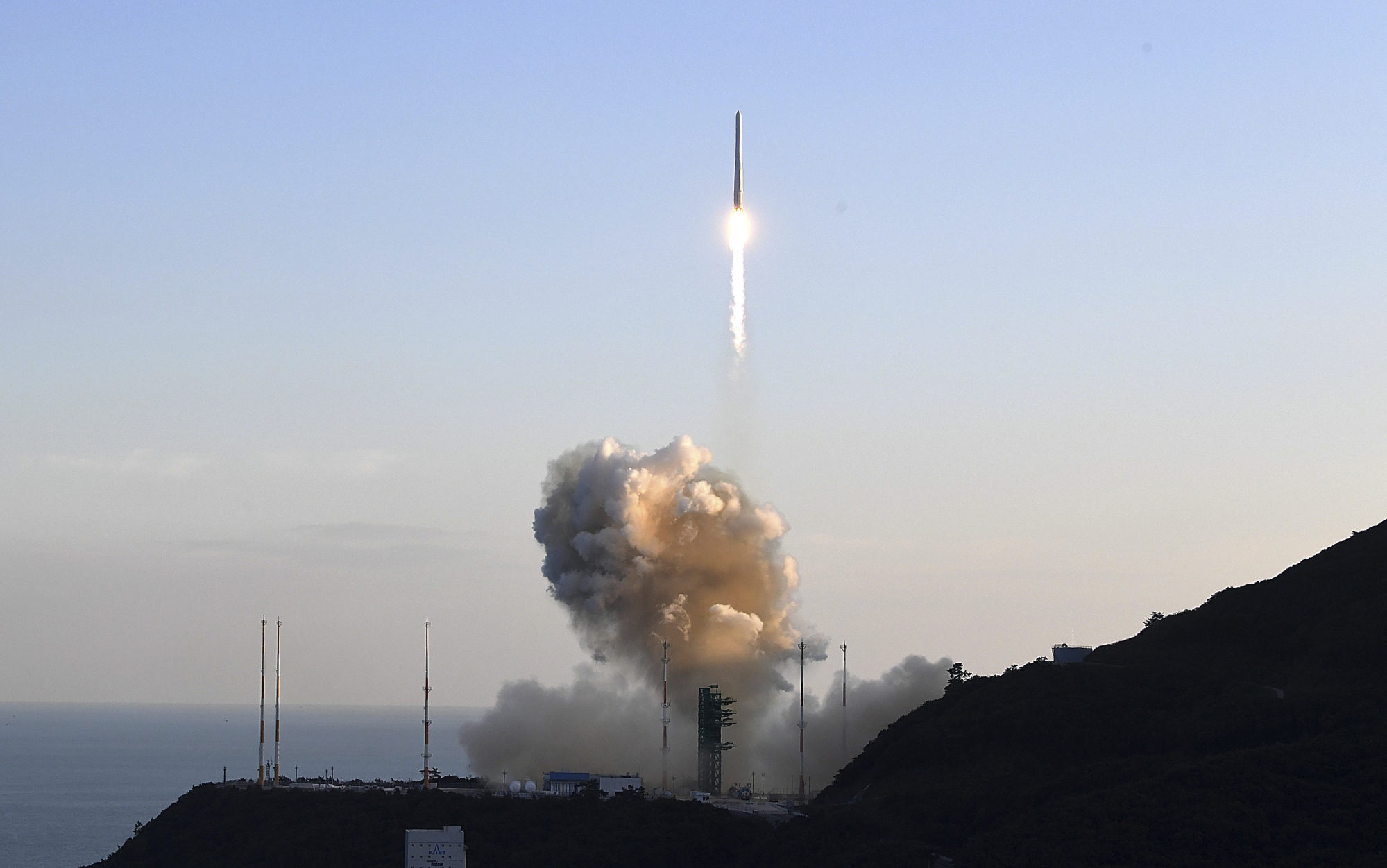 He added that the
war in Ukraine
"highlighted the importance of a country having its own launch vehicles for putting a space surveillance system in place".
During this mission, Nuri was due to carry a 180-kg satellite to monitor the rocket's performance capabilities, in addition to four smaller satellites developed by universities for academic research purposes.
The 47.2 metre high rocket is capable of putting a 1.5-ton payload into a so-called low orbit, 600-700km from Earth.
Since 2010 South Korea has invested some 2 trillion won (US$1.8 billion) in developing the Nuri launch vehicle, with everything, from design and production to testing and launch operation carried out domestically.
The next launch, which would have been the third until these latest technical glitches delayed the second, was expected to take place early next year.
Last month, South Korean researchers began a project to develop a next-generation home-grown rocket twice as powerful as Nuri, Koh said on Wednesday.
Lee Choon-geun, a senior researcher at the Science and Technology Policy Institute, said it was important to have home-grown launch vehicles for South Korea so the nation could release satellites, for both commercial and military purposes, when it chose to.
South Korea has an ambitious goal for the end of the decade – to put multiple satellites into what is known as the geostationary orbit, 35,800km up and directly over the equator; the satellites rotate with the Earth, and continuously remain above the same spot, according to Lee.
In the long term, South Korea also wants to develop recyclable launch vehicles, Lee added.
The country reportedly plans to launch its first home-grown "spy" satellite in 2023 via a rocket from Elon Musk's US commercial space firm
SpaceX
, under a 1.2-trillion won project (US$970 million) that began in 2017. The aim is to launch five such satellites by 2025. That schedule is unlikely to be affected by Thursday's postponement.
KARI and South Korea's National Agency for Defence Development have signed contracts with SpaceX to use its Falcon 9 rocket for the initial "spy" launch, involving a 800kg satellite in 2023, and for the remainder by the target year, according to military authorities quoted by Yonhap.
Once all five satellites are in use, South Korea will be able to monitor and track
North Korea
's missile and nuclear sites every two hours without relying on US spy satellites, according to Yonhap.
In 2020 South Korea's military launched the nation's first communication satellite, the Anasis-II, via the SpaceX Falcon 9 rocket.
In March, the country also successfully tested a solid-fuel space rocket designed to put a small satellite into a low Earth orbit for surveillance operations. Solid-fuel rockets have greater potential to be used for military purposes than liquid-fuel rockets, like the Nuri.