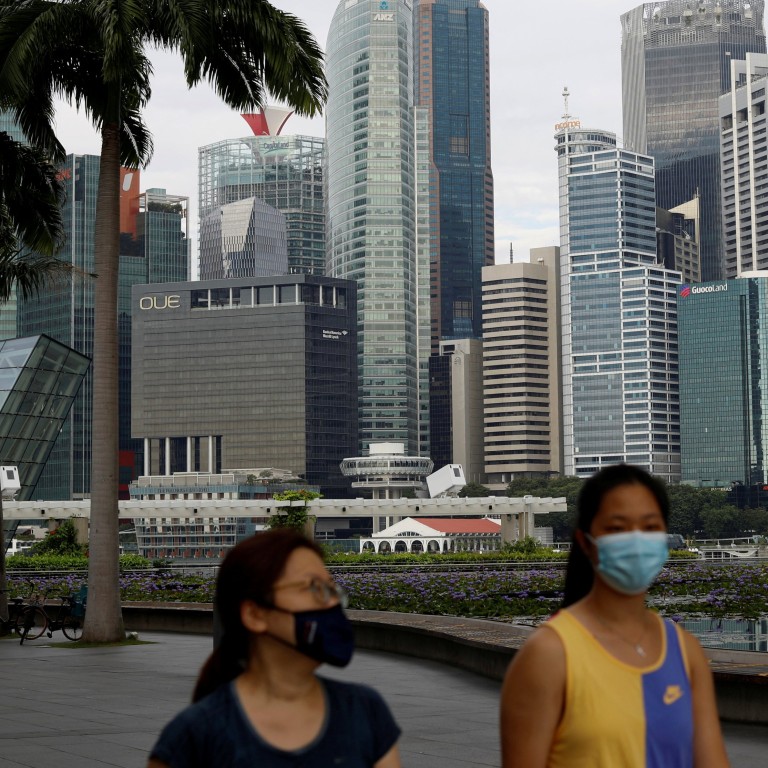 Coronavirus: Singapore health minister says current Covid-19 wave 'will not be as severe' as earlier Omicron outbreak
Health Minister Ong Ye Kung believes Singaporeans have gained stronger immunity through booster jabs or recovery from infections
92 per cent of Singapore's population of 5.45 million have received two shots, while 78 per cent are triple jabbed
Singapore
on Tuesday recorded over 12,700
Covid-19
infections, the highest caseload in months, but health minister Ong Ye Kung said the current wave – largely driven by the BA. 4 and BA. 5 sub-variants – had likely peaked and would "not be as severe" as the Omicron outbreak.
This was due to many Singaporeans gaining stronger immunity either through booster jabs or recovery from infections. "This will significantly impede the circulation and transmission of the BA. 4 and BA. 5 viruses," he said.
The city state has in recent days seen an uptick in cases, with 50 per cent of fresh infections attributed to the new sub-variants deemed to be more contagious than their predecessors. Ong expects this number to edge up to 70 per cent next week.
But Ong, who was speaking to lawmakers in parliament, suggested there were indications that Singapore was near – if not at – the peak of its current outbreak.
For example, the number of cases for Tuesday was just 10 per cent higher than last week.
"We should be relieved that the number this week did not double from last week. Otherwise, we will be at 24,000 or 22,000 this week," he said.
Asked if Singapore was prepared to tackle the next wave, Ong said the government would keep an eye on hospital capacity and ensure that it was not too burdened.
To do so, Singapore has to push up its vaccination – and booster – numbers and make sure that healthcare facilities are ready to ramp up capacity in the event of an infection surge, he said.
Hospitalisation numbers have risen, reaching almost 650, but it was still below the 1,700 cases during the height of the Omicron wave.
For now, four per cent of elective procedures have been cut back to ensure hospitals are not overwhelmed. At the height of the country's Omicron wave earlier this year, some 15 per cent of elective procedures were cut back.
Currently, about 92 per cent of Singapore's 5.45 million population have received two vaccine shots and 78 per cent have received booster jabs. The country's high vaccination rates meant that most infections have been mild.
Ong on Tuesday again rallied for the country's seniors to take their third jabs, saying that it "makes a huge difference as to whether you will fall severely sick".
While Singapore was not ruling out a tightening of pandemic measures if cases surge – including reimposing limits on group sizes – Ong said authorities would avoid such action "as far as possible".
That would especially be the case "if we are reasonably confident that our hospital capacity can hold up and we are determined to live with Covid-19 and continue our journey of endemicity," he said.