Stellar cast of world leaders, royals meet for Queen's funeral, but the uninvited catch the eye
Foreign dignitaries accounted for a quarter of the 2,000 attendees at the funeral, reflecting a queen who met numerous leaders across history
War in Ukraine, US-China tensions and the tailend of a pandemic backlit the funeral, with list of absentees revealing divisions in global politics
As a nation mourned its monarch, global leaders congregated in London on Monday to pay their respects to
Queen Elizabeth
, in the largest gathering of royals, heads of state and diplomats in recent memory.
Her funeral provided the chance to bid farewell to a global figure who was ever present among diplomatic circles over her seven decade reign.
With around a quarter of the 2,000 attendees being foreign dignitaries, it was a show of unity without precedent in the modern era, reflecting a queen who met countless leaders at key moments in history, including 13
US
presidents, Russia's Mikhail Gorbachev and Xi Jinping of
China
.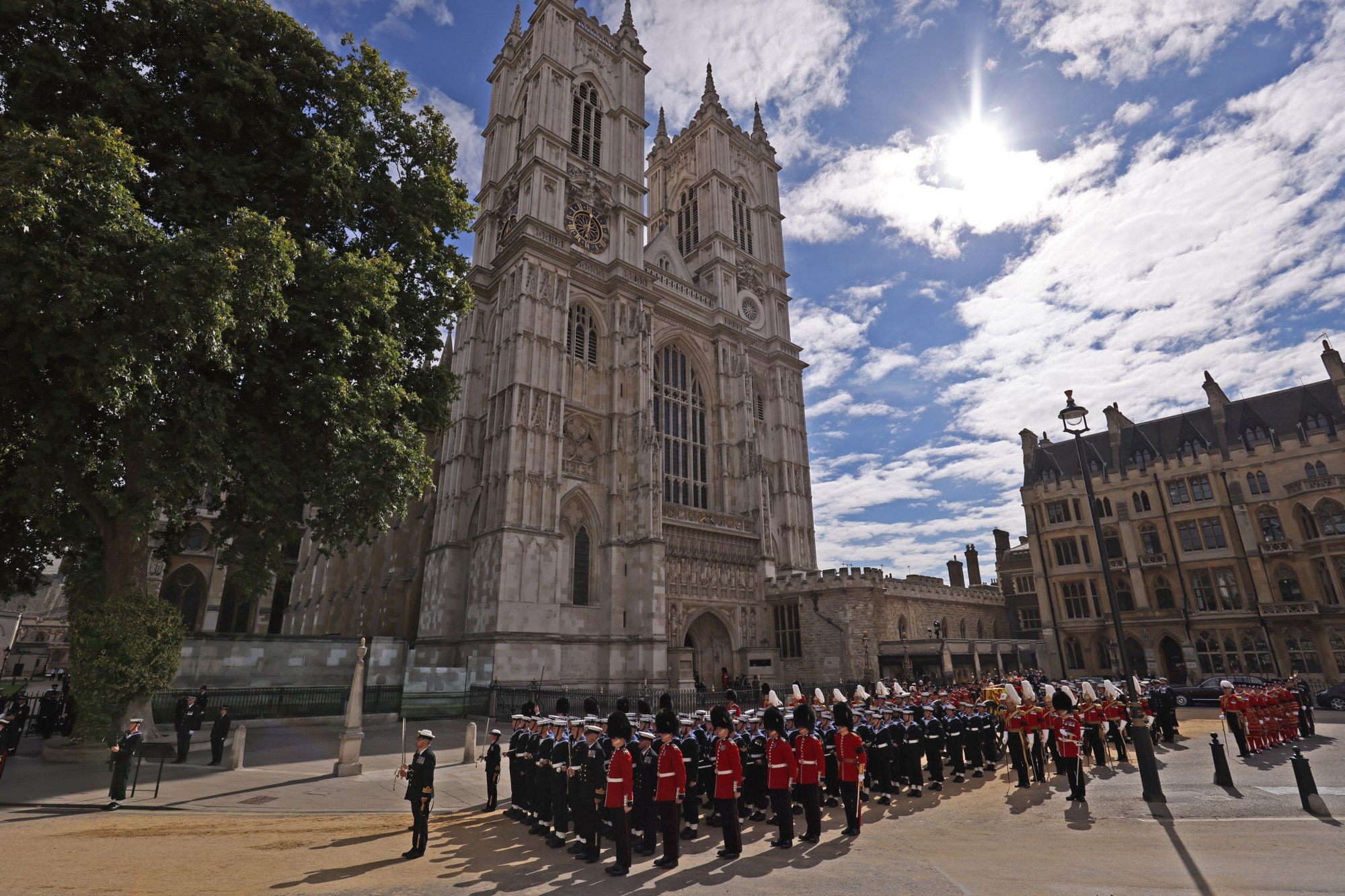 But it was also backlit by overlapping crises with Russia's
invasion of Ukraine
, surging inflation, the tailend of the
pandemic
and sharp tensions between the
US and China
stirring grave uncertainty.
The list of absentees from Monday's funeral revealed the deep divisions roiling global geopolitics.
Russia
and
Belarus
were not invited following the invasion of
Ukraine
, a snub which Moscow received with outrage – last week the foreign ministry called the decision "deeply immoral", and "blasphemous" to the memory of the queen.
Ukraine, however, was there with the presence of First Lady Olena Zelenska.
Others on the small, ignoble list of the uninvited included Syria, Venezuela, Taliban-ruled
Afghanistan
and
Myanmar
, a former British colony where a junta is committed to a brutal campaign to crush a pro-democracy rebellion since it seized power early last year.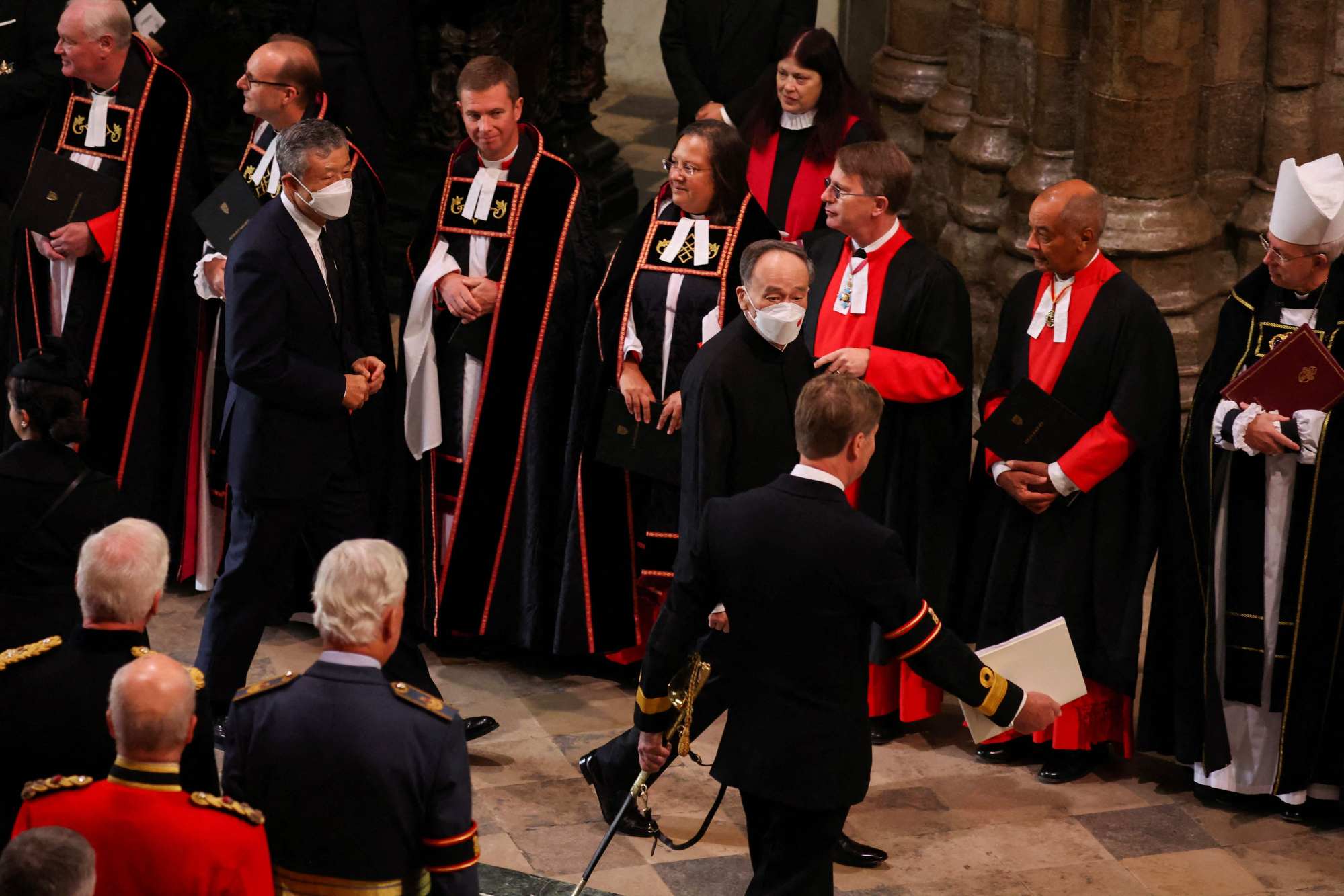 Beijing is the UK's third largest trading partner, despite a relationship that is increasingly defined by tension over rights in China and security concerns in its region.
Diplomacy watchers scouring live streamed events for conversations and asides between the headline cast of leaders who attended the funeral at Westminster Abbey.
There was already a reception on Sunday where many of the cast of foreign VIPs mingled.
US President
Joe Biden
arrived in London over the weekend with his wife Jill, on a relatively low-key visit to the UK by a sitting American leader.
Yet, unlike many other leaders who have been asked to leave their diplomatic cars and share coaches to the funeral, the Bidens travelled in the armoured presidential Cadillac dubbed "The Beast".
The Bidens shared memories of their visit to Windsor Castle last year, with the President recalling that she kept offering him crumpets.
"I kept eating everything she put in front of me," he said.
"She was the same in person, as her image. Decent, honourable and all about service," he said of the queen, noting her death as "a loss that leaves a giant hole".
For her part, the First Lady was effusive in her praise of the late monarch's interest in American political affairs.
"I loved her sense of curiosity. She wanted to know all about
American politics
and so she asked Joe question after question," Jill Biden said. She said sitting in Elizabeth's living room was "almost like being, you know, with your grandmother".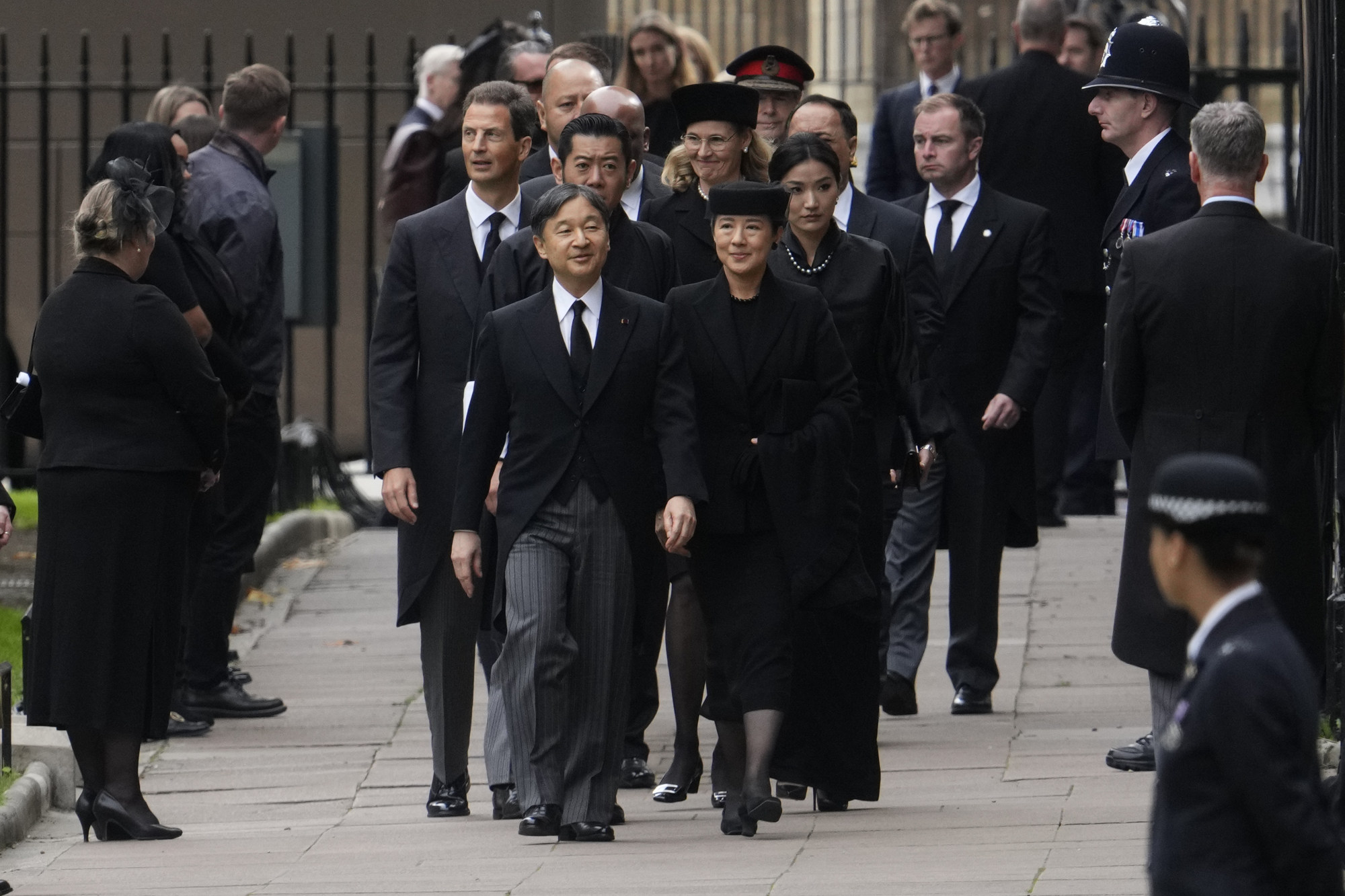 Royals from
Bhutan
to Monaco were there, with royal couples invited especially from European houses historically entwined with Britain's Windsors – who only adopted the name in 1917 to move away from the German lineage of Saxe-Coburg-Gotha.
The royal families of Belgium, Denmark,
Sweden
and
Spain
attended the funeral, as did Emperor Naruhito and Empress Masako of
Japan
. The queen has met three generations of Japanese royals.
The usual glitz of a royal occasion was heavily diluted, with visiting dignitaries deferring from the usual red carpet welcome and broadly refraining from public statements that could be construed to take the limelight.
The leaders of Commonwealth nations sent their leaders at a time when the continued relevance and role of the 56-member grouping is coming under increased scrutiny.
New Zealand's Jacinda Ardern told the BBC about the advice the queen gave her on balancing work and motherhood: "I remember she just said, 'Well, you just get on with it,' and that was actually probably the best and most I think factual advice I could have."
Ardern and Australian Prime Minister Anthony Albanese have ducked questions on republican sentiment in their respective countries, saying the mourning period is not a time for debate on their continued status inside the Commonwealth.
Additional reporting by AP, AFP and Reuters