Tourism ad featuring model and giant rice ball pulled for being suggestive
Japan's Miyagi prefectural government has been forced to remove an online video promoting regional tourism after the clip was criticised for being sexually suggestive. The video features model and actress Dan Mitsu, known for playing erotic roles, as a guide in a kimono. It contains suggestive and provocative lines, and multiple close-ups of her parted lips and her rubbing the head of large rice ball mascot, called Musubimaru. Dan softly strokes Musubimaru's head and whispers "Miyagi, I-cha-u", which means "Let's go to Miyagi". But slowly saying the words can have sexy connotations, such as "ichau", which means "to ejaculate", depending on the context.
What next? Despite the outcry, officials suggested the campaign had been a success. "The video has already gained a number of views and served its purpose of promotion to a certain degree," one official said. The government has received about 380 complaints or negative comments about the video.
India's Supreme court says no to instant verbal divorce, yes to privacy
India's top court banned a controversial Islamic practice that allows men to divorce their wives instantly, saying it was unconstitutional. Victims of the practice known as triple talaq, in which Muslim men can divorce their wives by reciting the word talaq (divorce) three times, had approached the Supreme Court to ask for a ban. And the panel of Supreme Court judges ruled triple talaq was "not integral to religious practice and violates constitutional morality". In another ruling, the court ruled citizens have a constitutional right to privacy, a decision that could jeopardise a government programme holding biometric data on more than a billion people. Privacy is not explicitly mentioned in the constitution and the government has argued people have no absolute right to it. The top court disagreed.
What next? The Hindu nationalist government of Prime Minister Narendra Modi had backed the petitioners in the divorce case, declaring triple talaq unconstitutional and discriminatory against women. Modi's ruling Bharatiya Janata Party has long pushed for a uniform civil code, governing Indians of all religions, to be enforced. But the issue remains highly sensitive in India, where religious tensions often lead to violence.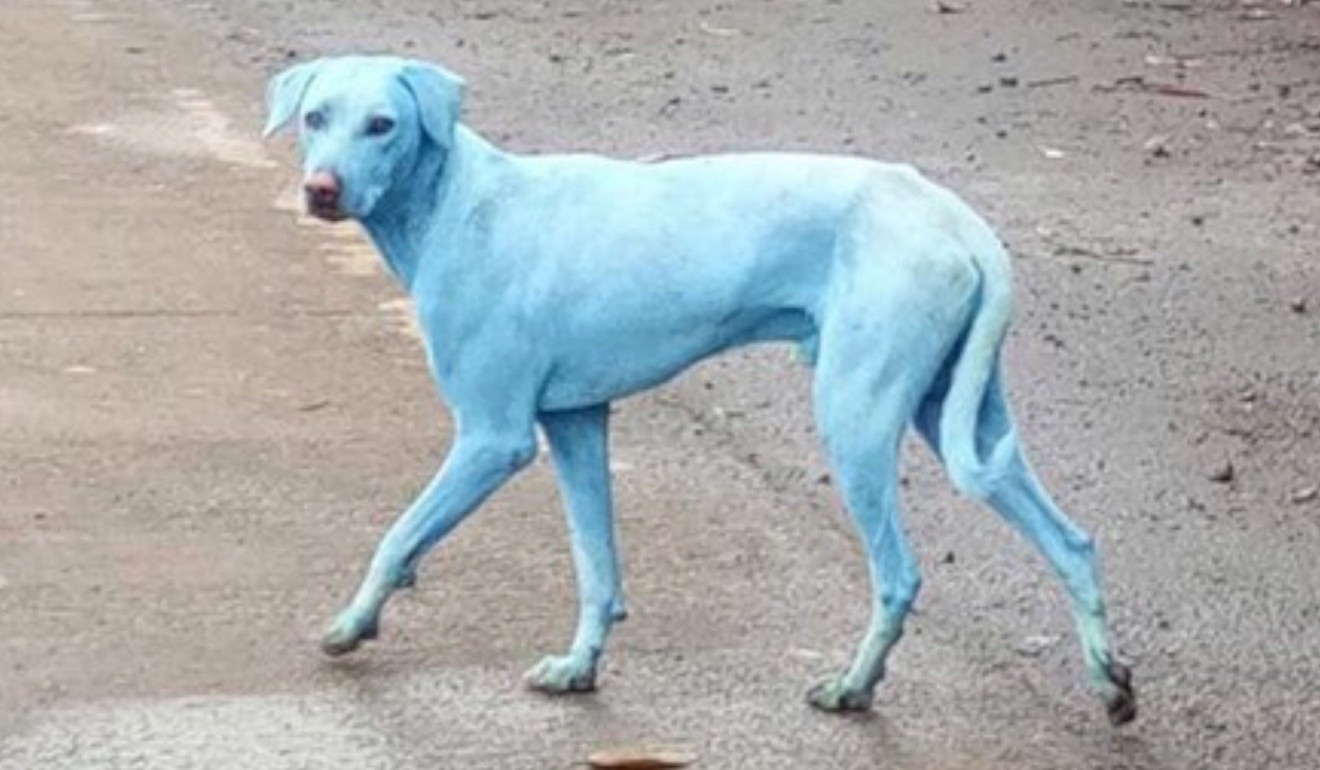 Company shut for dumping waste that turned dogs blue
Authorities in Mumbai shut down a manufacturing company after it was accused of dumping untreated industrial waste and dyes into a local river that resulted in 11 dogs turning blue. The group of strangely coloured canines was first spotted on August 11, according to the Hindustan Times, prompting locals to complain to the Maharashtra Pollution Control Board about dyes being dumped in the Kasadi river, where the animals often swim. Footage showed the animals roaming the streets with bright blue fur. "It was shocking to see how the dog's white fur had turned completely blue," Arati Chauhan, head of the Navi Mumbai Animal Protection Cell, told the newspaper. "We have spotted almost five such dogs here and have asked the pollution control board to act against such industries."
What next? The board investigated, shutting down the company on Wednesday after confirming that canines were turning blue due to air and water pollution linked to the plant. An animal welfare agency managed to capture one of the dogs and wash some of the blue dye off.
Cambodian PM orders staff of critical American N.G.O. out ahead of election
Cambodia on Wednesday closed a prominent American NGO and ordered its foreign staff to leave the country, the latest effort by Prime Minister Hun Sen to silence perceived critics ahead of next year's general election. The order came a day after the premier threatened The Cambodia Daily – one of the country's few remaining critical newspapers – with closure over an alleged unpaid tax bill of US$6.3 million, calling them "thieves". In a statement, the Ministry of Foreign Affairs accused the National Democratic Institute (NDI) of failing to formally register or pay correct taxes and gave its foreign employees seven days to leave. "Authorities are geared up to take the same measures against any foreign association or non-government organisation that fails to abide" by Cambodia's laws, the ministry added.
What next? Cambodia analysts have said the cascade of recent legal cases is straight from the political playbook of Hun Sen, who throughout his three-decade rule has cornered opponents in the run-up to elections.
Housewife jailed for insulting Islam in latest Indonesian blasphemy case
An Indonesian housewife has been sentenced to two and a half years in prison for insulting Islam, an official said on Tuesday, the latest conviction under the country's controversial blasphemy law. Siti Aisyah, 47, was found guilty on Monday night of spreading Islamic teachings that differed from local ulema – religious leaders – and calling them liars for disagreeing with her. Her conviction comes at a time of rising concerns about religious intolerance in a country traditionally regarded as a bastion of tolerant Islam. "What she has committed was an insult for our religion, she is dangerous for a religious city like Mataram," said Didiek Jatmiko, judge at Mataram District Court. Aisyah also urged readers of her website not to follow Hadiths – words and practices of the Prophet Mohammed – Jatmiko said.
What next? Rights groups have long campaigned against Indonesia's archaic blasphemy laws, which they say have been used to persecute religious and ethnic minorities. Former Jakarta governor Basuki Tjahaha Purnama, who is Christian, was jailed for two years on blasphemy charges in May.