Singaporean could be jailed for toothpicks in bus seats 'prank'
Singapore has experienced what could be called a spike in crime. A 60-year-old man pleaded guilty to "mischief" after he was caught sticking toothpicks in bus seats, in a case some say highlights the tightly controlled country's tough approach to seemingly minor offences. Lim Lye Seng admitted the offence at a district court and asked to be fined. "I am pleading for your honour's leniency," Lim told the court, saying he was supporting two young children and elderly parents.
What next? Lim is to be sentenced next month. He stuck toothpicks in bus seats four times between July and August and told investigators he did it as a prank because he was bored, according to prosecutors who are pushing for him to be jailed. Singapore has faced criticism from rights groups about cracking down hard on relatively minor crimes and the offence of "mischief" carries a maximum one-year prison term. The case came to light after a Facebook user posted pictures of three toothpicks sticking out of a bus seat and the image went viral.
Cambodia deports dozens of Chinese for telecom extortion scams
Cambodia has deported 74 Chinese nationals wanted in China on suspicion of extorting money from people over the internet and by telephone. A team of Chinese police arrived at the airport on a China Southern Airlines flight to pick up the suspects, who wore masks and had numbers marked on pink shirts. Uk Heisela, head of the Cambodian police, said the suspects were detained at the seaside town of Sihanoukville.
What next? This raises the number of people from mainland China and Taiwan who have been deported this year for suspected telecom scams to 346, Uk Heisela said. "They tricked victims in China, the civil servants there, such as teachers, medics and artists." In some cases, they obtained naked pictures of the victims and used them for blackmail. More than 400 people from mainland China and Taiwan were arrested in Cambodia in August alone for suspected telecom scams. The country's good internet connections and relaxed immigration laws are thought to attract con artists.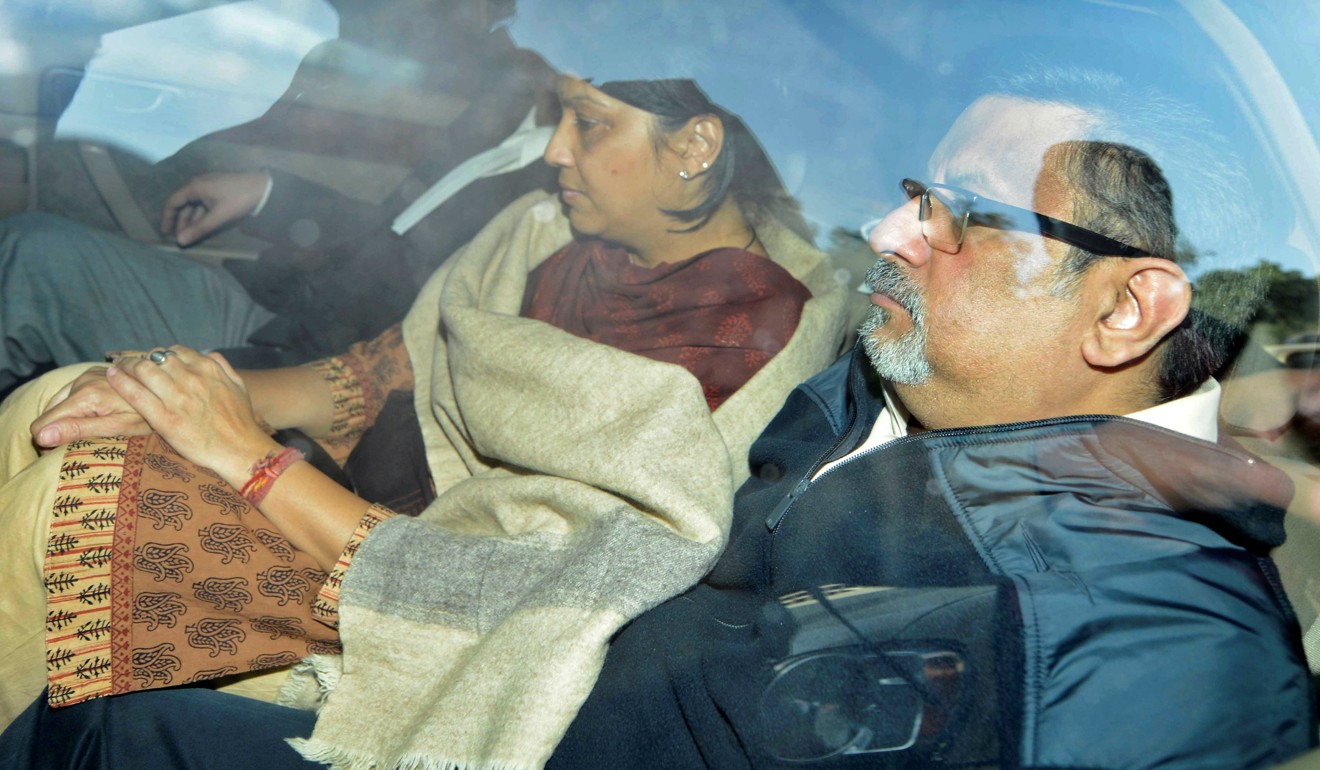 Indian parents convicted of murdering daughter win appeal
An affluent Indian couple have won an appeal against their life sentences for the murder of their daughter and a servant. Allahabad High Court acquitted dentists Rajesh and Nupur Talwar after ruling there was insufficient proof they slit the throats of their 14-year-old daughter Aarushi and Nepali servant Hemraj Banjade in May 2008. Tanveer Mir, a lawyer for the Talwars, said: "They were only present at home that night as parents and were punished. It was entirely wrong." The Talwars were convicted by a lower court in 2013 and sentenced to life in prison.
What next? Aarushi, their only child, was found dead on her bed on the morning of May 16, 2008. Police initially blamed the missing servant Banjade, only to find his body on the terrace a day later, also with his throat cut. Investigators said the Talwars killed Aarushi in a fit of rage after finding her with the 45-year-old servant in an "objectionable position", suggesting the murders were honour killings. The prosecution in 2013 admitted there was no material evidence against the parents, basing their case on the fact that the victims were last seen with the accused.
Indonesia bishop resigns amid claims of mistress, financial scandal
A Roman Catholic bishop in Indonesia has resigned following reports that he had a mistress and siphoned off more than US$100,000 in church funds. Pope Francis accepted the resignation of Hubertus Leteng of Indonesia's Ruteng diocese. Local Indonesian media said dozens of priests resigned en masse in June to protest against Leteng's administration. The Vatican sent an investigator to look into the allegations that Leteng had a mistress and secretly borrowed US$94,000 from the Indonesian bishops' conference and another US$30,000 from the diocese without accounting for it.
What next? Leteng said the money was used to finance the education of a poor youth. He said allegations he had a relationship with a woman were "slanderous". The Vatican did not address the scandal or explain why Leteng was retiring early. The Ruteng diocese made no mention of the allegations in its announcement of his departure. Bishops normally submit their resignations when they reach the age of 75. Leteng is 58.
More U.S. bombs dropped on Afghanistan than any time since 2010
American warplanes in Afghanistan are dropping bombs in numbers not seen since the height of the US troop surge in 2010. In September, the US Air Force dropped 751 bombs, an increase of nearly 50 per cent from 503 in August – the highest single month total in seven years. "The increase can be attributed to the president's strategy to more proactively target extremist groups that threaten the stability and security of the Afghan people," the air force said. "These killers need to know they have nowhere to hide; that no place is beyond the reach of American might," US President Donald Trump said in August. "Retribution will be fast and powerful."
What next? At the same time, civilian casualties from air strikes in Afghanistan have risen more than 50 per cent since last year, the UN said. As of the end of September, at least 205 civilians had been killed and 261 wounded this year in air strikes in Afghanistan, investigators said in a quarterly report. At least 38 per cent of those casualties were caused by international military forces, while the majority were attributed to the Afghan Air Force. More than two thirds of the civilian victims were women and children, the report said.
Compiled by Ben O'Rourke